Kimolos Travel Guide - Where to stay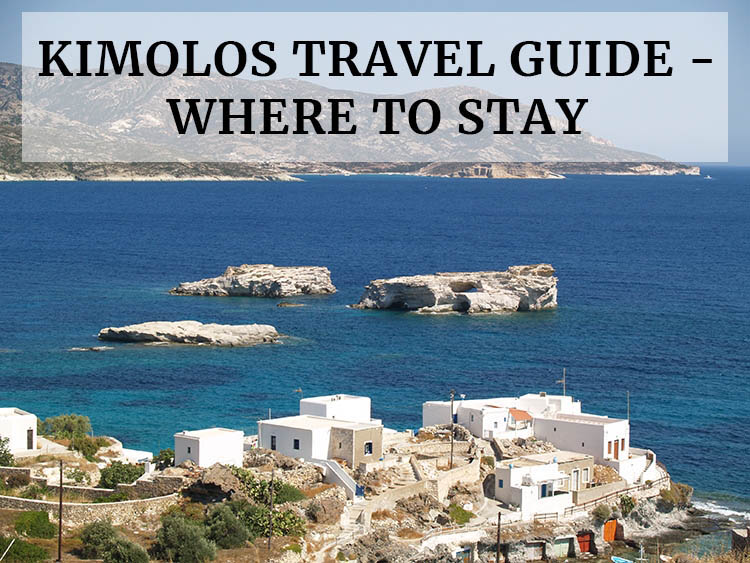 In Kimolos, spend peaceful holidays on a white and blue background, admire up close elegant white houses, volcanic shores in the color of chalk and swim in beaches with indescribable colors.
More about Kimolos:
In this Cycladic island the colors are so distinctive that the Venetians used to call it Arzantiera due to the silver color of the rocks. Many times the sun plays games with the light making them look golden.
Although a small island it hides many surprises: dazzling white beaches, volcanic geological formations, a picturesque village and great local flavors.
Prassa
is the white beach of Kimolos
1. Psathi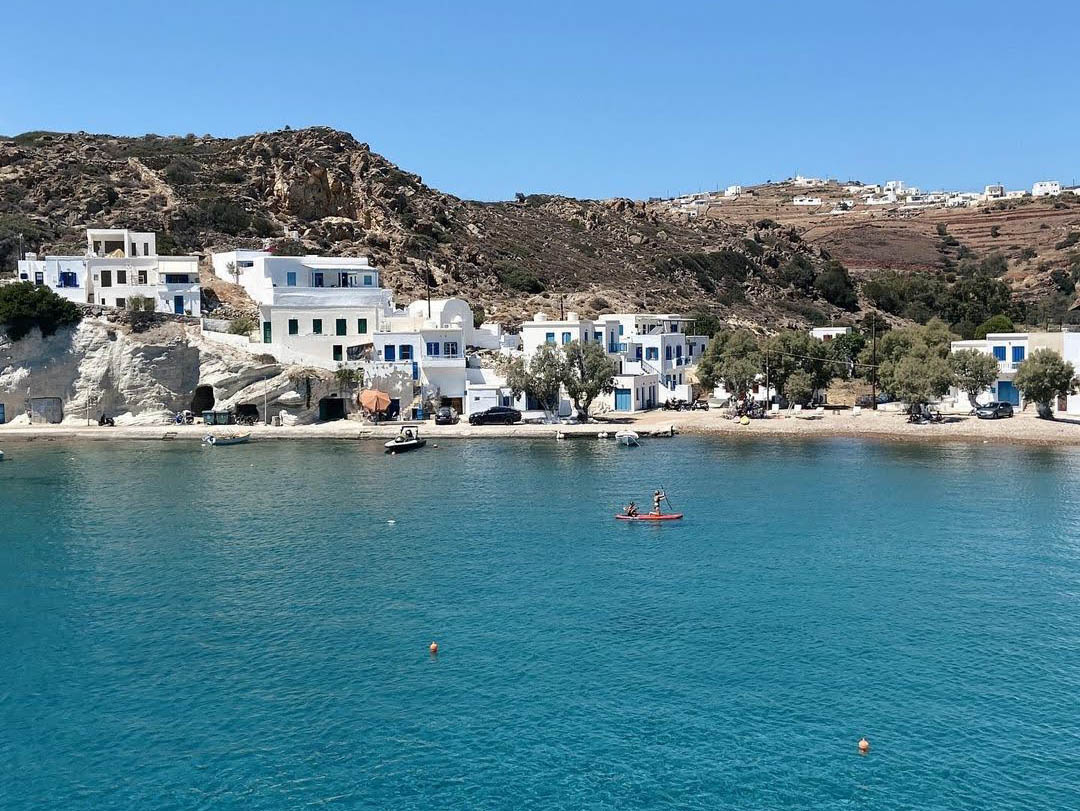 A small settlement around a sandy beach and the port. Α pleasant environment with a child-friendly beach that is worth sitting in the cafes and the eateries to enjoy it.
A little further up on the mountain is Horio.
2. Horio and Kastro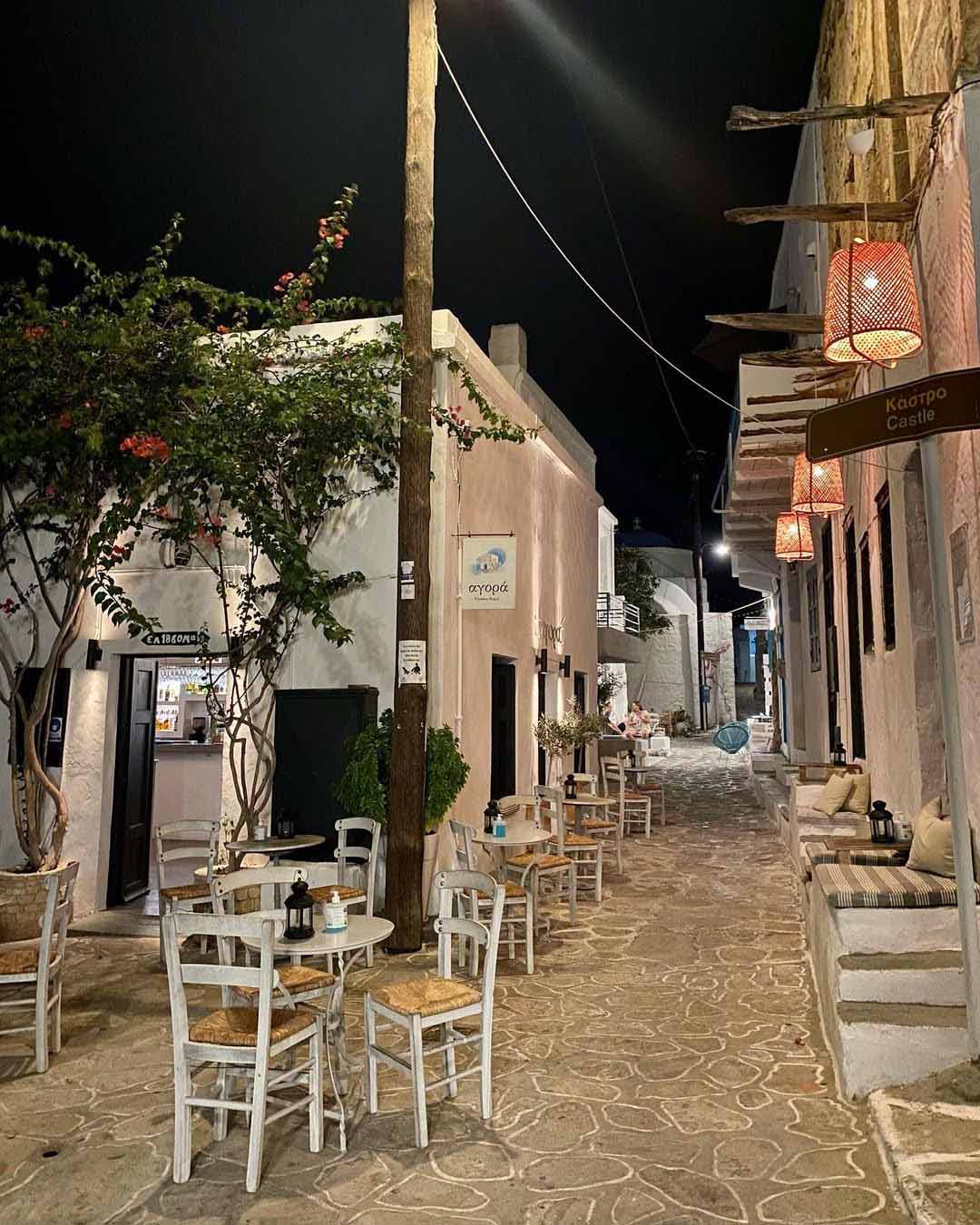 Horio
It's called Horio (village) and not Hora like in the rest of the Cyclades. Park in the municipal parking lot and continue on foot, inside Horio anyway no vehicle can get around.
Beautiful and picturesque with whitewashed cobbled streets, churches and white houses with blue windows. It's not cosmopolitan but it's elegant and a wonderful backdrop for photos. Don't forget to visit agora (the market) that leads to Panagia Odigitria church, right there you'll find one of the two entrance gates to the Kastro as well as the well-photographed souvenir and clothing store Arzantiera.
Kastro is the medieval core of Horio. It's not a castle in the form we know it but houses built close to each other for the purpose of fortification from threats. There are only ruins but it's worth definitely a walk there.
If you like history it's worth visiting the Archaeological Museum of Kimolos to see interesting archaeological finds about the history of the island.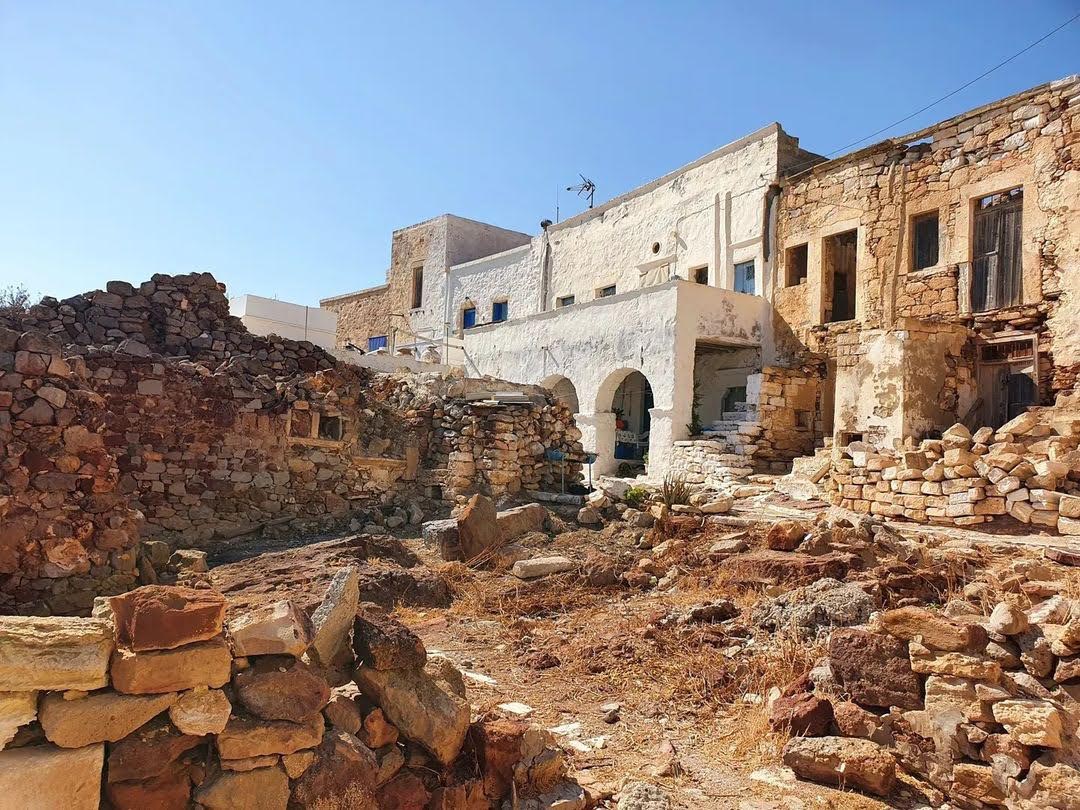 Kastro
The village is the center of the life on the island. Do not miss to visit:
Stavento for fresh handmade ice cream
Bracera for cocktails at Kastro
the bar Agora
the traditional cafe I Sinantisi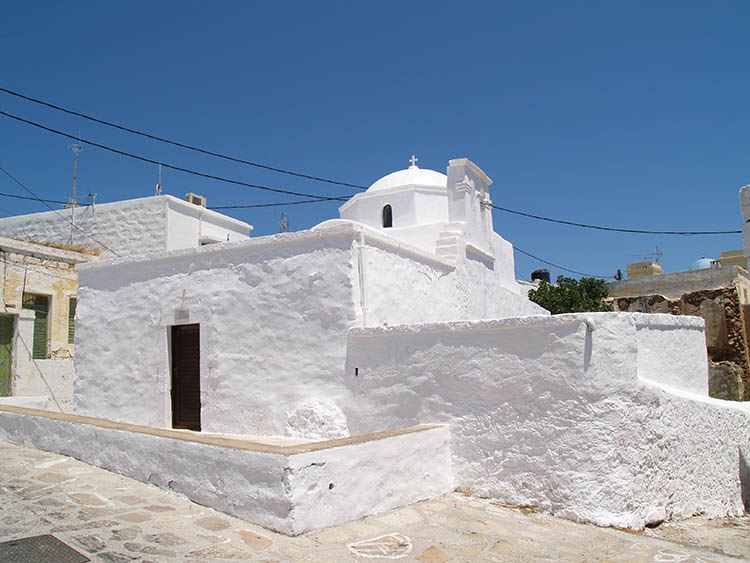 Taxiarchis church at Horio
3. Where to stay
4. Where to eat
at Kima in Psathi gourmet seafood on the beach with specialty tagliatelle with crab
at the meze restaurant I kali kardia (the good heart) - Bohoris in Horio traditional greek flavors with specialties goat giouvetsi and pumpkin-caper of Kimolos
at Kalamitsi beach for seafood
at Bonatsa beach traditional greek flavors
at Sardis in Aliki try the amazing shrimp spaghetti
at Prasonisi for seafood in a privileged spot on the coast overlooking Polyaigos
at the meze restaurant Oi Kyklades (The Cyclades) in Horio for traditional greek flavors
5. Skiadi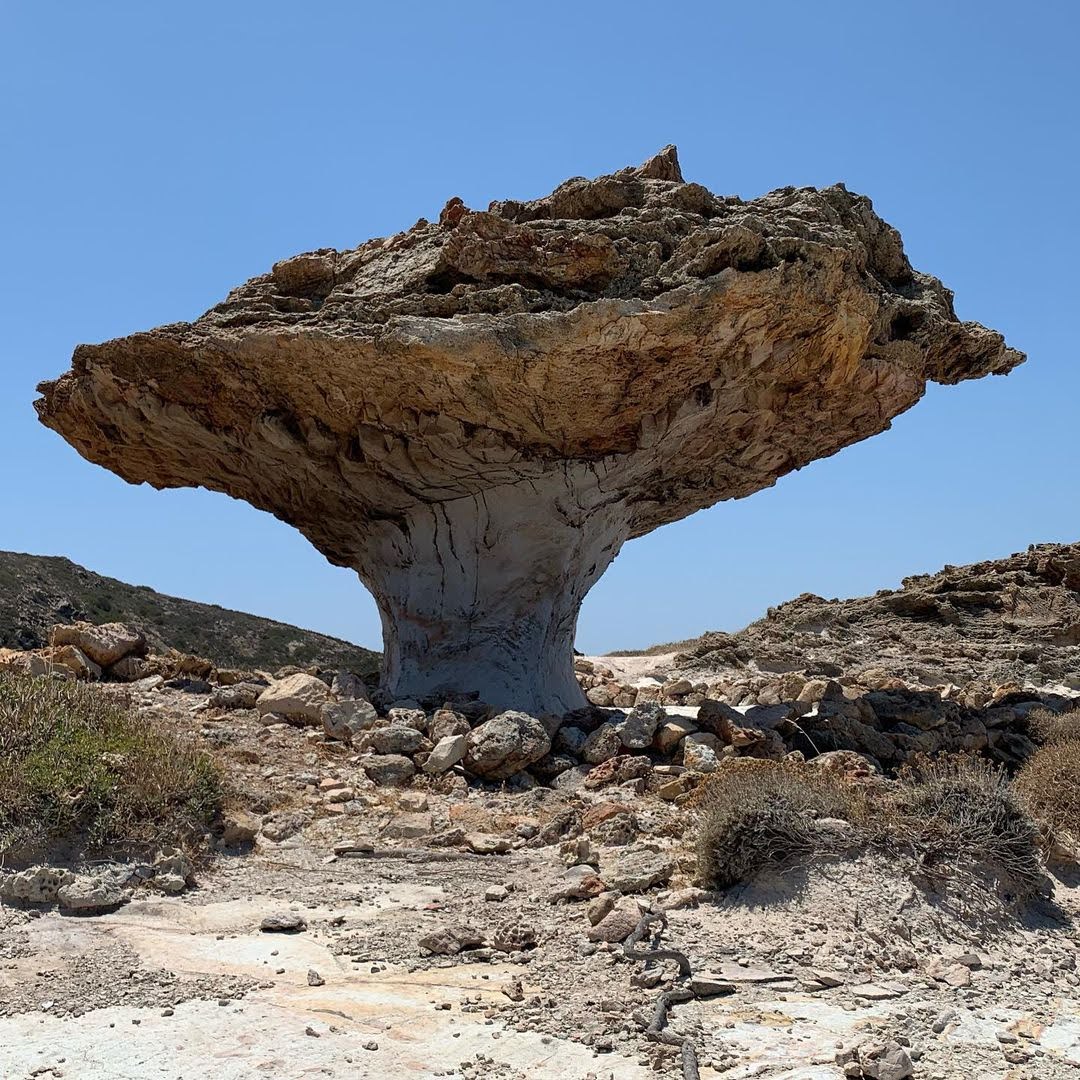 In the northwestern part of Kimolos there is a rare natural monument, Skiadi (the one that creates shadow) as the locals call it. It's a stone mushroom that strong winds corrode the base of the rock so it maintains this shape. Accessible only through a trail but the route will be unforgettable as you'll encounter wonderful natural landscapes overlooking the Aegean Sea and neighbouring Milos!
Information about the
trails
of Kimolos
6. Sea tour of Kimolos & excursion to Polyaigos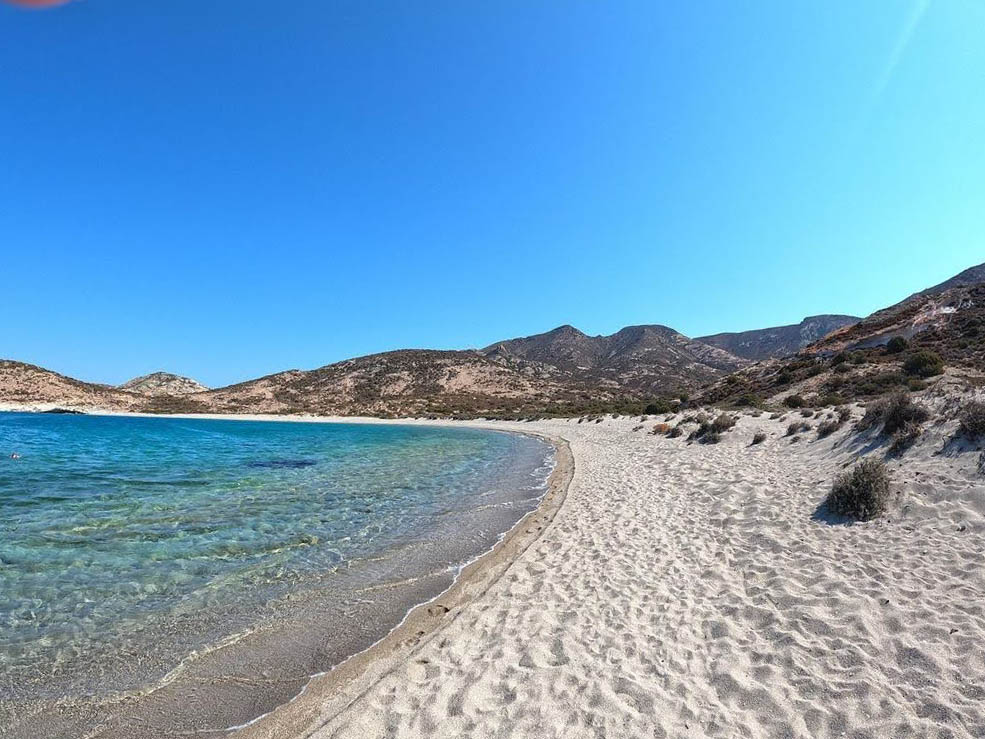 A beach in Polyaigos
Kimolos and the neighboring Polyaigos (the island opposite Psathi) are volcanic islands and the best way to admire their hidden beauties is with sea excursions.
In the sea tour of Kimolos explore secluded beaches, sea caves and impressive volcanic formations:
Geronikolas: vertical white rocks that look like Kleftiko of Milos
Soufi beach
Therma beach: hot thermal water comes out of the rocks
cave of Gerakia
Ellinika and Mavrospilia beach: see the sunken ancient settlement
Polyaigos is a large uninhabited island with inhabitants, as the name implies, the goats (aiges). Swim in waters so blue that it's literally like a swimming pool, see exotic landscapes, rocks white as marble and an impressive large cave with an opening at the top that lets the light in and illuminates the water.
7. Travel information
How to get to Kimolos?
from Piraeus:

the journey takes 6-9 hours depending on the type of ferry. It's not connected daily, look for itineraries in vrisko.gr

from Milos:

from Pollonia by ferry-boat, it takes 20 minutes. Look for information on the website of Kimolos Link

by plane:

you can go by plane via Milos. Upon arrival in Milos go to Pollonia to board on the ferry-boat or from Adamas by ferry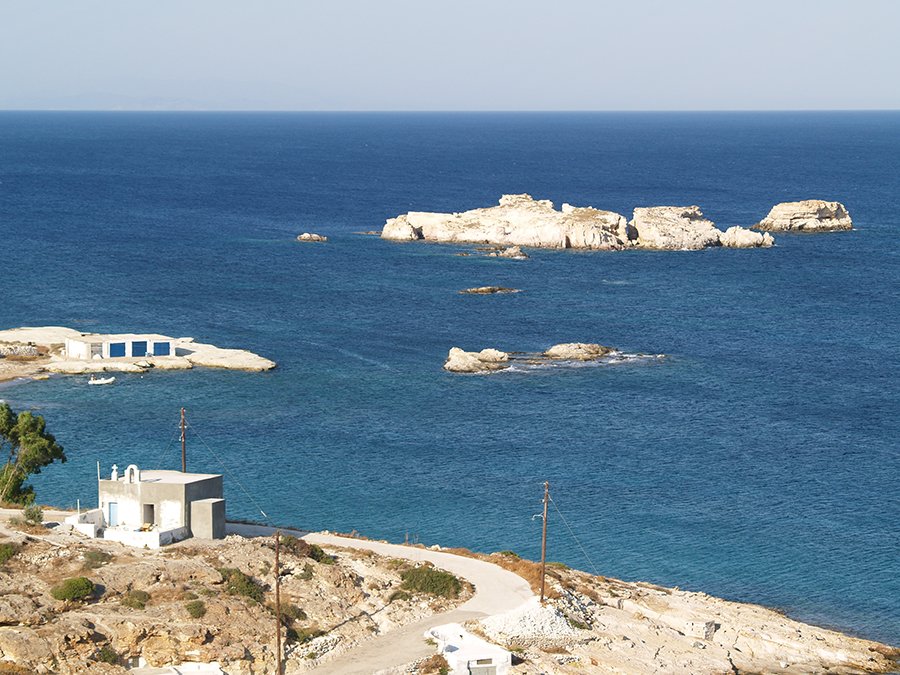 Seascape
How many days in Kimolos?
2 days are enough if you want to tour Horio and swim in the best beaches. The program below of each day is in addition to the previous one.
1 day in Kimolos
swimming at Prassa
Horio tour
2 days in Kimolos
3 days in Kimolos
swimming at Bonatsa
Horio tour
4 days in Kimolos
How to get around?
Kimolos is a small island and it doesn't worth to bring a car, it's better to travel by motorbike or by bus. In Psathi you'll find a car rental office, a gas station as well as a bus that runs to and from the beaches.
Itineraries for other islands
As an island in the western Cyclades, it's connected to Milos, Sifnos, Serifos and Kythnos most days of the week. You'll also find itineraries to Folegandros, Sikinos, Ios, Santorini, Syros and Paros.
In the search engine vrisko.gr select "Departure Port" "Kimolos" and "Destination Port" leave "All Ports". Select "Departure Date" and click "Search". For easier navigation, click "Previous Day" and "Next Day"
8. A few more tips
Tip #1: Kimolos is easily combined with Milos. From Pollonia get on the ferry and within 20 minutes you are in Kimolos. You can go either to stay or for one day. Information at Kimolos Link.
Tip #2: eat ladenia, a local food that looks like pizza.
Tip #3: on the beaches you'll find outdoor libraries set up by the volunteer group Kimolistes. You can borrow the book you want or leave the book you no longer need for someone else to read. An amazing way to spend even more enjoyable time on the island!
More about Kimolos: