Koufonisia is a gem in the Aegean, two very small islands with hilly landscape, magnificent sandy beaches with turquoise colours and a white picturesque village.
More about Koufonisia:
It's one of the smallest inhabited islands in the Aegean, it's so small you don't need a car, it's fine to go on foot. It's considered a perfect relaxation and beach destination in Greece.
Koufonisia are two islands, only the largest one is inhabited and it's called Ano (Upper) Koufonisi, Kato (Lower) Koufonisi is uninhabited and you'll visit it only for the beaches.
Everything is within walkable distance, you won't need a watch, just your senses and your desires to have a great time.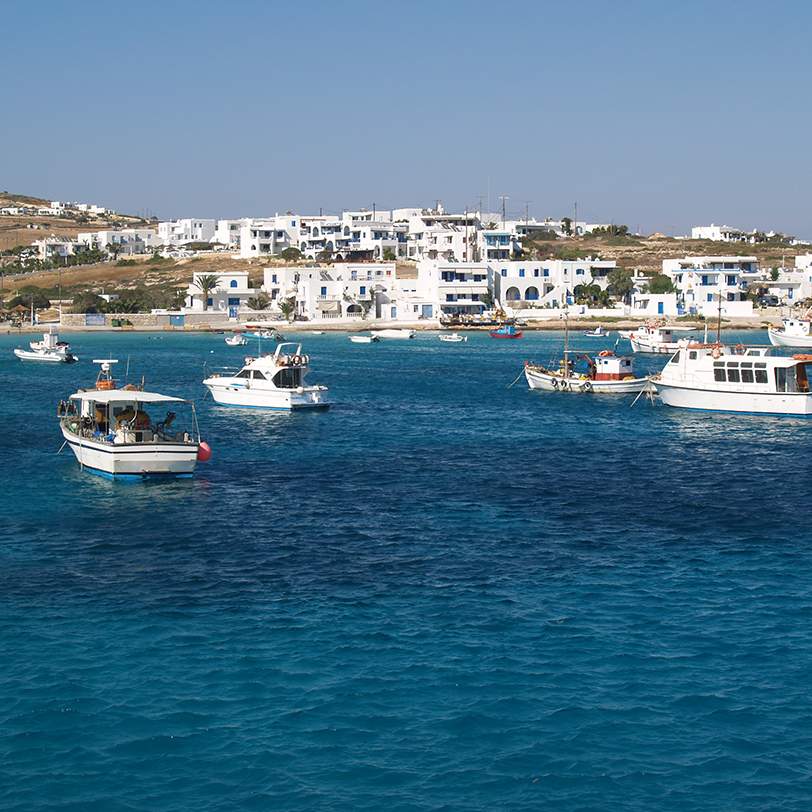 Chora
Chora is a small, beautiful, colourful, picturesque village with the characteristic white cycladic color, most of the accommodations are here. A magnificent children-friendly beach dominates, you'll see it while still on the ferry. There are no big uphills or downhills.
Chora is also a great backdrop for photos, choose a spot and get great photos for your album.
Stroll the alleys and discover the church Agios Georgios, the cafes, the bars and the restaurants. There's a great seaside walk that ends at Sorokos bar. A must-visit too is the cafe-cocktail bar Mylos which overlooks the port. If you like history visit the archaeological collection where you'll see the exhibits and you'll learn interesting facts about Koufonisia.
Where to stay in Koufonisia?
Accommodations are limited, book early because hotels sell-off.
Near Chora beach
Atlantida Hotel: one step from the beach, it offers a swimming pool and snack bar. The rooms feature a balcony or terrace with magnificent view
Myrto Hotel: excellent accommodation in a space of contemporary and cycladic aesthetics. Enjoy the spacious rooms with the beautiful colour palettes, the amenities, the breakfast and admire the stunning view from the veranda
At Chora
Arpistis Apartments: excellent accommodation in a quiet location, 300 m from Agios Georgios and 400 from the beach. Enjoy breakfast and great views on the comfortable terrace
Oceanides Residence: hotel of contemporary cycladic aesthetics in a quiet location 400 m from the beach of Chora and 1 km from Finikas beach. Enjoy breakfast in the room and the great view
At Finikas beach
Pangaia Seaside Hotel: suites of contemporary and cycladic aesthetics next to the beach. The high-quality services will make your stay comfortable and memorable
Beaches at Koufonisia
All the beaches look like tropical, you can go either by following the trail from Chora or by boat. They aren't organized so take care to have an umbrella with you.
The beaches are children-friendly since they are sandy and shallow. There are also some more small ones on the island, these are the largest and best.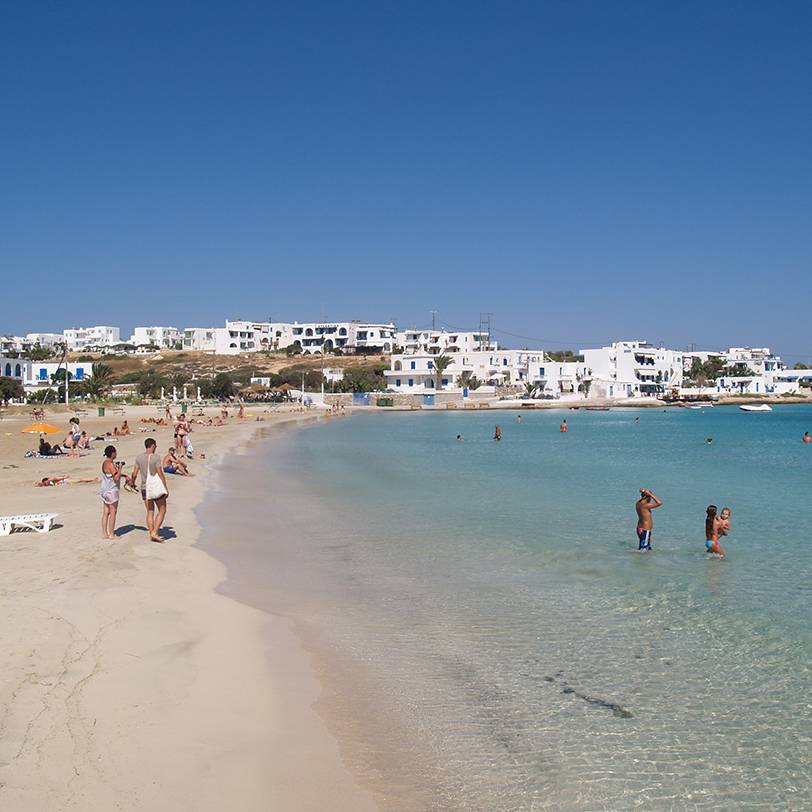 Ammos beach
The beach of the village, between Chora and the port, very convenient if you have small children.
Charokopou beach (Finikas)
Long sandy beach 1 km from the village, you can eat at the tavern Finikas. You can go by bus from Chora too.
Fanos beach
Stunning sandy beach 1.4 km from the village.
Platia Pounta beach (Italida)
Stunning sandy beach 1.8 km from the village.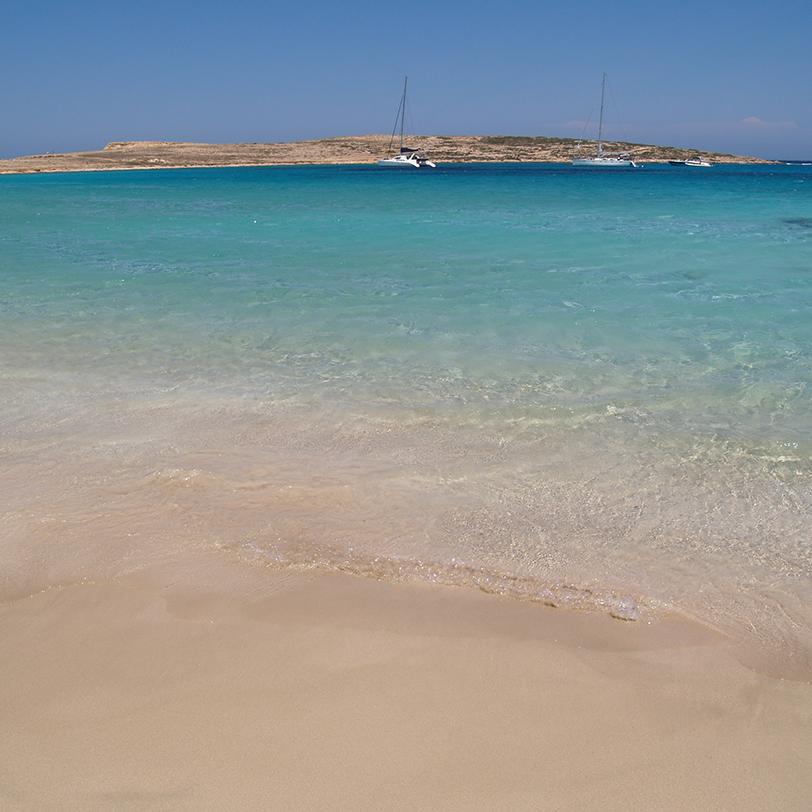 Pori beach
3.5 km from the village, you can go by bus from Chora, it's the most exotic beach on the island. Eat delicious dishes at the restaurant Kalofego.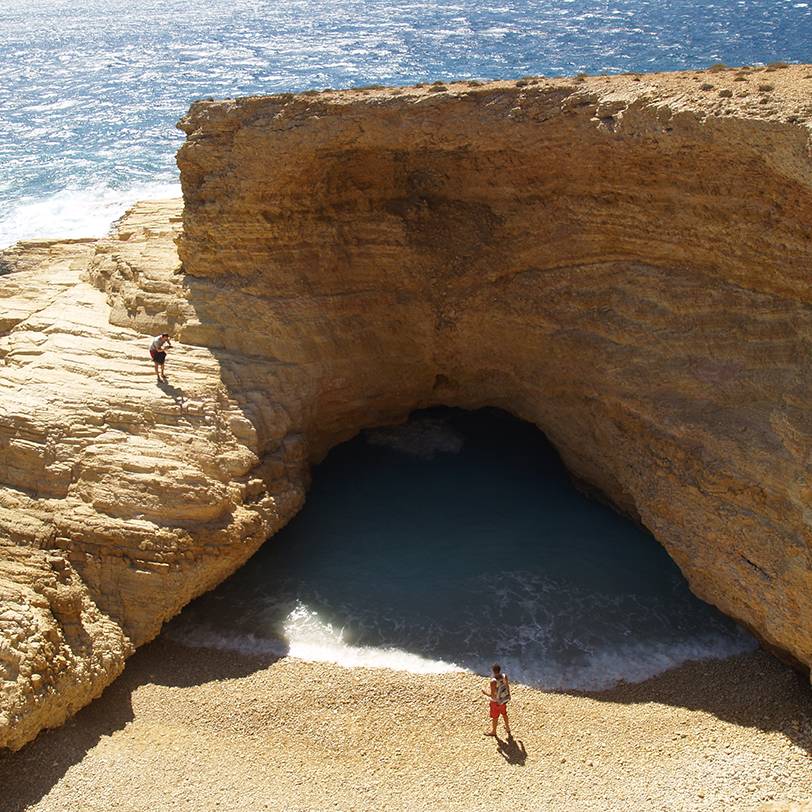 Gala beach
Follow the trail from Kalofego at Pori to Gala beach. It's a very small beach that when the sea is stormy the waters turn white like milk.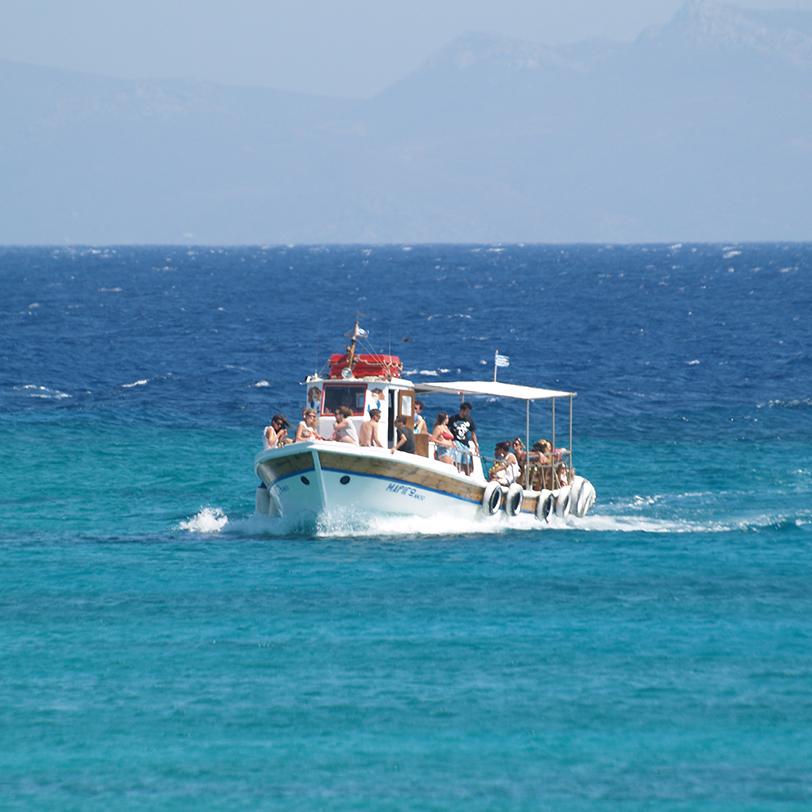 Boat tour to Kato Koufonisi
A deserted island with magnificent beaches near Pano Koufonisi. There are frequent routes in high season to the old settlement Panagia and the beach Nero.
The best beaches are Lakkoi, Detis, Nero and Pezoulia. It's easy to walk the island, just make sure you have eaten already something, you wear a hat and shoes and you have water with you. You can eat there at the tavern Venetsanos.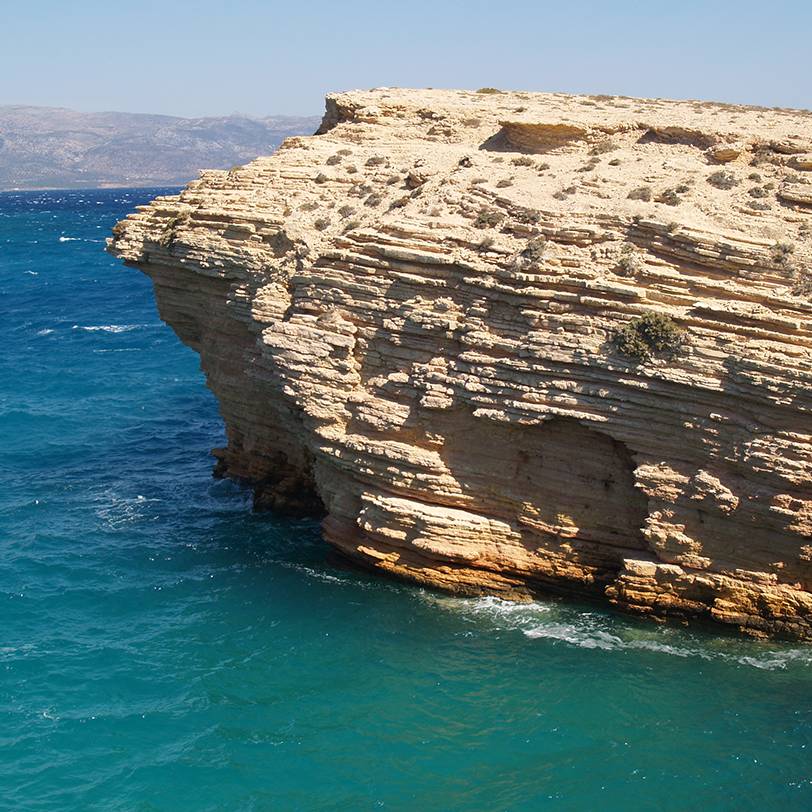 Xilobatis cliffs at Pori
The trail to the beaches
Chora - Chondros Kavos - Finikas - Fanos - Platia Pounta (Italida) - Pori
Through this route you'll visit all the major beaches on the island. It starts from Chora, at first it's an asphalt road and soon it turns into a dirt road. After Foinikas beach it turns into an easy trail. There's no shade.
Before Pori you'll encounter a pool-like formation.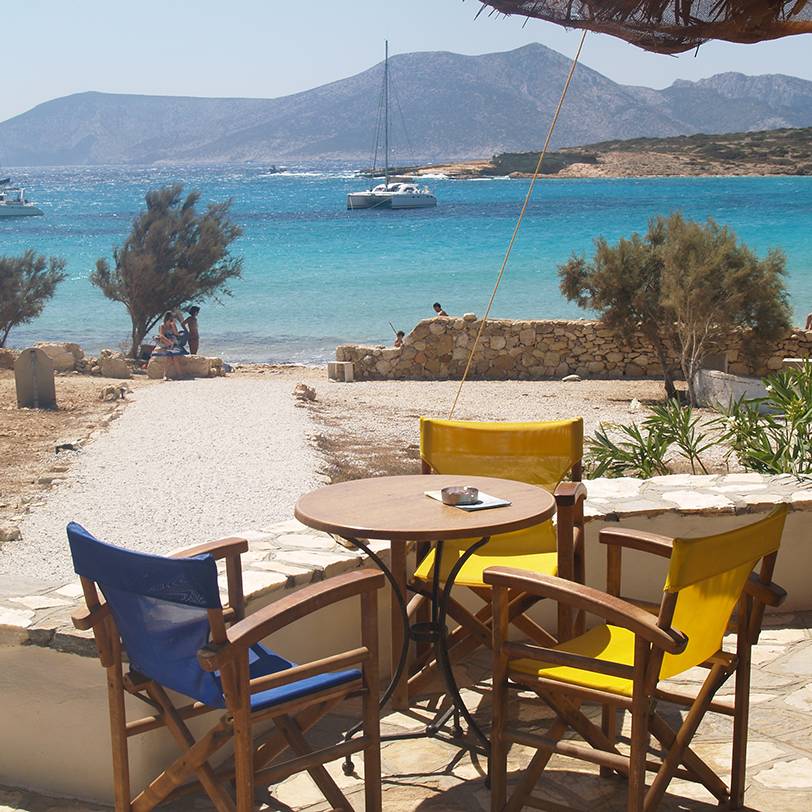 Kalofego restaurant at Pori
How to get to Koufonisia?
By ferry
from Piraeus port:

with Blue Star Ferries, timetables change seasonally. The travel takes about 7 hours

from Naxos:

with Blue Star Ferries or Express Skopelitis daily except Sundays.
By airplane
The nearest airport is in Naxos. You can then get to Koufonisia either with Blue Star Ferries or Express Skopelitis.
How to get around?
You won't need a vehicle to get around the island, distances are very small. You also don't need to get a vehicle with you unless you are planning to visit more islands.
For your transportations to the beaches you have the following choices:
by boat:

it departs from Chora, the routes are very frequent in high season and it reaches Pori

by bus:

from Chora to Finikas and Pori. Routes are frequent too

rent a bike:

there is no car or motorbike hire service at Koufonisia. Rent a bike at Thoosa.
Alternatively you can get around easily on foot.
Day trips and nearby islands with Express Skopelitis
With Express Skopelitis you can go on day trips daily, except Sundays, to Schinoussa and Iraklia. You can hop also to Naxos, Amorgos and Donousa.
How many days can I spend in Koufonisia?
In Koufonisia there are no sightseeings to see, just beaches to swim and get out to eat and have a drink. If you seek relaxation, beach holidays or holidays with your children you should spend some days, it's up to you how many.
When to visit Koufonisia?
Koufonisia is a summer destination, visit it from June to September for hot weather and warm sea. In recent years the island has turned very popular, the second half of July and August can be crowded. Book early in any case because accommodations are limited.
More about Koufonisia: