American movies that refer to Greece or something Greek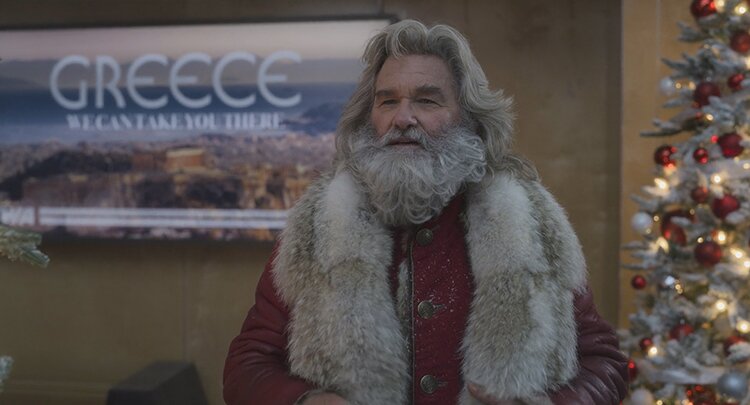 A few foreign films may be shot in Greece, but concerning individual mentions we do very well. Whether it is a mention to Greek mythology or a holiday in Greece read in this list all the mentions I managed to collect from 2014 to 2022.
I have been watching movies since 2014, at some point I realized that there is a significant number of mentions either to the long-standing glamor of Greece or to the Greeks. Mentions in Greek mythology are by far the first because it is taught in American schools and its concepts are familiar to Americans. Mentions in history, led by Alexander the Great, to ancient writers and to the Greek origin of English words are following.
The conclusion I have drawn from all the mentions is that the Americans do not see Greece and the Greeks with a stereotype, that is, for example, as shouters or lazy people. On the contrary, they consider Greece as the birthplace of Western civilization, they admire its mythology and history while as far as modern Greece is concerned at least some negative opinion is not expressed.
I start the list with the movie that not only praises Greece but also advertises it as you can see in the picture above.
1. The Christmas Chronicles 2
Santa Claus (Kurt Russell) in new adventures, the movie praises the Greek origin of Santa Claus. His wife (Goldie Hawn) reading a story to young children, says:
Back in 312 AD.

Santa was living in Asia Minor. Today, it's called Turkey.

Santa was known as Saint Nicholas.

He was a bishop who discovered the joy of giving.

Became something of a local hero.

And his legend spread far and wide
However this may cause some confusion and someone who does not know may consider that Saint Nicholas is Turk so in my view he poses with a big smile in front of a poster - advertisement of Greece to put things in perspective so that it is understood that he is Greek. In fact, his wife affectionately calls him Nick.
2. Shazam!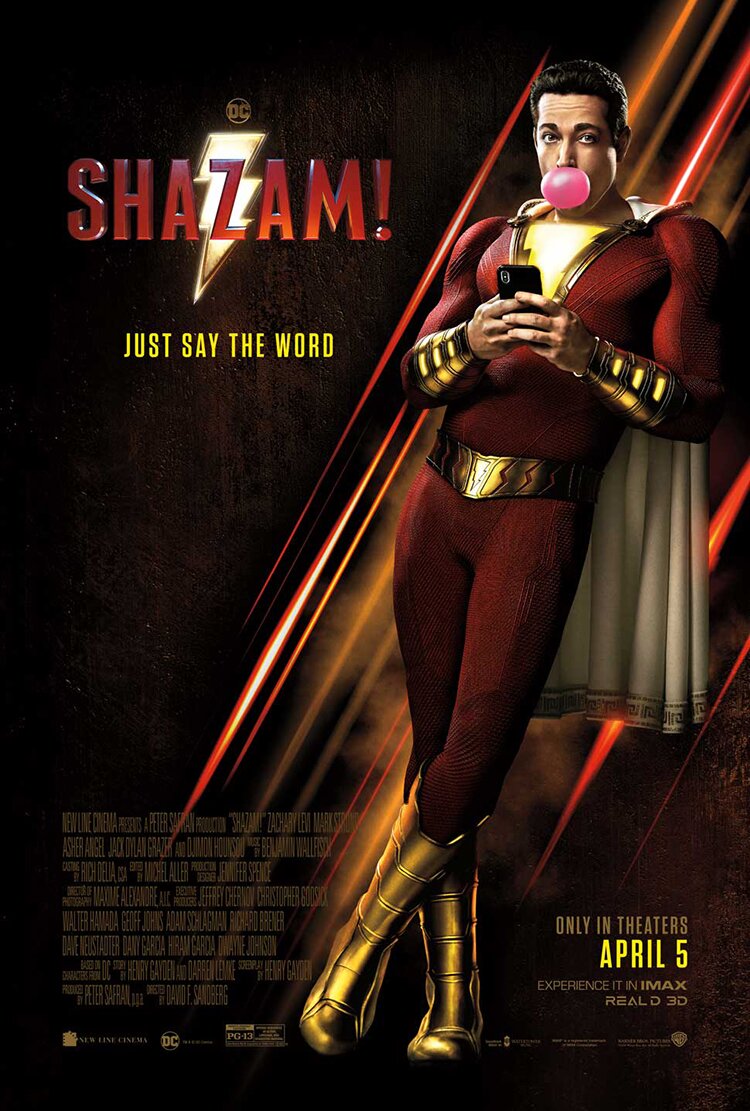 A new superhero is born in this DC Comics movie. Magician Shazam chooses the boy Billy Batson to transfer his powers to him. As he transfers his powers to him a process like baptism takes place.
Carry my name and with it you carry all my powers.

(S)The wisdom of Solomon,

(H)the strength of Hercules,

(A)the stamina of Atlas,

(Z)the power of Zeus,

(A)the courage of Achilles,

(M)and the speed of Mercury.
The initial letter in parentheses is the name of each god from which the name SHAZAM comes.
3. Night School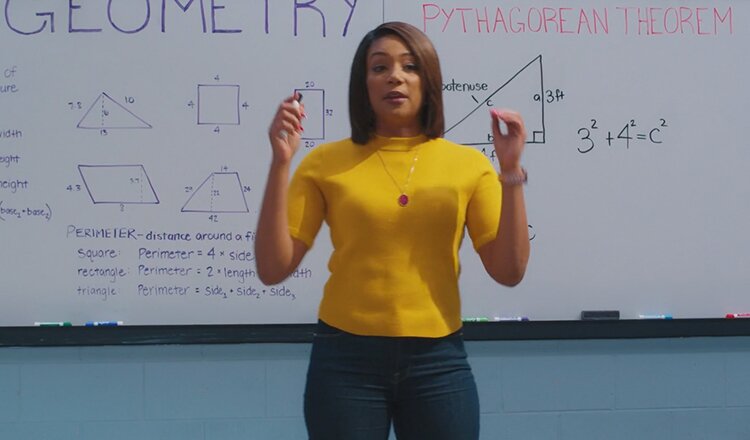 A comedy starring the famous comedian Kevin Hart. In a class the teacher teaches the Pythagorean Theorem:
Now from your first night of homework you all should be very familiar with the Pythagorean theorem.

All right? Say it with me.

Pythagorean...

Pythagorean.

Theorem...

Theorem.
4. Army of the Dead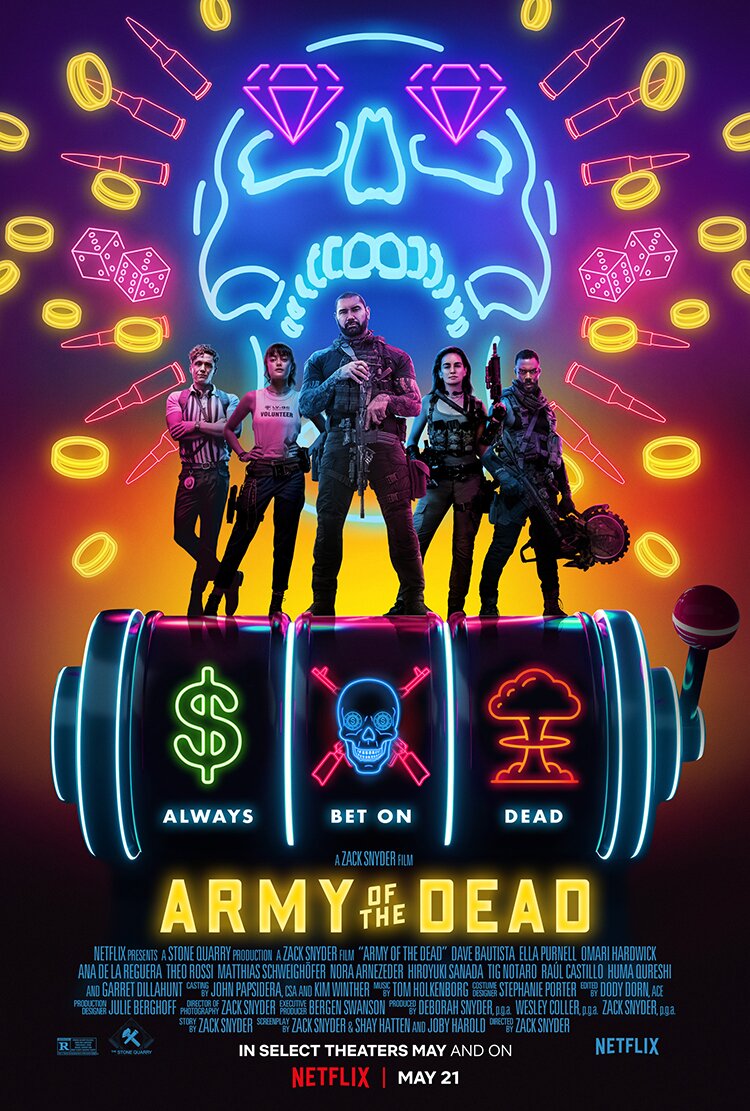 I do not know if you like zombie movies but this one has elements from Greek mythology. Las Vegas is dominated by zombies. Dave Bautista is the leader of an action group that undertakes to enter the city to find gold worth $ 200 million. Inside the ruined city appears the casino "Olympus" which has at the entrance a statue of Zeus holding the lightning. It is a picture of ruins that makes things even more dramatic.
The leader of the zombies is called Zeus, he is the zombie 0 who created all the other zombies, he lives in the Olympus casino with his queen and he is the leader of all the zombies, being even stronger and smarter. A clear reference all this in Greek mythology.
5. Wrath of Man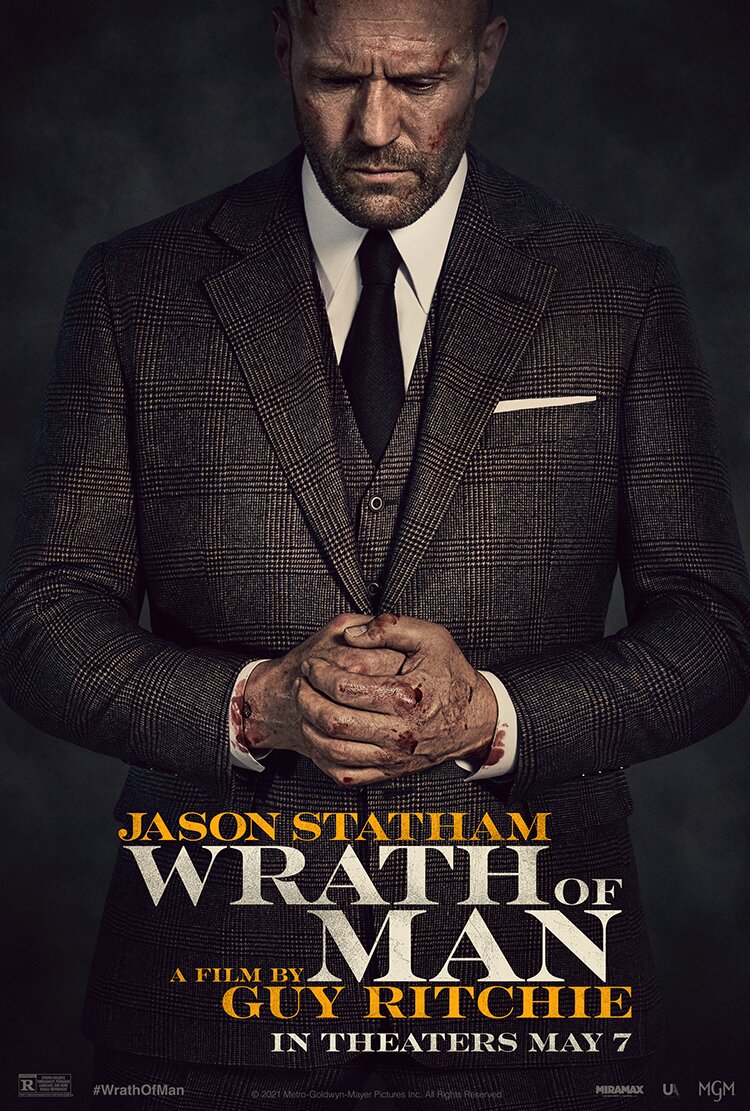 An action thriller directed by Guy Ritchie and starring Jason Statham. The protagonist in a conversation with his son say:
Know why they call the arctic "the arctic" and the antarctic "the antarctic"?

Arktos means "bear" in Greek ant means "without."

Hence antarktos: "Without bears."

Up with, down without.
6. Gone Girl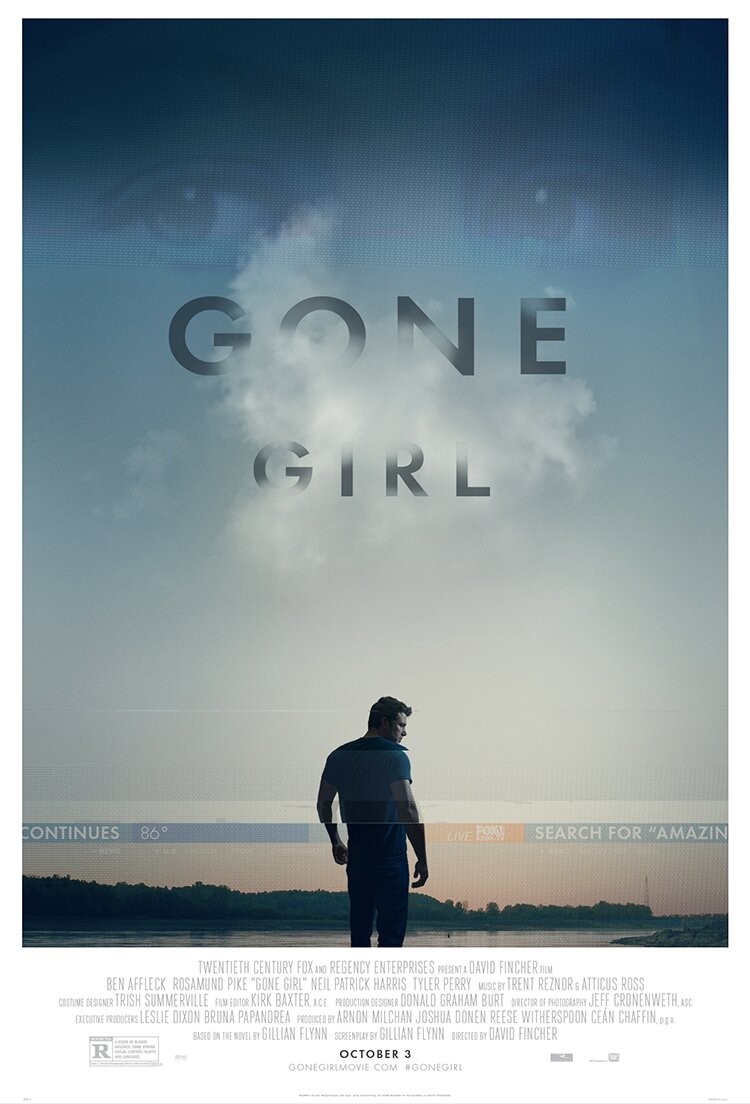 Psychological thriller with Ben Affleck and Rosamund Pike. A couple meets after a long time and with passion they make the following dialogue:
I've missed you.

I've been thinking...

I don't wanna be without you.

Stay with me.

And when all this dies down, we'll go to Greece, like you said.

Octopus and scrabble?
7. Scoob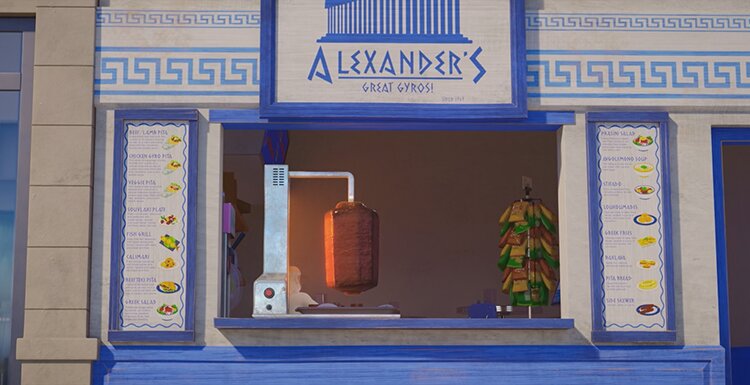 Scoob is a dog that invades the skewer shop "Alexander's Great Gyros" on Venice Beach in Los Angeles. He grabs a whole gyros and runs away with gyros as a wheel! You can even see the Greek menu of the skewer shop too.
8. Selena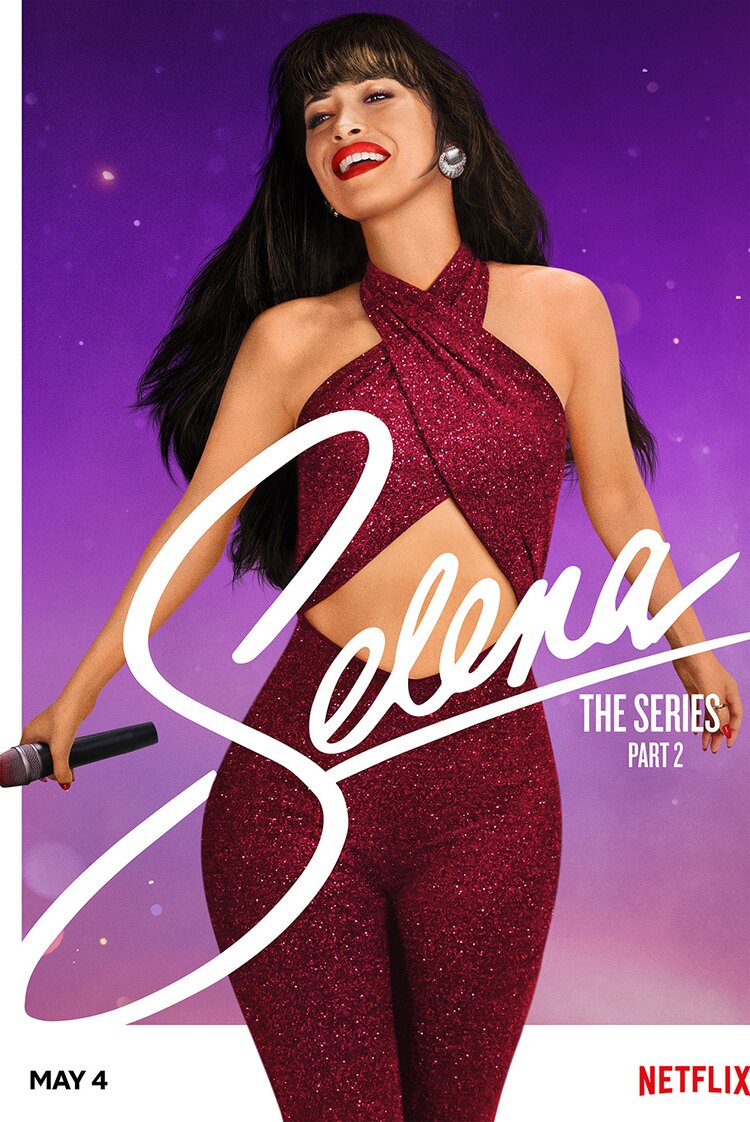 A series about the short life and tragic death of the famous American music singer Tejano, Selena Quintanilla Pérez. At the very beginning of the first episode, the father thinks of baptizing his newborn daughter Selena, so he rushes to find a dictionary to see what the name means:
Selena.

From the Greek.

Goddess of the Moon.
It is worth noting that Selena was the first successful role of Jennifer Lopez in a series shot in 1997. Selena was murdered in 1995.
9. One night in Miami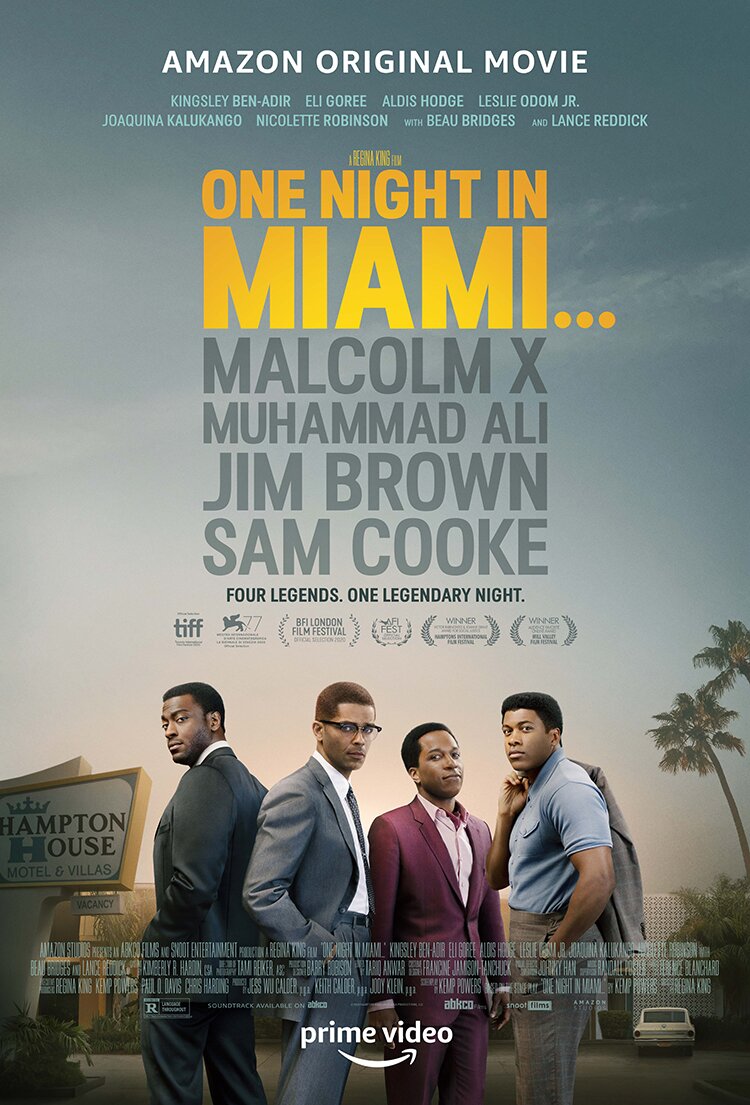 A movie about the life of the American boxer Mohamed Ali. Excited by his victories young Ali says:
Look, Alexander the Great conquered the whole world at the age of 30...

Yeah... and I conquered the world of boxing at 22 without sustaining so much as a scratch.
In the same movie there is a reference to Ancient Rome, a thing rare for a movie:
We're all just gladiators

with our ruler sitting up there in his box giving us the thumbs up or the thumbs down.

Well, I don't want no damn ruler.
10. American Crime Story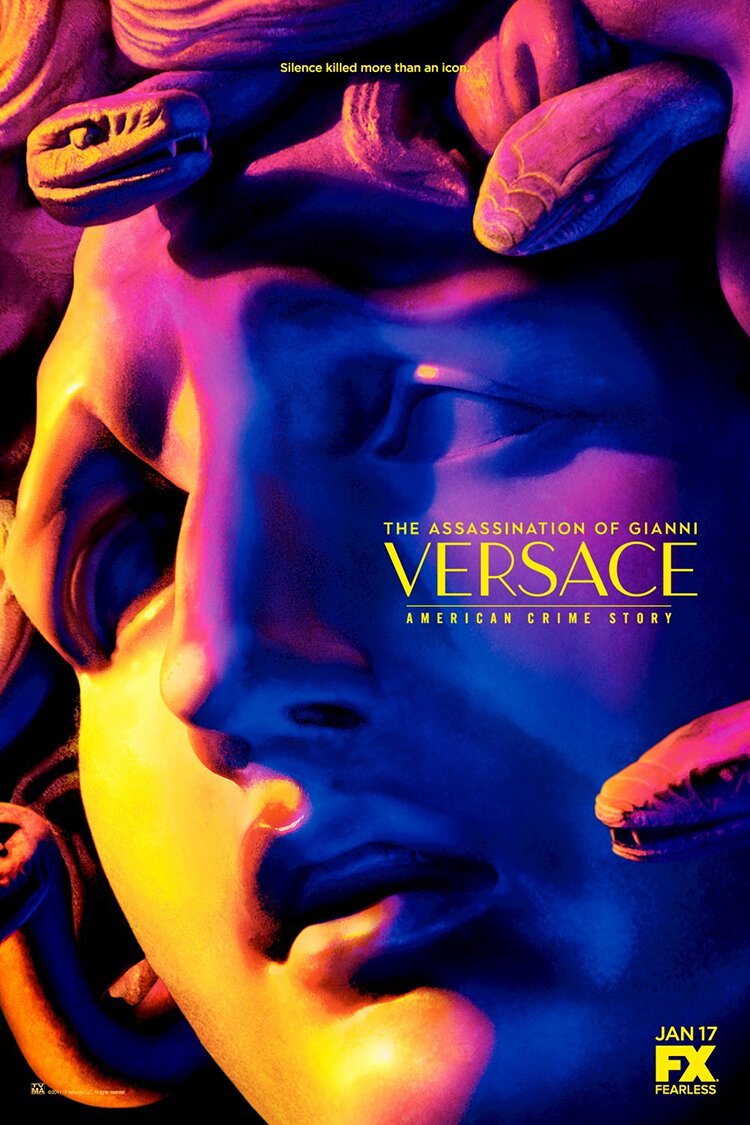 An awesome series of murders that shocked American public opinion. In the second season that chronicles the murder of the Italian fashion designer and founder of the international house Versace, Gianni Versace, we learn what the name of Minneapolis in Minnesota means:
The name Minneapolis was formed by combining the Dakota Sioux word "mni" for "water" with the Greek word "polis" for "city."

And so it's no surprise that water features prominently in the identity of this remarkable city, situated on the banks of the Mississippi River with no less than 13 lakes.
11. For All Mankind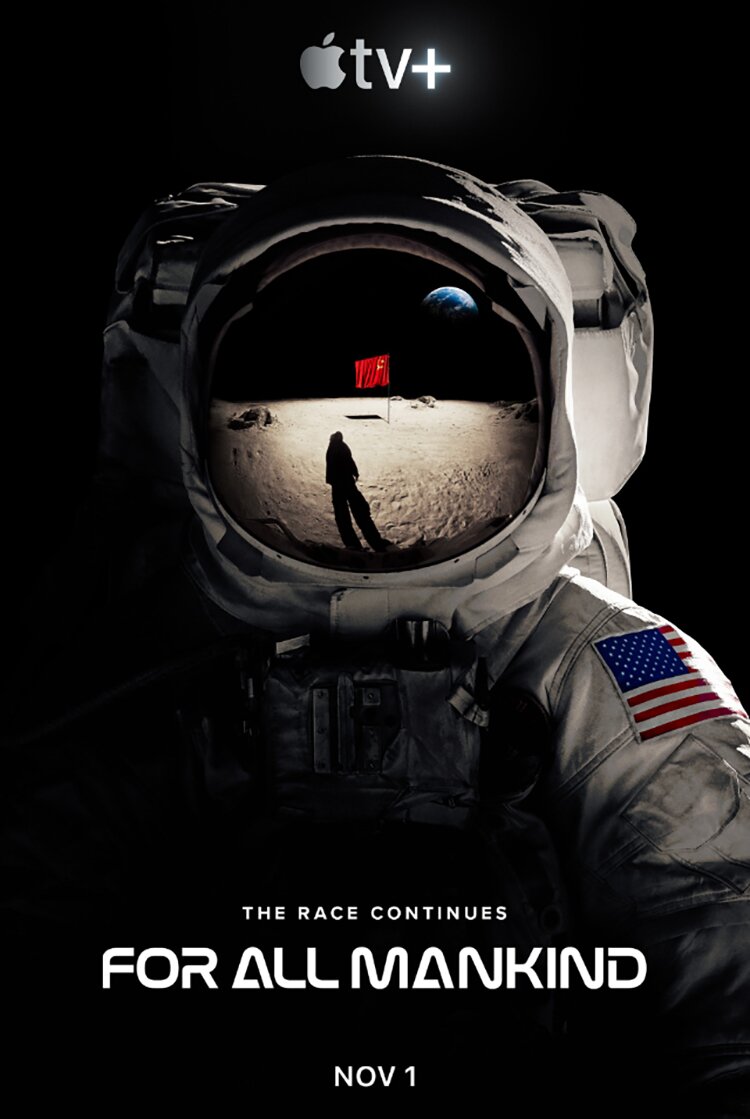 A science fiction series that presents an alternative story if the Soviets were the first to conquer the moon and the Space Race was extended with colonies on the moon.
At some point the protagonist of the series Joel Kinnaman while waiting in a living room for a meeting finds a book of Plutarch and the following dialogue takes place:
Plutarch.

Yeah, I read it when I was a kid. Loved it.

Heroic tales of brave men long past.
12. Hyena Road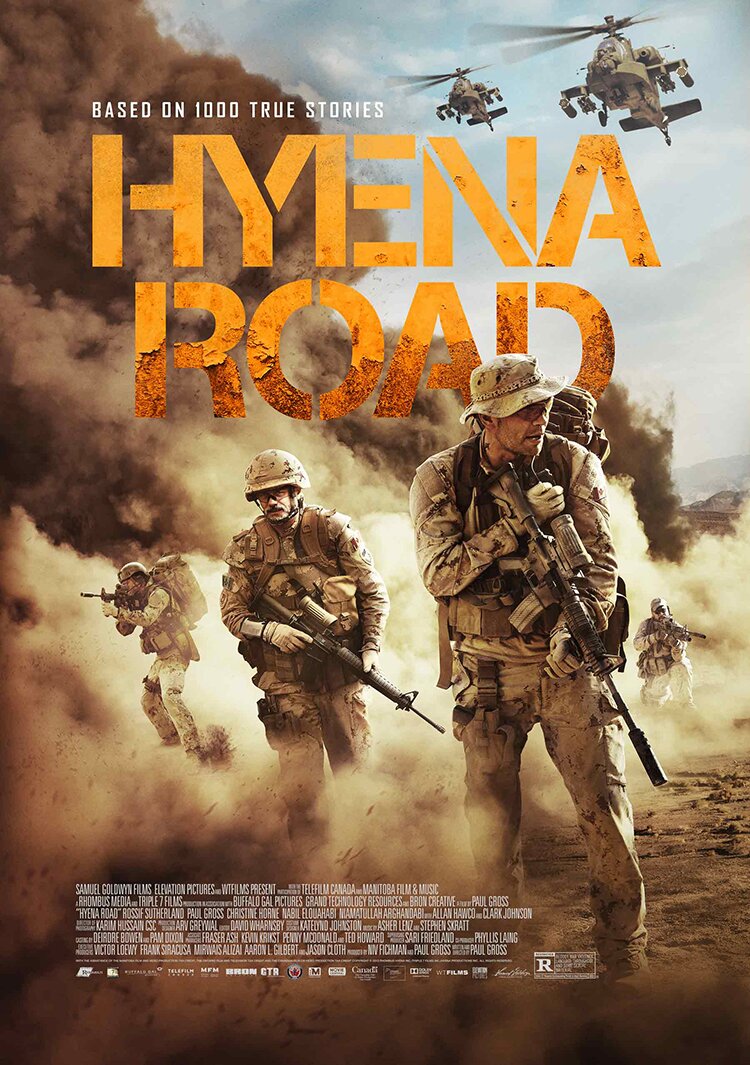 A movie about the war in Afghanistan that specifically refers to Alexander the Great could not be missing from this list. So it describes how Alexander the Great saw Afghanistan:
Alexander the great marched into this graveyard (Afghanistan) about twenty-five hundred years ago.

Easy to march in; Hard to march out. His words.

He and his mother wrote to each other all the time.

And one day he got a letter from her saying, "what the hell? You conquered most of the known world in like a day and a half, what are you doing bogged down in Afghanistan?"

He grabbed a bag and shoveled it full of dirt and had it sent back to Greece with a message to his mother:

"Take this dirt and dump it around the palace, see what happens."

So Alexander's mother spread the dirt all around the palace.

Later that night a couple of attendants showed up, to make sure she was alright.

One says, go ahead, after you. And the other one says, no, after you. And the first one says, no, I insist. And the second one says, don't you tell me what to do, and they both pull their swords and they go at it until they kill each other.

Alexander's mother watched all this and wrote a note to him saying, okay, okay, now I get it.

And he wrote back, saying, yeah, even the dirt is hostile.

In Afghanistan, dogs fight dogs, birds fight birds, men kill men.
13. The Water Diviner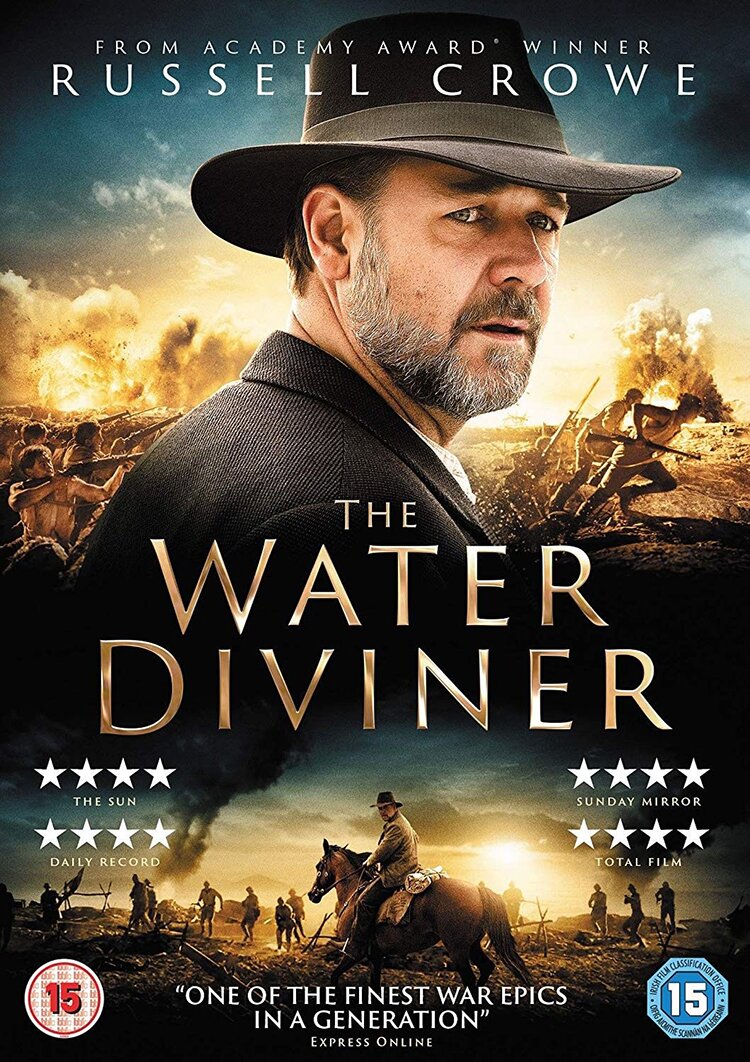 The truth is that I wondered if I should include this film in the list because it had get a lot of negative comments because it presents the Greek Asia Minor Campaign on the part of the Turks. In particular it has been strongly criticized because it does not mention the genocide of Greeks and Armenians at all, there may not have been space in the film to present such horrific events, so the production chose not to mention it, but so they present the story distorted.
Joshua Connor (Russell Crowe) is an Australian farmer who lost all three of his sons at the Battle of Kallipoli during World War I. So he goes to Turkey in order to find and bring their bodies home. Arriving at the cemetery of the victims of the battle he discovers that one of his sons is alive and starts looking for him. He becomes friends with the Turkish Major Hasan who helps him in this endeavor. He takes him on the train to Ankara as part of a Kemalist army rally. Along the way they come face to face with the Greek army while the Asia Minor Campaign unfolds towards Ankara.
The train is under heavy attack with cannons and machine guns. Joshua and Hasan escape on horseback and find the third son in a nearby village. At the same time the village is occupied by the Greek army who pound everything with cannons and a lot of hatred to kill them all while trying desperately to escape. The film is quite pro-Turkish and includes several praises to Kemal.
14. Jason Bourne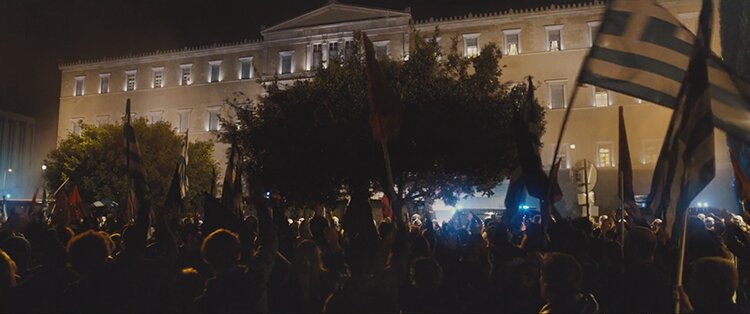 The Greek Parliament
Action thriller starring Matt Damon. The movie is set in several countries but was shot in Tenerife and London. At the beginning of the movie, scenes have been shot in Tsamantas, Thesprotia.
Jason Bourne (Matt Damon) is a former CIA agent who lives in Greece and lives off improvised boxing matches. He meets Nicky Parsons in Syntagma Square in Athens, amid clashes between protesters and MAT, who intends to reveal details about dirty CIA cases. In the midst of explosive scenes with Molotov cocktails, they are being chased by CIA agents in the alleys of Athens. However, the production has done a very good job and you do not understand that it was shot in Tenerife. The illuminated Parliament appears in the background of Syntagma Square, a green screen may have been used. A few more scenes are taking place in the Athens Metro supposedly but it is the London Underground.
Some comments have been written that it was a missed opportunity for Greece, but I do not agree. This is because the movie is supposed to take place in several cities in Europe: Rome, Berlin, Reykjavik, Athens and as you can understand it is not possible to shoot in so many locations.
15. Hitman's Wife's Bodyguard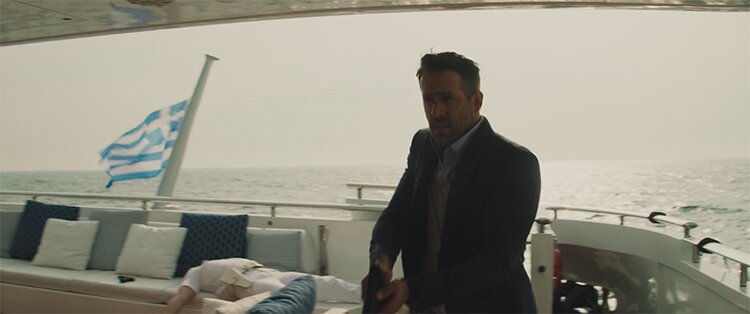 Salma Hayek, Ryan Reynolds and Samuel Jackson pursue Aristotle Papadopoulos (Antonio Banderas) , a raged Greek shipowner who tries through a big cyber attack to take revenge on the European Union for the severe sanctions it imposes on Greece during the economic crisis. The movie was shot in Italy.
16. Operation Mincemeat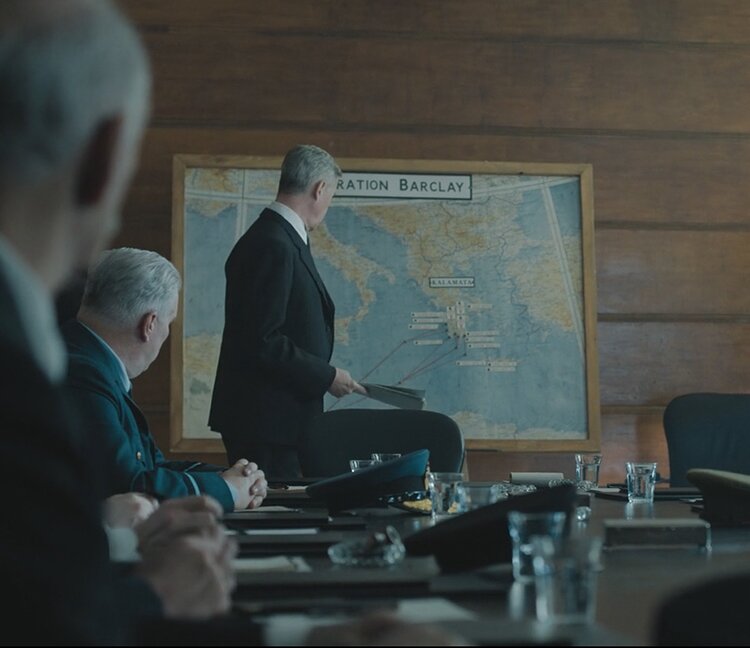 Operation Mincemeat was an operation aiming to deceive the Germans in 1943 during World War II that the British would land from Africa supposedly in Greece instead of Sicily as expected. This of course was not the case because it was a deception for the Germans to direct their troops to Greece and not to Sicily. In fact a map of Greece is displayed which reads in large capital letters "KALAMATA" meaning that they would allegedly disembark in Kalamata. During the film, "Greece" is heard several times, even in front of Churchill. Read more in the article which I have written specifically for this movie.
17. Prison Break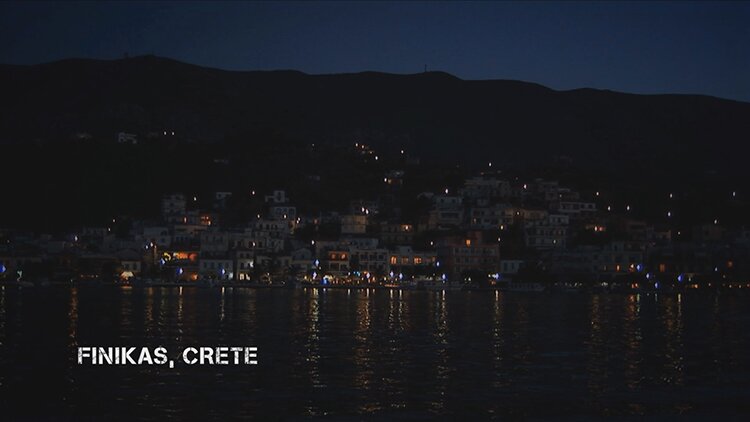 In the 5th season of the well-known series, Michael Scofield and his brother Lincoln Barrows escape from a Yemeni prison. With the civil war raging and the front of fanatical Islamists approaching them from hour to hour they are looking for a way to leave the country as soon as possible. Finally they board a boat and arrive in southern Crete in the village Finikas.
Elsewhere in the episode a toddler draws a sketch of an ancient Greek warrior and talks to his mother:
It's a Greek hero.

He looks hurt.

They all get hurt sooner or later.

That's what's great about Greek heroes, they're real, not supermen.

They get hurt.

They can die.
18. The Black Phone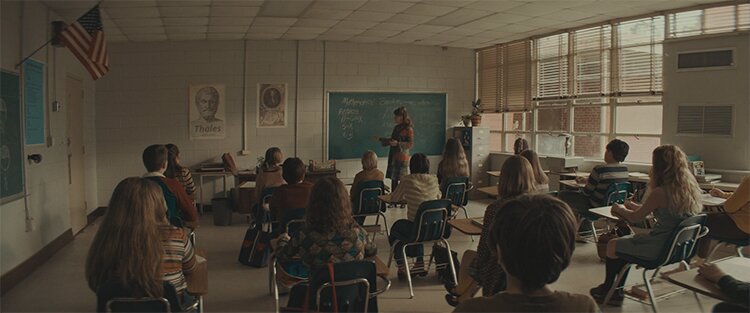 In this thriller you can easily make out the poster with Thales to the left of the school class.
19. American Gods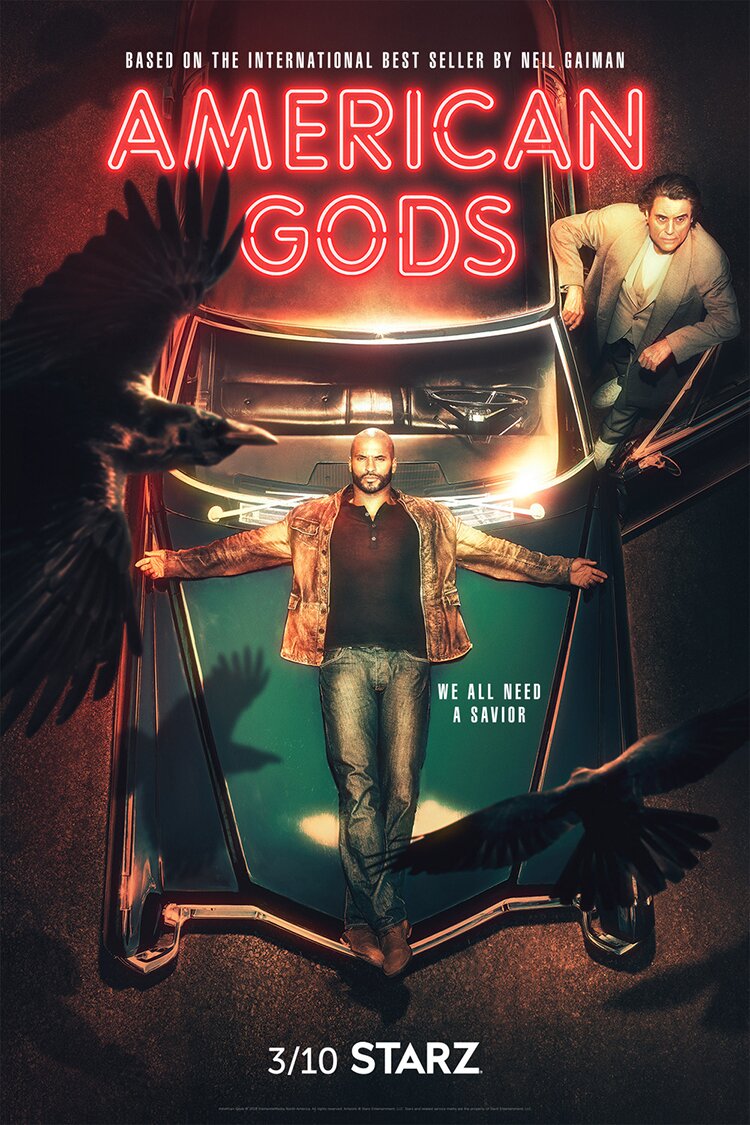 An American television fantasy series about the struggle between old and new gods. I have nothing to say about the case because it confused me a lot! In the 1st season there is a mention to the Greek god Argos Panoptis whom is displayed as a drone (I told you it is a bit strange series) while in the 3rd the goddess Dimitra is presented who is loved by the man God Odin.
20. The Gray Man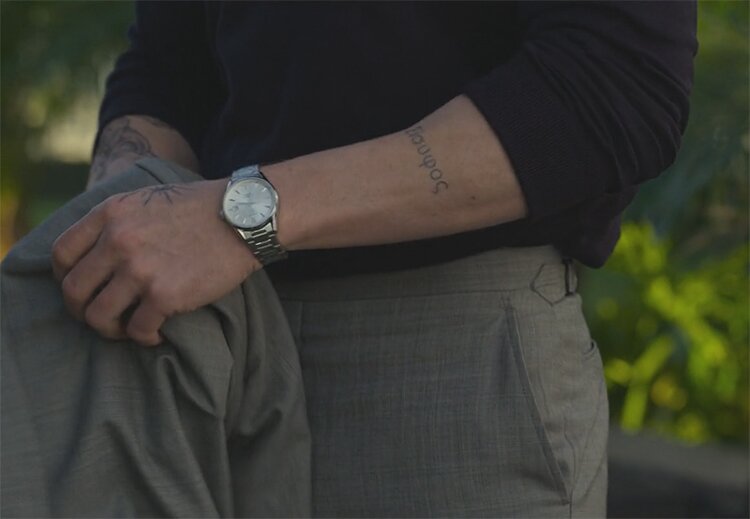 In this action movie where the streets of Prague are turned into a battlefield comes into focus a tattoo of Ryan Gosling that reads Sisyphus in Greek. Here is a dialogue referring to the myth of Sisyphus:
Like your tattoo.

Where'd you get it? Prison?

Yeah, actually.

I'm shocked.

What's it mean, the writing?

Oh, it's, you know... It's a guy's name in Greek.

What guy?

Just a guy. You know, trying to get a rock up a hill.

Why?

They made him.

Who made him?

The gods.

Did they need a rock?

They were just trying to punish him, I think.

Did he deserve it?

Probably.

Did he like it?

Probably not.

So why'd he do it?

You ask a lot of questions.
21. Thirteen Lives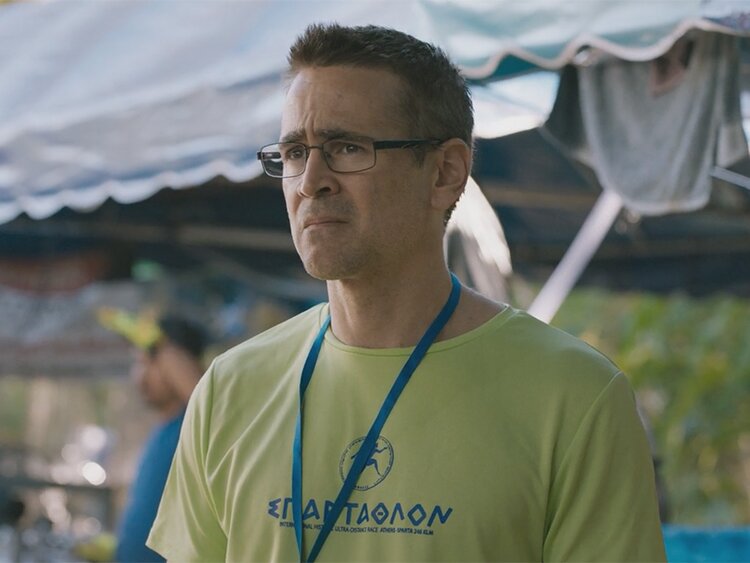 Colin Farrell stars as an experienced cave diver who leads an international effort to rescue 13 people from a cave that suddenly flooded due to the monsoons in Thailand. A true story that took place in 2018 and had reached global proportions. Farrell even wears a jersey of the 245 km Spartathlon ultramarathon obviously wanting to show off his excellent physical condition.
22. Thor: Love and Thunder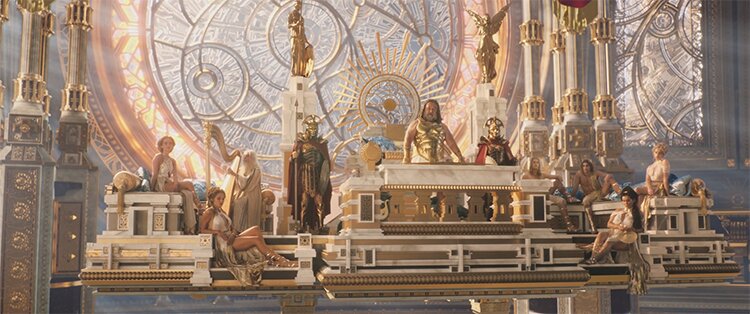 In this Marvel film Thor (Chris Hemsworth) meets Zeus (Russell Crowe) in an attempt to seek help for the evil that reached Asgar. The meeting does not go as Thor expected as Zeus proved to be a coward and inferior to the circumstances. However he gives an impressive spectacle with his thunderbolt that arouses all the mighty gods of the universe.
23. Murder Mystery 2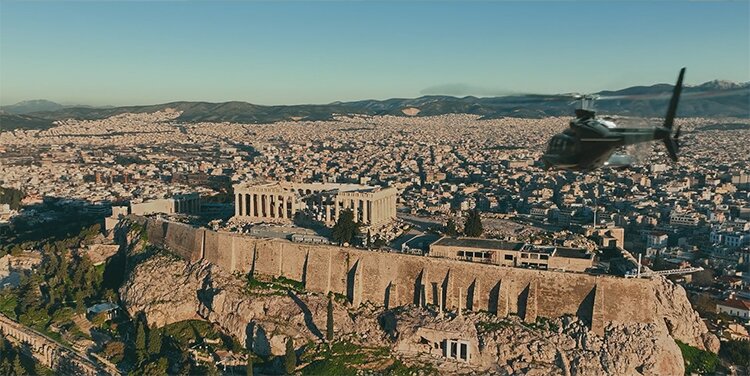 In the sequel of Murder Mystery Nick (Adam Sandler) and Audrey Spitz (Jennifer Aniston) continue to solve mysteries in Europe this time in Paris. Their friend Vik is kidnapped and they manage to uncover the kidnappers who are above any suspicion. After the end of the adventure the couple is richly rewarded by their friend so they choose Greece for vacation and at the end of the film they fly in a helicopter over the Parthenon.