Cheap holidays in the Cyclades: the 4 most useful tips
For sure you have read many tips for cheap holidays, but have you read tips specifically for the Cyclades?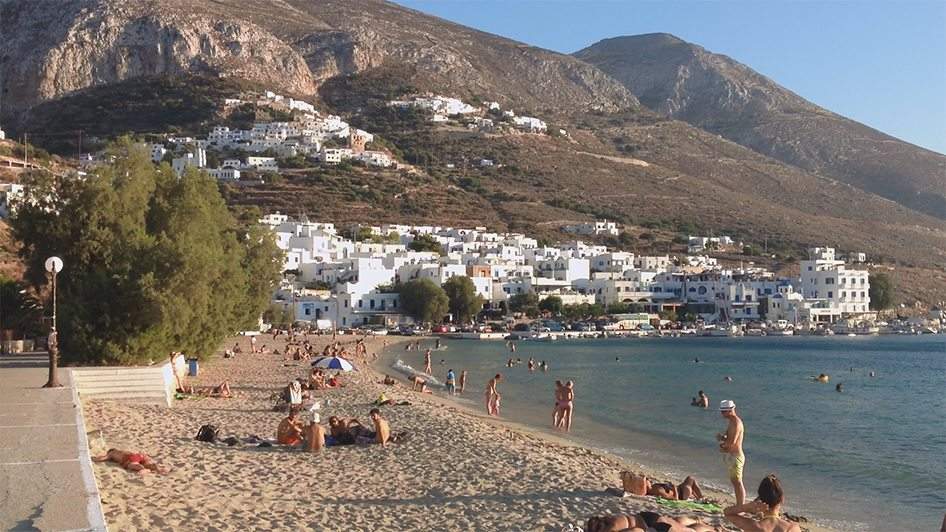 Pleasant beach in a vibrant village, the ideal combination for budget holidays in the Cyclades
The Cyclades is a dream spot in Greece, but they hide many peculiarities that it's good to know about so as not to spend money unnecessarily on your holidays. Read below the 4 most useful tips for cheaper holidays in the Cyclades.
Tip #1: beach, food and nightlife in the same place
Choras are the center of the island's life, most eateries, cafes and bars are there. But they are high on mountain peaks, far away from the beaches, forcing you to rent a vehicle or get your own with.
So a few hundred euros are added to your holiday budget that you can avoid if you seek a place for accommodation that combines beach, food and nightlife. In this way you don't need to get around all the time and you save a lot of money.
Such destinations are:
in Santorini, Kamari and Perissa: the cheapest destinations in Santorini that combine them all, beach, restaurants and bars.

Kamari has more restaurants and bars and more frequent bus itineraries if you want to visit Fira

in Amorgos, Aegiali and Katapola: in the two ports of Amorgos you'll find beach and restaurants as well as a little nightlife

In Katapola the access to the beach is by boat

in Milos, Adamantas: you'll find restaurants, cafes and bars. The nearest beach is Papikinou at a distance of 1.5 km where you can go by local bus as well as to the most important beaches of the island.

From Adamantas you can take the round of Milos

Naxos: in Naxos Chora you'll find literally everything as well the wonderful beach of Agios Georgios
Paros, Parikia: you'll find everything you need, from a sandy beach to wild nightlife
Andros, Batsi: wonderful sandy beach and a little nightlife
Mykonos: Mykonos definitely isn't a cheap island, but it's on this list because of the very good transportations that get you easily to every part of the island
Do not get disappointed though that you'll be limited to one point. If a boat for sea excursions starts from there, you are going to have a great time. If you want to go on tour or sightseeing these islands have a reliable transportation network and it's a smart idea to use the local buses.
Tip #2: islands that you don't need a vehicle
So far I have talked about large islands of the Cyclades. There are also small islands that are so small you don't need a vehicle to get around, you can easily go on foot or by bike and save on car rental costs. Most of them have public transportations and boats to go to beaches.
Koufonisia: Chora has an amazing sandy beach. You can go to the rest beaches on foot, by boat or by bus
Antiparos: for swimming on the beaches around Chora, you can go and farther by bus. You also have the option of touring the island by boat
Donousa: Chora has an amazing sandy beach. You can reach the rest by boat and bus. At Kedros you can get easily walk on foot
Ios: amazing beaches and amazing nightlife. You can easily get around by bus. The only disadvantage is that you can't go from Chora to Gialos beach on foot

From Gialos beach you can take the round of the island
However these islands, exactly because they are small, they have limited number of accommodations and you need to book early to find available.
Tip #3: Conduct a market research
Don't have a specific island in mind, start searching based on accommodation prices.
At booking.com enter your favorite islands and use Sort > Price (lowest first), on the mobile app, and Price (lowest first), on desktop. In this way the most affordable accommodation opportunities for each island will be unlocked. Of course, if you book last minute or on the 15th of August, the cost is automatically skyrocketing.
Tip #4: book early
Classic advice however in the Cyclades it's of great importance because there is not plenty of accommodation and the occupancy increases in July and August.
Don't forget that in the Cyclades there are no large hotels to take advantage of their better prices, such as in mainland Greece, Crete, Kos and Rhodes.
In addition, the opportunities are the ones that leave first, leaving the most expensive accommodation for the latecomers. Don't forget that you can book cheaper ferry and airline tickets early.