Smart and cheap beach equipment setup
Are you indignant about the high prices on sunbeds? Do you want to go to any beach you like with an umbrella and your chairs? If either of these two concerns you then in this article I will show you how to get cheap beach equipment and how to set it up effectively.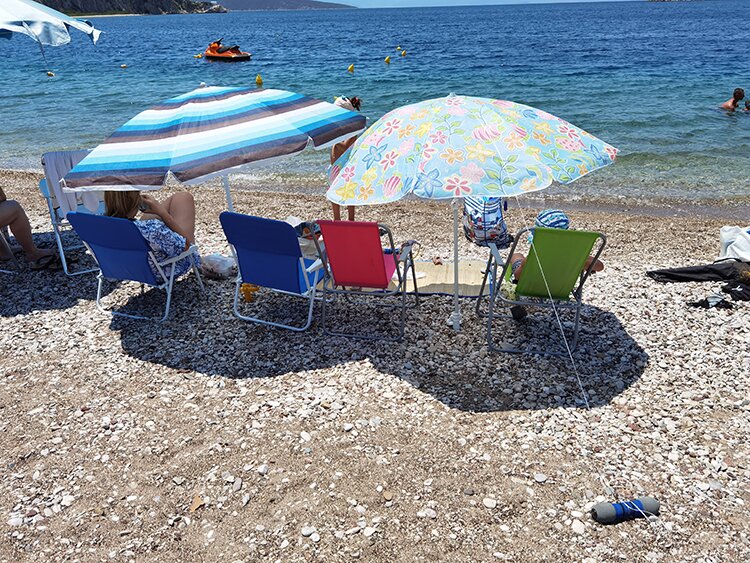 It is definitely an extra weight to carry an umbrella with you on your holidays especially if you are traveling with a two-wheeled vehicle but it will lighten your vacation budget by several euros. Plus you will have absolute autonomy to choose a beach without worrying about whether it has sunbeds or trees for shade.
So let's start with the basics. In the image below I have photographed my equipment, it consists of three pieces: the wedge, the pole and the umbrella.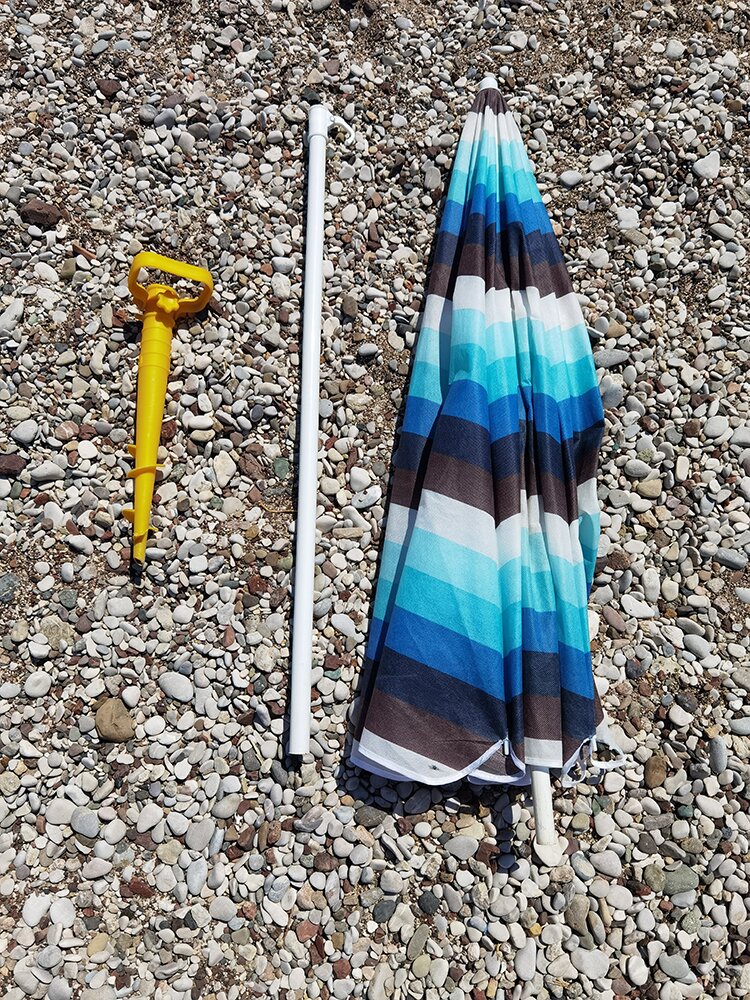 I recommend the wedge be screwed and not nailed. Twist the wedge until it is completely screwed into the ground. If you can choose between pebbles or sand I recommend pebbles because they have a better hold. The nailed wedge is more convenient and more common but does not offer the same hold in strong winds.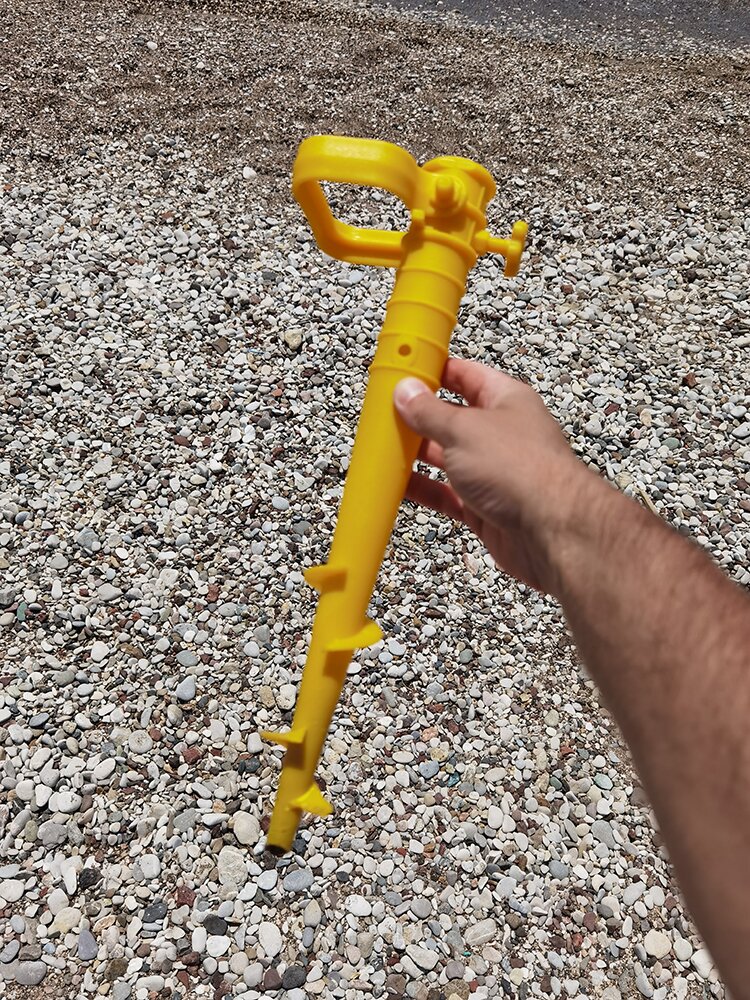 Treat screwing as a rite if it is not done well you will not have a good stay on the beach. Screw with patience and apply force it can take up to two minutes. Place the wedge vertically without a tilt, pay attention to this detail because at that moment when you will be screwing it laboriously into the ground you might neglect it. This is done because if the umbrella has a tilt the wind will be able to enter from under it and if it is strong it will be able to carry it away. If it is placed vertically without a tilt the air has nowhere to enter.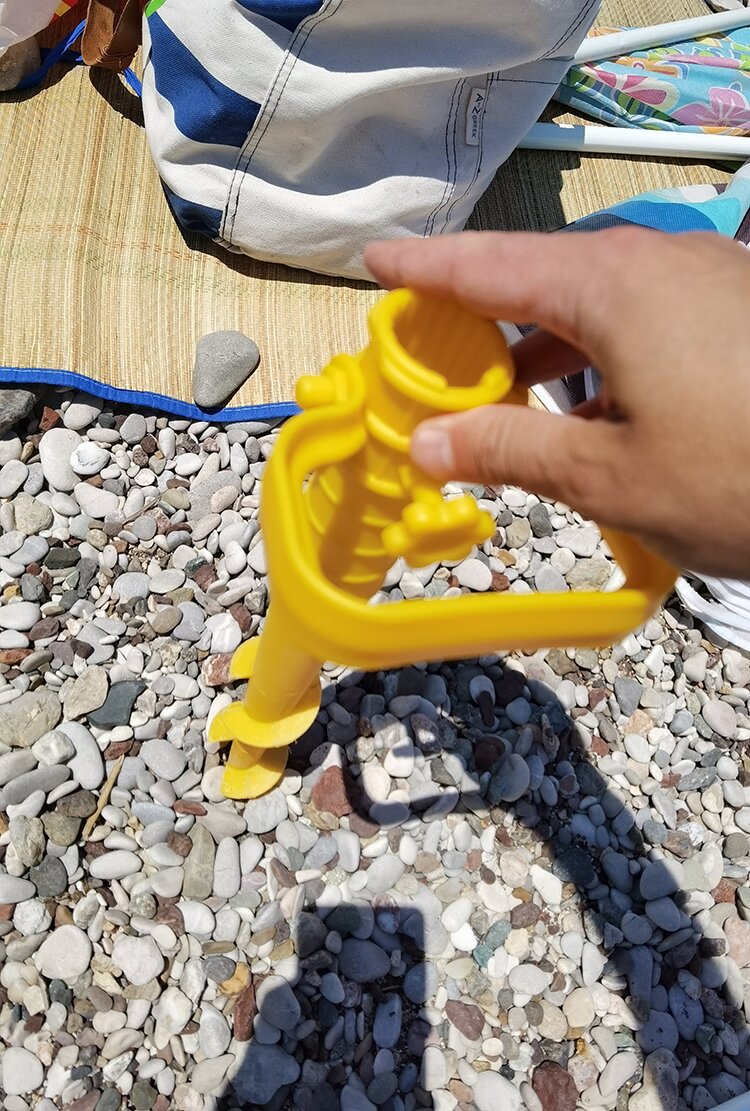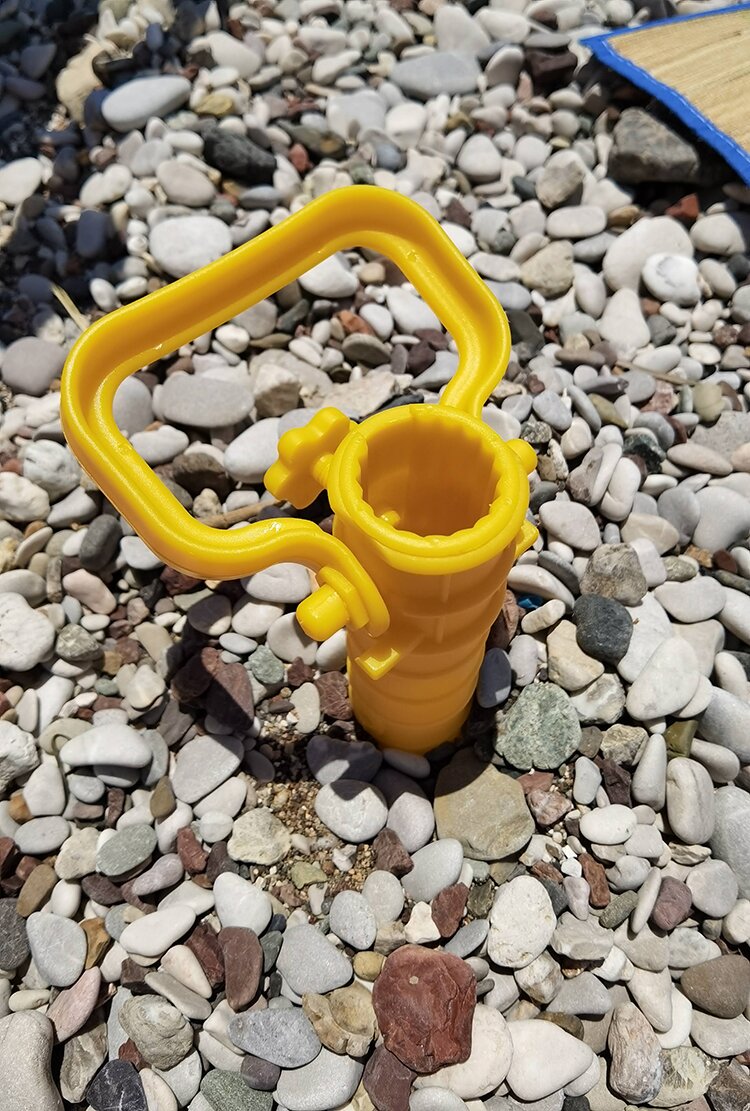 Be careful not to screw using the handle, it is not meant for this job, it will break.
One more secret I have to share is don't rest if there is no wind or it is low at the time. The wind as noon approaches rises and there may be gusts so instantaneously for fractions of a second it can become very strong.
Once you're done screwing you're basically done the rest is procedural. Put the pole into the wedge, tighten the plastic screw and finally put the umbrella into the pole. Don't forget to turn the switch. With the switch you adjust the height of the umbrella. Put your mat and chair underneath and enjoy your swim!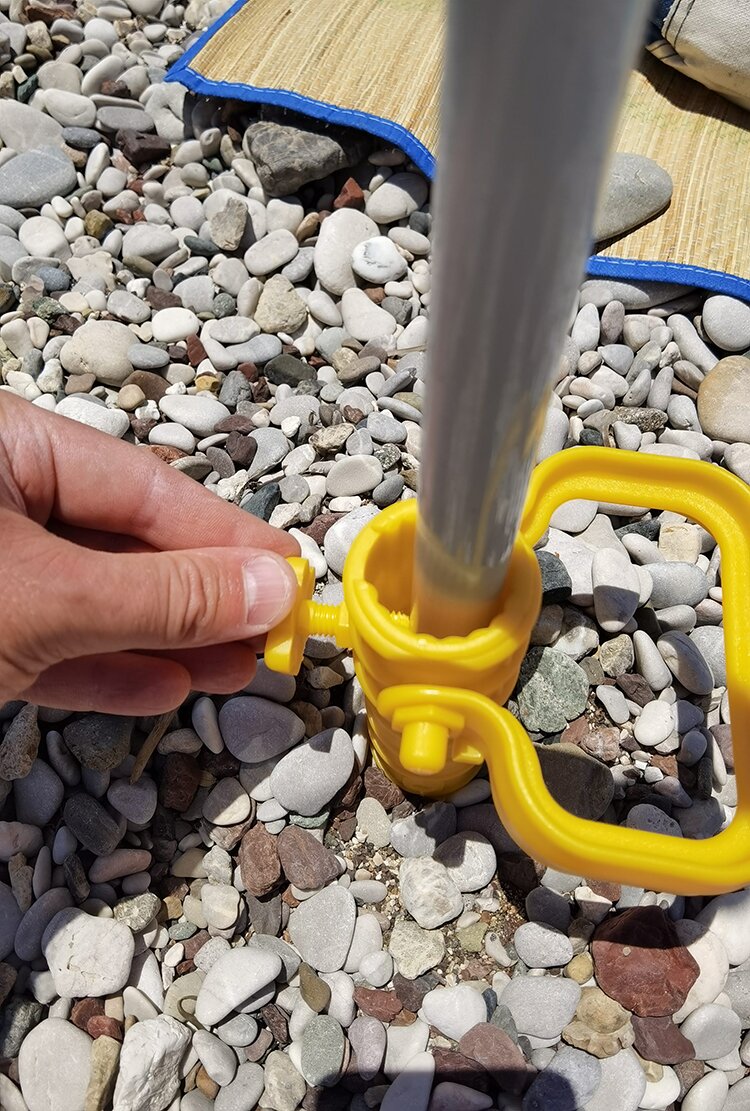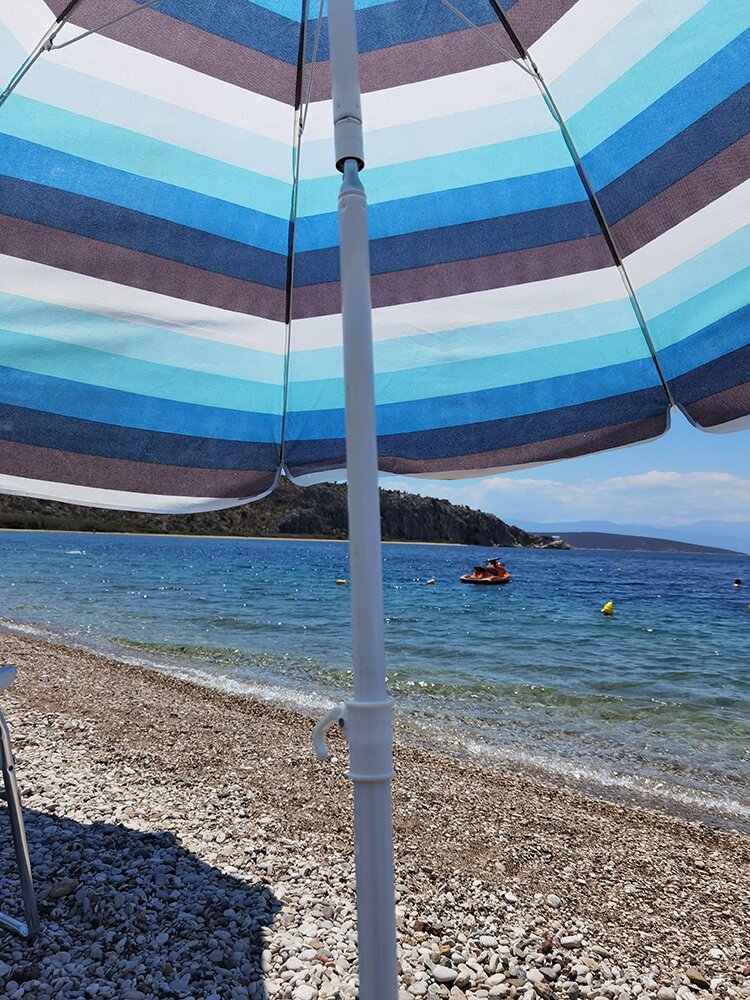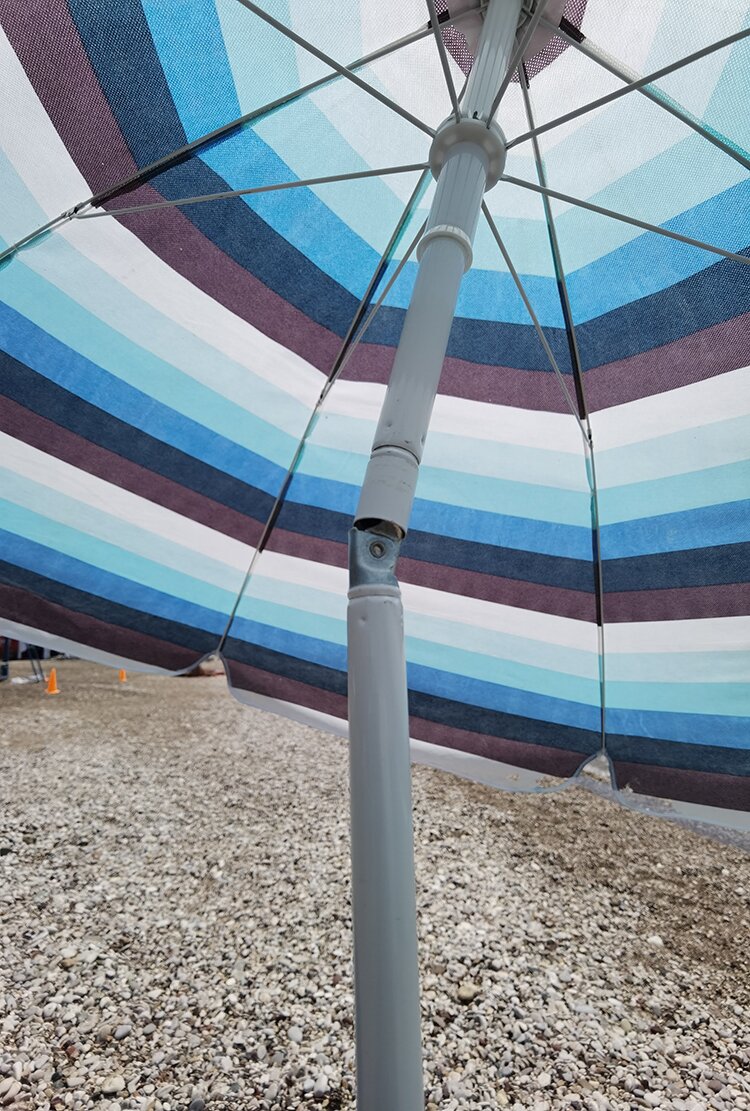 If you want, you can give the umbrella a slight tilt this way
The only downside to my gear is that the umbrella lets some light through and doesn't offer 100% protection.
I also have a second umbrella for the kids, the same but smaller. Its peculiarity is that it has thin rays, which makes it more vulnerable. The patent I do for 100% safety from the wind is to fold a piece of twine on top of it while its two ends are tied to weights. You can tie on stones if there are any or a very good patent I have seen are bags full of pebbles.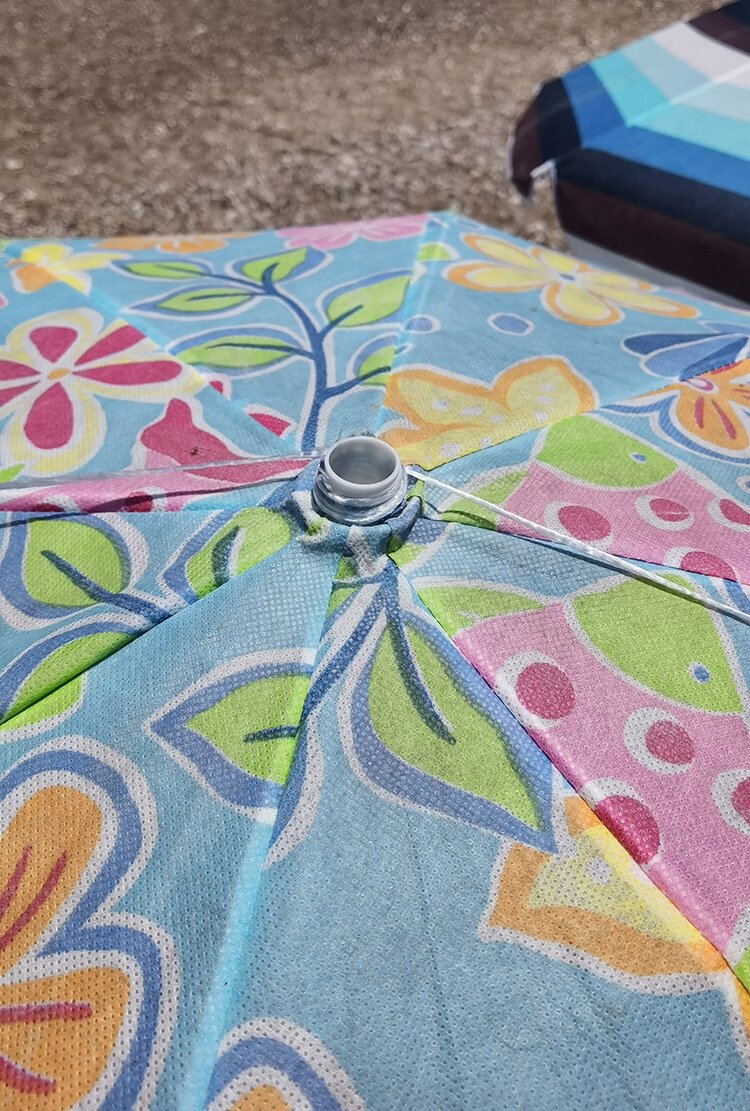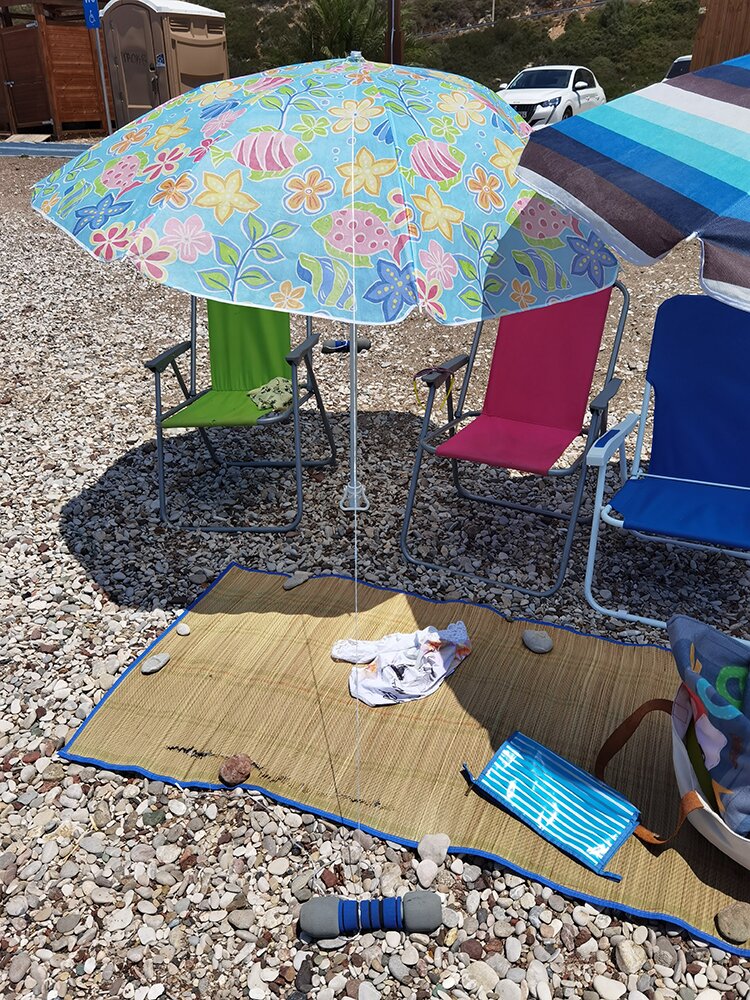 I have purchased each umbrella for around 10 euros from a grocery store, far cheaper than the 30 and 40 euros other umbrellas cost on the internet.