Travel Information about Greece
Geography
Greece is a country of southeast Europe with a wide variety of geographical features and a unique contrast of sea and mountains.
The mountains make up 80% of the country and penetrate into the sea forming peninsulas, gulfs, bays, coves, islets and chains of islands. There are large islands such as Crete and Rhodes and groups of small islands such as Cyclades and Dodecanese.
Greece comprises some thousands of islands and only about 166 are inhabited.
The country is washed to the east by the Aegean sea, to the west by the Ionian sea and to the south by the Mediterranean sea. To the north, the country borders the balkan countries. The coastline is one of the longest in the world measuring 13,676 km.
Less known are the mountainous areas and the features of the mainland. Pindos is the longest mountain range with a maximum elevation of 2,637 m and Olympus is the highest mountain with an altitude of 2,917 m.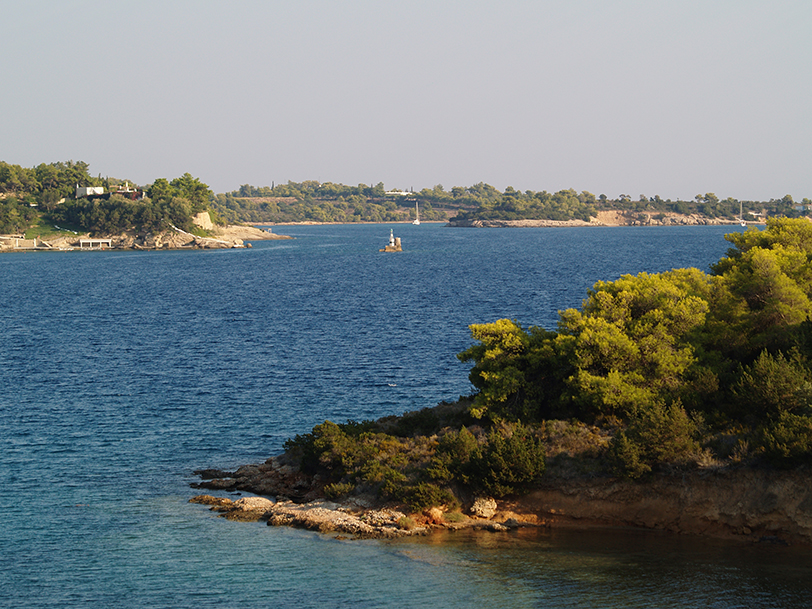 Coves at Porto Heli
Climate
The climate is mediterranean with hot, sunny summers and mild, wet winters. However, it varies considerably due to the geography of the country.
In the Aegean, temperatures are cooler. Meltemi blows in the summer relieving from the hot temperatures, but sometimes it becomes very intense. In the Cyclades, the climate is more arid than the rest of Greece.
To the north, the climate is more continental, with colder winters, snowfall and more rainfall.
In Western Greece and Ionian, temperatures are cooler with more rainfall.
In the mountainous areas of Pindus, Rhodope, Olympus, Arcadia and Crete, the climate is alpine with harsh winters and cool summers.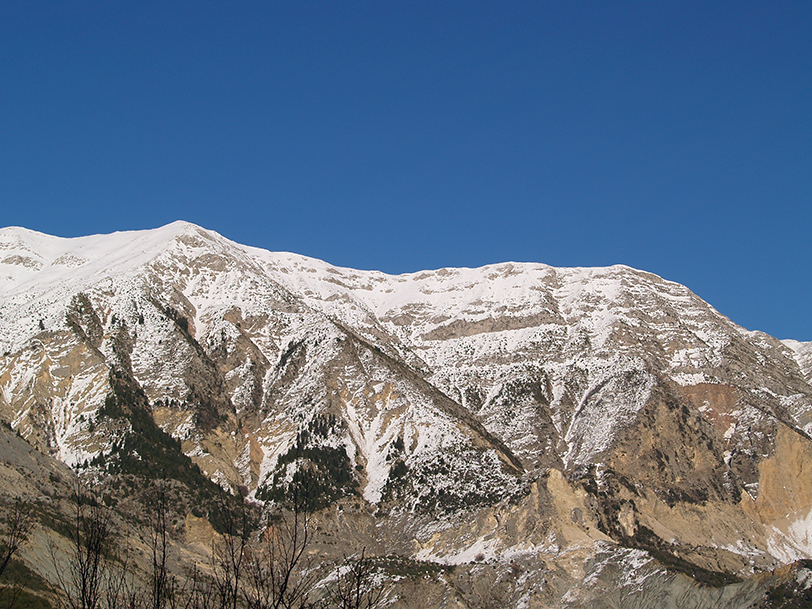 Alpine climate at Tzoumerka mountain range
Time
Eastern European Time UTC +2. Greece observes Daylight Saving Time.
Country code
+30
Electricity
220 volts AC, 50Hz. Round two-pin plug. Visitors from USA, Canada and the UK require a plug adapter.
Official holidays
| Date | Holiday |
| --- | --- |
| January 1 | New Year's Day |
| January 6 | Epiphany |
| | Clean Monday |
| March 25 | Greek Independence Day |
| | Good Friday |
| | Easter Monday |
| May 1 | International Workers' Day |
| | Whit Monday |
| August 15 | Assumption of Mary |
| October 28 | Anniversary of Ochi |
| December 25 | Christmas |
| December 26 | Synaxis of Theotokos |
Emergency numbers
| | |
| --- | --- |
| European emergency number | 112 |
| Police | 100 |
| Ambulance | 166 |
| Fire Brigade | 199 |
| Port Authority | 108 |
Useful numbers
| | |
| --- | --- |
| Telephone directory information | 11888 |
| International telephone service | 139 |
| Tourist police | 1571 |
Business hours
Banks
Monday - Friday
8:00 - 14:00
Saturday, Sunday
closed
Supermarkets
Monday - Friday
8:00 - 21:00
Saturday
8:00 - 20:00
Sunday
closed
Malls
Monday - Friday
9:00 - 21:00
Saturday
9:00 - 20:00
Sunday
only shops are closed
Shops (in Athens)
Monday - Wednesday - Saturday
9:00 - 15:00
Tuesday - Thursday - Friday
9:00 - 14:00 and 17:30 - 21:00
Sunday
closed
Groceries & kiosks
every day until late night
Bars & nightclubs
no closing time
Entry & visa
Greece is a member state of the Schengen area. Citizens of the EU, Iceland, Norway, and Switzerland can freely enter with a valid ID or passport.
A visa is not required for the nationals of the following countries, if they intend to stay less than 90 days: Australia, Brazil, Canada, Israel, Japan, New Zealand, Singapore, South Korea, UAE, USA and more.
Citizens of other countries must apply for a visa to the greek embassies or consulates.
Currency, money & exchange
The currency of Greece, as a member state of the Eurozone, is the euro. The drachma is no longer in use.
Debit and credit cards are widely used in all transactions. The cards Visa, Master Card, American Express and Diners Club are accepted. It is recommended to have some cash with you in case the POS machine is offline or out of order.
Kiosks (periptero) are excluded from the use of cards.
If you travel to remote areas or islands, it is wise to have some cash. ATMs can run out of money, so don't wait until late to withdraw.
You can exchange money at Athens Airport, currency exchange offices and banks. Try to avoid Athens Airport since rates are poor.
Euro withdrawals from ATMs are charged. The fee depends on the bank.
On arrival or departure, you have to declare cash more than 10,000 euros to the Customs Office.
Communications & Internet access
Roaming
Visitors from EU countries, Norway and Iceland, can use their mobile phone for calls and text messages as if they were in their countries with no extra charge.
Restrictions apply to data usage, contact your mobile operator for information.
For non-EU visitors, extra charges apply for calls, text messages and data. If you don't want to use roaming, turn it off from the settings menu.
Public card phones
Public card phones with prepaid cards were once the cheapest and easiest way to call home. With the widespread use of mobile phones they ceased to exist.
WiFi spots
WiFi is widespread in greek cities and villages. You'll find in all restaurants, taverns, fast foods, cafes, malls and hotels.
Also in airports, intercity bus stations and the banks National, Piraeus, Eurobank and Alpha bank.
If you need access to a desktop computer, look for an internet cafe in any tourist town.
Prepaid SIM cards
With prepaid SIM cards you buy talk time and data. It's the best solution for non-EU visitors. The major mobile operators are Cosmote, Vodafone and Wind with shops in all cities. You can also visit Germanos techstores to buy a package of Cosmote.
Be aware that you must have your id card to activate a SIM card.
In the cities you may find street vendors of Vodafone.
Health
Citizens of the EU, Iceland, Norway and Switzerland
Before you travel, apply for the European Health Insurance Card (EHIC) from your national health service provider. It's free and grants access to the national healthcare system as if you were in your country. Depending on the incident, charges may apply. It doesn't cover private healthcare.
The healthcare system in Greece in simple words
The national healthcare system comprises hospitals, healthcare centers in towns and regional medical offices in remote areas and small islands. The last two cannot deal with serious incidents. In the event of a serious incident the patient gets first aid and is transported to a hospital. It is noted that transport is easier on the mainland than on an island.
After 14:30 the hospital must be on duty to accept patients.
In cities and towns you'll find private doctors but not in remote areas and small islands.
Pharmacies
Pharmacies can help you with incidents such as sunburns, mosquito bites, allergies and sicknesses. The staff in the tourist areas speaks english and you'll have no problem to communicate.
Small islands usually have a single pharmacy.
Business hours of pharmacies are like all other shops in the area.
For out of hours you must seek the pharmacy on duty. The pharmacies on duty are displayed at the entrance of every pharmacy, however, usually it's written only in greek. If you have internet connection available type "vrisko pharmacy duties Santorini" to find it in english.
Smoking
Smoking is prohibited to all public spaces, cafes, restaurants, taverns and night clubs.
Hazards
Drowning
You have to be cautious when swimming in the sea.
General guidelines:
don't swim after eating
don't swim sleepless, tired or under the influence of alcohol
beware of strong winds and waves. They can draw you away from the beach without realizing it
don't swim beyond the buoys, or if there is none, don't draw away from the beach. Boats and jet skis are passing by
if you are not familiar with swimming, prefer shallow beaches. Also, don't go to deserted ones
few beaches have a lifeguard
Guidelines for children:
they should always swim under your supervision
make sure they don't confuse the children's pool with the adult's pool
supervise them even if they wear arm floats
prefer shallow beaches
If strong winds prevail, ask your hotel if the beach you are about to visit is safe. If not, ask for a safe beach.
Exposure to the sun
Sunshine in Greece can cause you sunburns, dizziness and sunstrokes. Follow the guidelines below for your safety:
stay out of the sun between 11:00 - 17:00
as long as you are on the beach, be always at shade (trees, umbrella, etc.)
use sunscreen for the body and face. Reapply frequently
always sunbathe with sunscreen
put on a hat to protect your face
protect yourself even in May and September
protection hasn't to do only with the beach. Protect yourself when walking, hiking, touring, etc.
don't be deceived by the breeze. The sun is still burning
if your skin burns, you'll feel it stretched
if you get burn, go to the nearest pharmacy to get an ointment. The staff will advise you
use sunglasses to protect your eyes
cover the baby stroller
use sunscreen for children
apply the sunscreen before going outdoors, the skin has to absorb it to become effective
Heatwaves
We have a heatwave when the temperature rises above 40° C. The heat is excessive and lasts for days. Children and the elderly are particularly vulnerable to these conditions.
What to do when a heatwave hits:
don't climb the Acropolis or make activities that require effort
do interior activities such as visiting a museum
spend your day on the beach
most cafes and restaurants place fans at the exterior tables
the interiors in hotels, cafes and restaurants are air-conditioned
wear loose-fitting clothing and a hat
drink water regularly
stay out of the sun
eat lightly
use sunscreen
Fires
Fires are a usual phenomenon during the summer. They start when the wind blows strong and spread so fast they can reach a man running.
If you see a fire, even if it's not heading towards you, be cautious. If the wind changes direction it can move towards you.
If the wind is blowing towards you and there are no obstacles, it is 100% sure it will reach you.
If danger is imminent move to a safe spot.
The days of high fire risk are when strong winds and high temperatures prevail
Driving and road network
EU citizens can drive in Greece with their country's license. Non-EU citizens need to have an IDP (International Driving Permit) along with their valid driving license.
Greece has an adequate system of motorways, many are newly built: Tripoli - Kalamata, Tripoli - Sparta, Ionia Odos, Egnatia Odos, Corinth - Patra and Attiki Odos. The jewels are Rio-Antirrio bridge and the bridges of Egnatia Odos. Traveling in mainland Greece has never been easier and safer.
You can pay the tolls in cash or by credit/debit cards. There are also coin slots available and alternatively you can get an e-pass.
As for the rest of the road network, as any mountainous country, roads are curvy and narrow, with many exceptions though. Keep in mind that only a very small part of the road network is illuminated.
The speed limit in residential areas is 50 km/h, in motorways 130 km/h and outside of cities 90 km/h, unless signs state otherwise. Seat belts are mandatory, driving in flip flops and talking on mobile phone is prohibited.
Downtown Athens traffic jam is usual. Nevertheless, there's no need for a tourist to drive a car while downtown, you can use the public transport: metro, urban buses and tram.
When greeks leave or return massively to Athens, motorways are jammed. This happens on Easter, Whit Monday, 15th of August and the weekends from late July to late August. Also on March 25th and October 28th if they fall on a weekend or a three-day weekend.
Traveling by air
In Greece operate about 35 airports, most of them being on islands.
The domestic airlines are:
Athens International Airport "Eleftherios Venizelos"
The largest and busiest airport in Greece. It provides access to Athens and all the major transport hubs: ports, railways, intercity buses and motorways.
It's a modern and high standard airport with facilities that make the wait enjoyable.
Access to the airport:
Metro: line 3 (blue)
Attiki Odos
Proastiakos (suburban railway)
Attica KTEL
taxis
Bus lines (24/7)
Χ93
Kifisos intercity bus station - Athens Airport
Χ95
Syntagma - Athens Airport
Χ96
Piraeus - Athens Airport
Χ97
Elliniko metro station - Athens Airport
It's 36 km from the city center.
Thessaloniki Airport "Macedonia"
It's the gate to northern Greece. It accepts domestic and european flights, it's 18 km from the city center and the access is by bus and taxi.
Heraklion Airport "Nikos Kazantzakis"
The largest airport in Crete. It accepts domestic and european flights, it's 4 km from the city center and the access is by bus and taxi.
Chania Airport "Ioannis Daskalogiannis"
It accepts domestic and european flights. It's 15 km from the city center and the access is by bus and taxi.
Rhodes Airport "Diagoras"
It accepts domestic and european flights. It's 1 km from the city center and the access is by bus and taxi.
Other airports
Other airports are at Kos, Mykonos, Milos, Santorini, Naxos, Paros, Samos, Corfu, Skiathos, Chios, Syros, Mytilini, Leros, Kefalonia, Corfu, Zakynthos, Kalamata, etc.
Traveling by intercity bus (KTEL)
Intercity buses (KTEL in greek) are a very popular mean of transport for the greeks. They travel from Athens to every town and from there to every village.
It's the cheapest way to travel, but on curvy and narrow roads, buses become really slow. For your convenience, stick to this simple rule: follow the motorways. You can travel easily where the motorway goes: to Nafplio, Kalamata, Sparta, Gytheio, Patra, Volos, Larissa, Thessaloniki, Kavala, Arta, Ioannina and other destinations.
You can also travel to all the nearby islands: Spetses, Hydra, Poros, Zakynthos, Corfu, Kefalonia, Lefkada, Skiathos, Skopelos and Alonissos.
The buses are comfortable and air-conditioned. The music is driver's choice, usually greek folk music.
KTEL are private companies, one on each prefecture and island. It's not a single organization, therefore, there is no search engine to search for routes like in ferries or airplanes. Instead, you have to search on timetables on different websites.
In Athens there are two KTEL stations: Kifissos and Liosion. The access is by bus lines.
Access to KTEL stations:
For Kifisos station
051
Omonia - Akadimia Platonos
052
Kifisos intercity bus station - Elaionas station
Χ93
Kifisos intercity bus station - Athens Airport
420
Piraeus - Ag. Anargyroi through Kifisos
For Liosion station
Χ93
Kifisos intercity bus station - Athens Airport
420
Piraeus - Ag. Anargyroi through Kifisos
Go to the ticket booth and then to your bus. Some KTEL websites provide an e-ticket, you need to print it. After boarding hold the clip for the inspector.
KTEL are not perfectly made for tourists. Some websites are only in greek and the drivers don't speak english at all. Things are better on the islands.
Some more tips:
in case you want to ask on the street where's the station, don't say "intercity bus" or "long-distance bus". Just say KTEL
if you want to get out at a stop outside a city or village, in the countryside, ask the driver or other passengers
when placing your luggage in the luggage compartment the driver will ask you what your destination is. There's a reason for that. When you get out your luggage should be on the side of the sidewalk. If it's on the side of the road you'll have a problem since the law forbids picking up luggage on the side of the road
round-trip tickets are cheaper than two tickets
Traveling by train
Before everything, you need to know that railways in Greece have been built in the 19th century and only a part has been modernized. Train travels to the less touristy areas of Greece and stops to almost every village on the way.
The trips are subject to train connections, so duration can significantly increase.
It serves mainly central and northern Greece. Routes to Peloponnese have been abolished.
What are the reasons for a tourist to use the greek railways:
you can travel from Athens to Thessaloniki in only 4 hours
you can travel to Meteora (Kalambaka)
you can go to Volos. From there you can visit Pelion mountain
the ecological route of Nestos river valley (Stavroupoli - Toxotes)
There are also scenic routes for tourists:
One more route serves tourism demand:
Piraeus Station is located at the port. Athens station is called "stathmos Larissis" and you can access it with metro line 2 (red).
The operator is Trainose.
Suburban Railway (Proastiakos)
The Suburban Railway connects Athens Airport with Athens and Piraeus port with frequent routes. It's also connected to the railway network and all metro lines.
The lines are:
Piraeus - Athens - Airport
Piraeus - Athens - Kiato (Peloponnese)
Athens - Chalkida
From Kiato you can reach Patra by bus with the same ticket.
The operator is Trainose.
Athens Tram
Tram connects Athens city center with the beachfront suburbs. The line extends from Peace and Friendship Stadium (S.E.F.) to the suburb of Voula.
It comprises three lines:
Thucydides: Peace and Friendship Stadium (S.E.F.) - Asklipieio Voulas
Aristotle: Syntagma (temporarily Kasomouli station) - Peace and Friendship Stadium (S.E.F.)
Plato: Syntagma (temporarily Kasomouli station) - Asklipieio Voulas
It reaches the beaches of Agios Kosmas, Alimos, Glyfada, Voula and Glyfada city center.
It's good to be informed for a possible strike.
Athens Metro
The metro is the fastest and most reliable way to get around Athens.
It comprises three lines:
line 1 (green) Piraeus - Kifissia
line 2 (red) Anthoupoli - Hellinikon
line 3 (blue) Agia Marina - Airport
Line 1 has been operating since the 19th century, while 2 and 3 since 2000. It counts 61 stations. For fares check the official website.
The stations you have to be familiar with are Akropoli, Syntagma, Monastiraki and Thissio. They enclose Akropolis, the museum of Akropolis, the archaeological sites and the picturesque districts of Plaka, Monastiraki and Psiri.
Thissio and the Acropolis stations are connected between them by the pedestrian street of Dionysios Areopagitis, Athens' most picturesque promenade.
In Monastiraki station you'll see the excavations uncovered for the construction of the station. Also at Panepistimio, Akropoli, Syntagma and Evangelismos, the findings are on display.
You can easily go to:
Athens Airport with line 3
Piraeus port with line 1
The Mall Athens (Neratziotissa station, line 1)
Kifissia with line 1
It's connected to the Tram at Syggrou-Fix and Neos Kosmos stations, the Suburban Railway (Proastiakos) at Neratziotissa and Doukissis Plakentias stations and the Railway network at stathmos Larissis.
On Friday and Saturday routes extend up to 02:00 am on lines 2 and 3.
It's good to be informed for a possible strike.
If Athens Metro is on strike, the best way to get around Athens is on foot