Traveling by ferry to the greek islands
The best way to travel to the greek islands is by ferry. Routes are many and you can travel daily to any island you like or do island hopping.
In fact, only by ferry you'll feel you are going to an island, something you won't understand by plane. You'll see immense seascapes, wonderful views of the islands, sunsets and you'll feel the sea breeze. All these will make you feel part of the greek island world.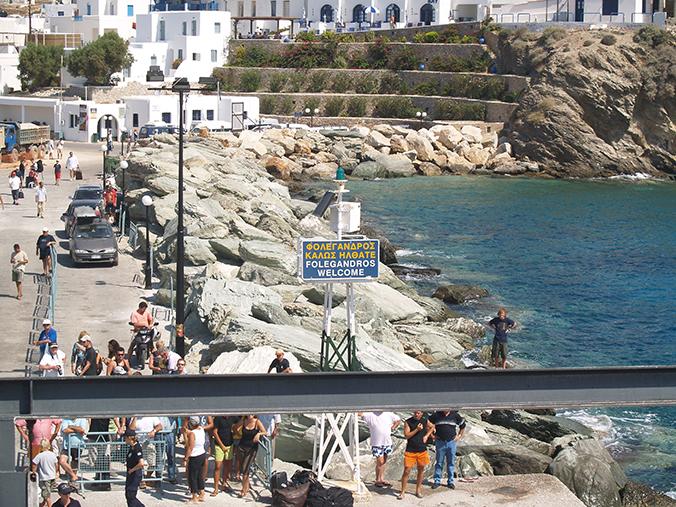 Arriving to a greek island port
Routes to the greek islands
1. Departures from Piraeus, Rafina, Lavrio
Ferries departing from the country's main ports receive the largest passenger volume. They serve high demand routes which include the largest and most popular islands.
Ferry companies serving these routes are:
2. Regional/local routes
Once you reach your destination, you'll notice that other regional or local routes give you more options options. The routes are shorter and serve even the smallest islands.
3. Ferry boats
Ferry boats serve very short lines, usually a few minutes distance. They connect two neighboring islands or the mainland with the opposite island. Some routes are:
Pavlopetri - Elafonisos
Milos - Kimolos
Paros - Antiparos
Galatas - Poros
Costa - Spetses
Metochi - Hydra
Lixouri - Argostoli
Most of these routes are not available in search engines, search for information on our web pages.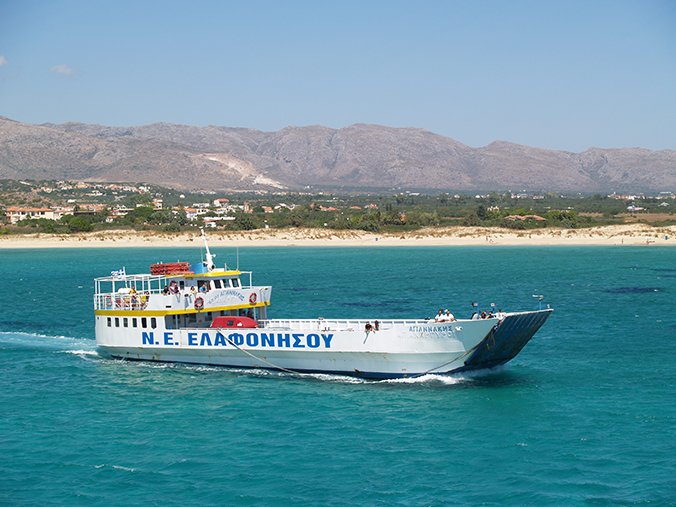 Ferry boat connecting Elafonissos with Pavlopetri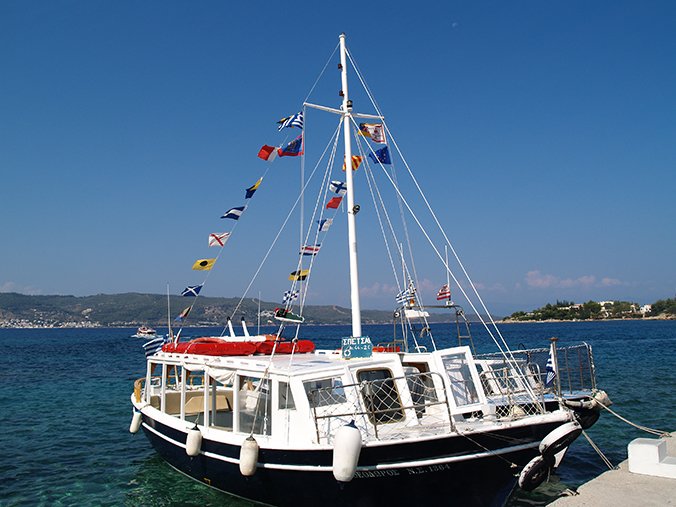 When ferry boat routes are not enough in summer, the route Costa - Spetses is operated by kaiki too
4. Excursion boats
The excursion boats you'll see on many destinations, add more routes to your choices. They take daily cruises and you can use them for island hopping. Besides, you can visit islands that are not visited by any other boat, such as Polyaigos.
You won't find these routes in search engines, search for information on our web pages.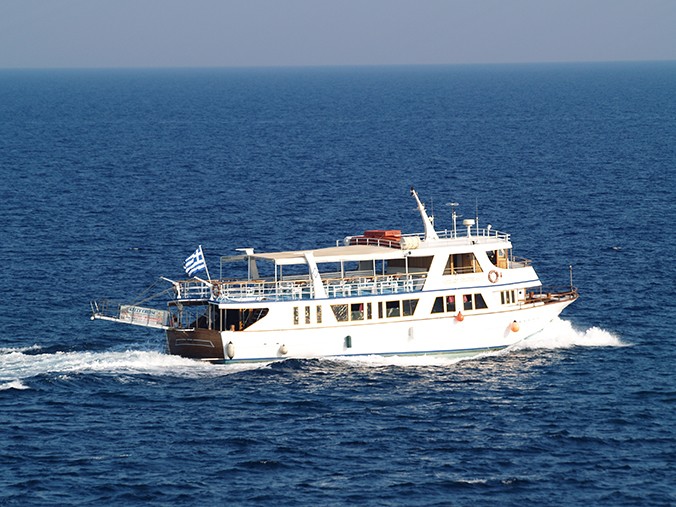 Excursion boat going from Porto Heli to Hydra and Spetses
5. Routes in the Ionian Sea
The Ionian islands comprise Zakynthos, Kefalonia, Ithaca, Lefkada, Meganisi, Paxi and Corfu.
You can get from the ports of Kyllini, Patra, Astakos and Igoumenitsa. Lefkada is connected to the mainland by road.
The connections between the islands are Lefkada (Nidri) - Meganisi and Kefalonia (Sami) - Ithaca (Pisaetos).
The routes that operate in summer are Lefkada (Nidri) - Kefalonia (Fiskardo), Lefkada (Nidri) - Ithaca (Frikes) and Kefalonia (Pesada) - Zakynthos (Agios Nikolaos).
The companies operating are:
6. Routes to Crete
Crete is the largest Aegean island and the easiest to reach all year round.
You can get from Piraeus, Cyclades, Kythira and Dodecanese.
The cretan ports are Heraklion, Chania, Kissamos, Rethymnon and Sitia.
The operators are:
7. Routes to Turkey, Italy and Albania
Routes to Turkey are one-day excursions to highly popular destinations. Specifically they start from Kos, Rhodes, Chios, Mytilene and Samos for the turkish cities of Ayvalik, Kusadasi, Marmaris, Bodrum, Cesme and Fethiye.
For Italy, the operators are Super Fast Ferries and Minoan Lines. Routes depart from Patra and Igoumenitsa.
For Albania, you can go in high season from Kerkyra to Agioi Saranta and Himara, with Ionian Seaways and Marina Maritime.
Information about routes
The search engine vrisko.gr displays all routes from any port for the date you'll choose. If you like island hopping, you have to conduct thorough research.
We recommend you to search whether your destination is a "Departure Port", to find islands to hop. Also search on our web pages for possible ferry boats, sea excursions, etc. Note that these apply for the mainland too.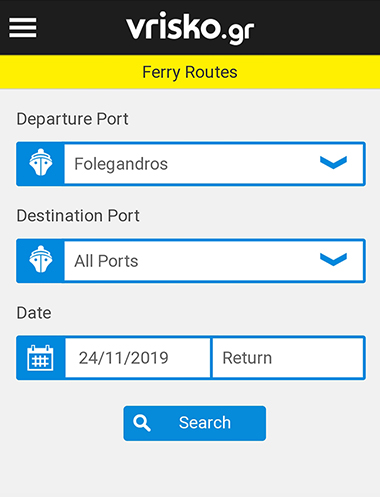 Find all routes from Folegandros for a specific date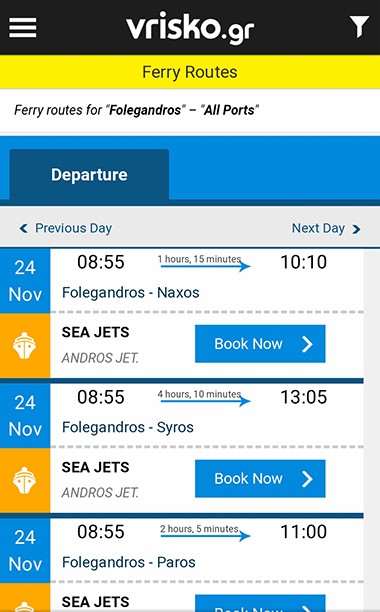 All routes from Folegandros for the selected date
Some extra tips:
ferry routes reach the highest frequency, at the peak of the tourist season, from the end of July to the end of August. Every August the greeks get their leaves and Athens empties. On the 15th of August is the feast of Virgin Mary and ferries are packed with passengers, especially for the island of Tinos, where a religious feast takes place
for Chios, Mytilene, Rhodes and Crete the trip is overnight
sometimes ferry crews go on strike, but it's not usual to happen during the summer. Ferries remain docked at the ports
next year's schedules are not announced
if stormy winds blow, ferries don't leave the ports. Again, it's not usual to happen during the summer. In greek, this is called "apagoreftiko"
When Athens Metro goes on strike, it's likely that routes from Piraeus will be modified
Barren line
The islands of the barren line are, as the name implies, barren. They are small and mountainous, with few inhabitants, usually without a trace of vegetation.
The lines have little passenger traffic and are carried out with a state subsidy to serve residents. Many stops and long travel times characterize these routes.
The Dodecanese barren line comprises the islands of Patmos, Agathonissi, Arki, Lipsi, Leros, Farmakonisi, Nisyros, Tilos, Chalki, Symi, Karpathos, Kasos and Kastellorizo.
The Cyclades barren line has tourist traffic and comprises Kimolos, Folegandros, Sikinos, Iraklia, Schinoussa, Koufonissi, Donoussa, Anafi and Thirasia.
Other islands of the barren line are Oinousses, Psara, Fournoi, Agios Efstratios, Antikythera and Gavdos.
The islands most difficult to reach are Kasos, Karpathos and Kastellorizo.
Island hopping
Island hopping is one of the most exciting things to do in Greece. Every port and a destination could be said in short, but you need to plan your trip in advance.
Before everything, you need to know two things:
each island group has hub islands, meaning you can go from there to nearly all other islands of the group
it's not recommended to get a vehicle with you. Besides raising the cost of tickets, some ferry types don't carry vehicles
The rule of thumb is to follow the lines.
For example, you should not expect to hop from Milos to Mykonos or Amorgos. There is no such route. Instead, you should go to Syros and then Mykonos, or to Naxos/Santorini and then Amorgos.
You can't hop from Saronic or Sporades to any other island group.
In the search engine vrisko.gr, in the field "Departure Port" select the island you wish. In "Destination Port" select "All Ports". Enter "Departure Date" and press the search button. You'll get all routes for the selected date.
F/B Prevelis is the only ferry traveling to Cyclades, Crete and Dodecanese. The route is Piraeus - Milos - Santorini - Anafi - Heraklion - Sitia - Kasos - Karpathos - Halki - Rhodes and takes more than 30 hours.
1. Island hopping in Cyclades
The Cyclades are, as the name implies, a circle.
The routes start from Piraeus, Rafina and Lavrio and cross the Cyclades to various directions. The intracycladic route operators are:
The hubs are Syros, Naxos and Paros. Minor hub is Santorini. In general, a multitude of routes characterizes the Cyclades.
2. Island hopping in Dodecanese
The Dodecanese are small islands (except for Kos and Rhodes), lined up and close to each other. Get on the ferry and get off to the next port, it can't be simpler than that, you don't have to organize much.
Operators are:
Furthermore, you can get the excursion boats from Kos and Patmos
Hubs are Kos and Rhodes.
3. Island hopping in Saronic
Easy island hopping near the continental coast and Piraeus. It comprises the islands Aegina, Agistri, Poros, Hydra and Spetses. The lines serve also destinations in the Peloponnese: Methana, Ermioni and Porto Heli.
No special planning is needed, the islands are lined up, and the routes are plenty.
4. Island hopping in Sporades
Easy island hopping to the islands of Skiathos, Skopelos and Alonissos, from Volos, Agios Konstantinos and Mantoudi in Evia.
5. Island hopping from Samos
From Vathi and Karlovassi you can go to Ikaria, Fourni, the central islands of the Cyclades and the northeast Aegean islands (Chios, Mytilene, Limnos, Agios Efstratios). From Vathi you can visit Kusadasi.
Also from Pythagorio, you can visit the Dodecanese up to Kalymnos.
Tickets
How to book ferry tickets
You can book tickets online, on a tourist agency or the ticket booths at the ports.
You can also book to the ferry company's website (where available).
You'll need either to print the ticket or to do web check-in and print the boarding pass. In any case, you can pick it up from a tourist agency or a ticket booth.
Only in a few companies is possible to display the e-ticket from your smartphone and board on. You must review the terms of use.
Tickets are by no means purchased on board.
Some companies offer discounts on round-trip tickets. Children and infants are entitled to discounts. For cancellations, changes, conversion to open ticket and loss, contact the company or the travel agency. Terms and conditions apply.
Should I book early?
In general no, ferries are gigantic. Just have in mind some religious holidays and when the greeks get their leaves massively.
the Easter holidays (Good Friday, Easter Sunday and Easter Monday)
the 15th of August
the weekends from late July to mid August
Also:
for all the above dates if you are traveling with ferry with limited vehicle capacity
Boarding and disembarking
Passengers and vehicles board from different entrances. The passengers display the ticket and place the luggage in the luggage storage area.
The passengers must first get out of the car. The driver displays the ticket and enters in reverse, the boat workers will instruct you on how to enter and park.
If you have a vehicle take care you don't board last minute.
Keep the boarding pass for a possible check.
For disembarking, don't expect to hear the loudspeaker announcing arrival at the port. You have to get your luggage from the storage area and get into your car on time.
Types of ferries
There are four types of ferries: conventional, catamaran, high-speed ferry and flying dolphin.
The types of seats are:
economy (deck - lounge)
numbered seats (airline seats)
business class
All interiors are air-conditioned.
1. Conventional ferry
It's the classic type of ferry, with big lounges and big open decks to enjoy the sea.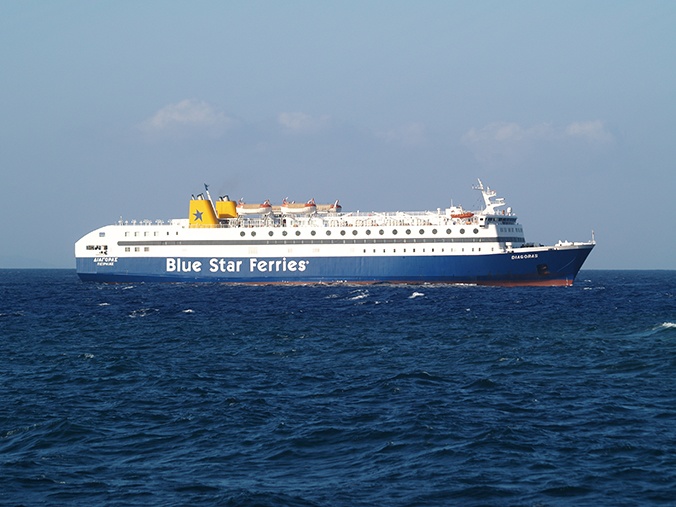 These large vessels operate the long-distance lines of Cyclades, Dodecanese, N/E Aegean and Crete. They have a big capacity of passengers and vehicles
it's the cheapest ferry
it's the slowest ferry, although modern ones are significantly faster
carries up to 2.000+ passengers and a large number of vehicles
open decks
lounge, numbered seats, snack bar, restaurant
they feature a snack bar with tables and seats on the upper open deck
It's the ideal choice if you get seasick. Due to its size, the sea has to become particularly rough to bounce around.
The cabin types are:
with one to four bunk beds, with or without a window
lux
Modern ferries have better cabins than older ones.
2. Catamaran
The fastest way to make your trip. You can easily distinguish it from the double hull. Not all catamarans carry vehicles and it has no open decks.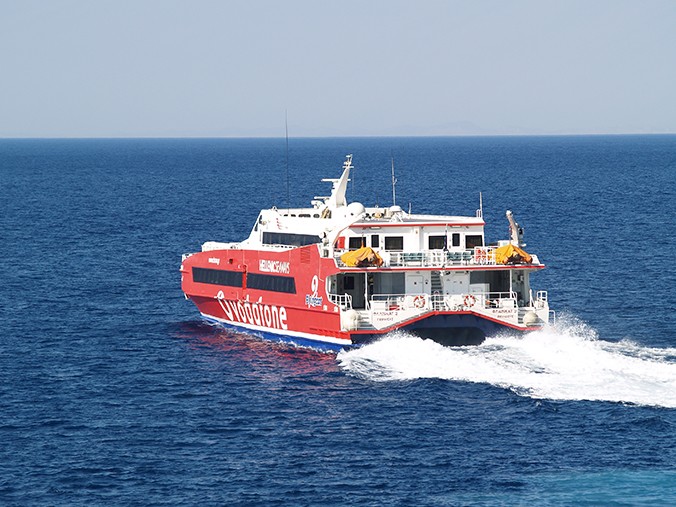 A passenger-only catamaran
3. High-speed ferry
It resembles a small conventional ferry with an aerodynamic shape. It's faster than conventional and slower than catamaran. It has no open decks.
4. Flying dolphin (hydrofoil)
The smallest type of ferry. It is elongated and when it reaches speed, it rises from the sea and goes even faster. It has only numbered seats.
It operates short routes in Saronic, Dodecanese and Sporades. It doesn't have snack bar or restaurant.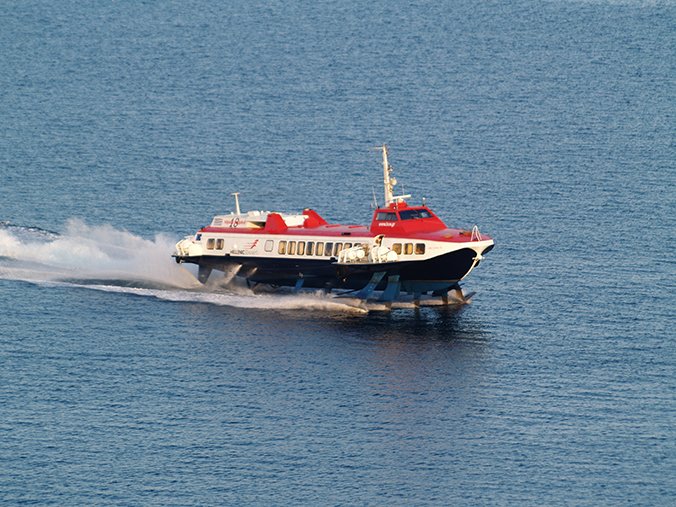 A flying dolphin at full speed
Piraeus port
It's the largest port in Greece and one of the largest in Europe, so you need to know some things to find your way easier.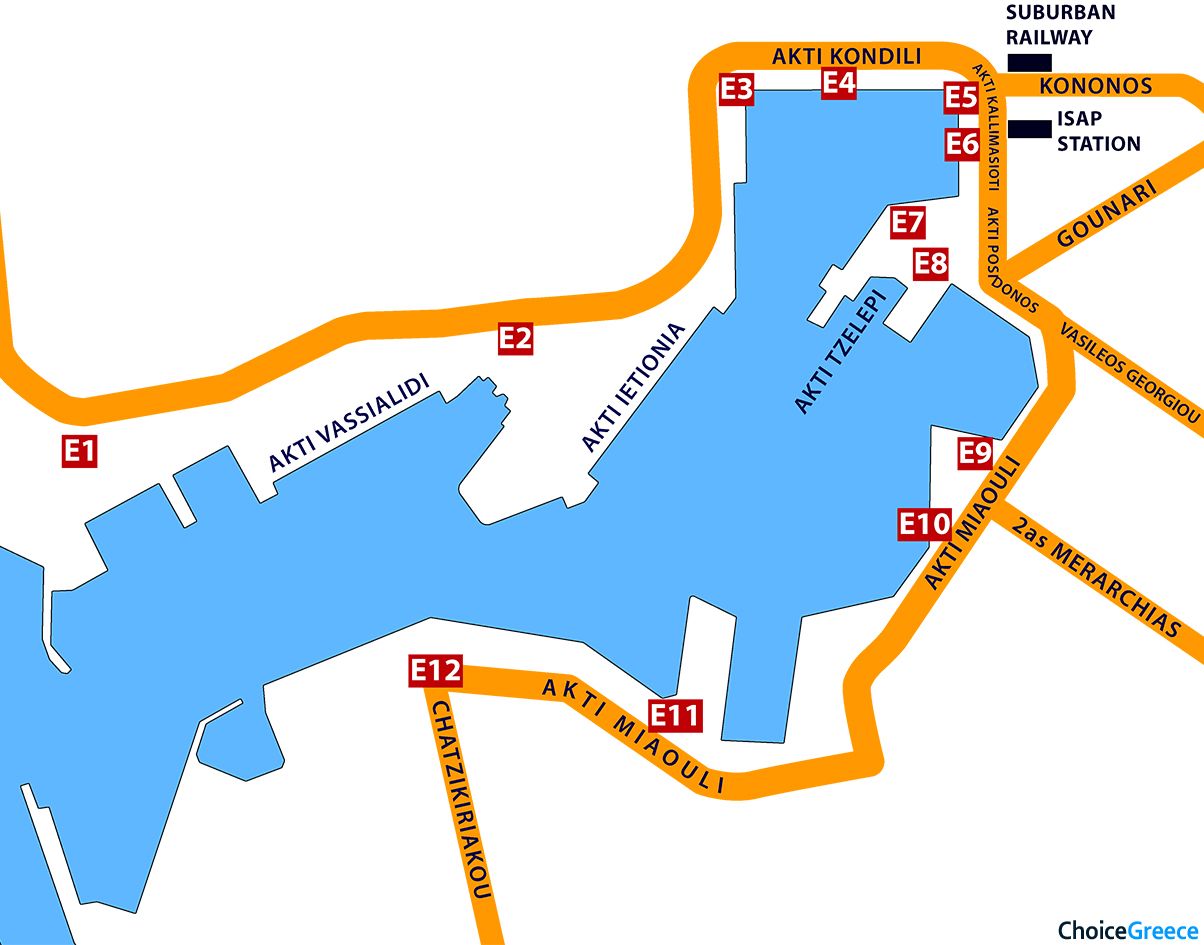 Map of Piraeus port
The port is organized in gates:
E1

Dodecanese

E2

Crete, Chios, Mytilene, Ikaria, Samos

E3

Crete, Kythira, vehicle's entrance

E4

Kythira, vehicle's exit

E5

Shuttle bus terminal, pedestrian entrance

E6

Cyclades, Rethymnon, pedestrian's bridge

E7

Cyclades, Rethymnon

E8

Saronic

E9

Cyclades, Samos, Ikaria

E10

Cyclades, Samos, Ikaria, vehicle's exit

E11

Cruise terminal A

E12

Cruise terminal B
Ferry companies have ticket booths at their departure gates. You can buy a ticket or print the e-ticket.
You can get to the port by:
Metro:

Piraeus (ISAP) terminal station of line 1 (green)

Suburban Railway (Proastiakos):

Piraeus terminal station

urban buses
From Athens Airport:
Metro:

with line 3 (blue) and change to Monastiraki with line 1 (green) to Piraeus

Proastiakos:

with the line Airport - Piraeus. Also with a change to Neratziotissa with Metro line 1 (green)

urban bus:

line X96 Piraeus - Athens Airport Express (24/7)
From Athens city center:
Metro:

with line 1 (green) from Omonia, Monastiraki and Thissio stations

urban bus:

line 040 Piraeus - Syntagma
From Tram stop Stadio Irinis & Filias - S.E.F.:
cross the pedestrian bridge to the metro station ("Neo Faliro"). Get the line to Piraeus
From KTEL stations (intercity buses):
urban bus:

line 420 Piraeus - Agioi Anargyroi (passes through Kifissos and Liosion KTEL stations)

from Kifissos station:

line 051 Omonia - Kifisos and then the metro line 1 (green) from Omonia
Within the port, you can get from gate E5 to E1 with a free shuttle bus. The stops are:
Electric Railway - Suburban Railway Terminal
Ag. Dionisios 1 - Hellenic Railway
Ag. Dionisios 2
Ietion 1
Ietion 2
Dexamenes
Ministry of Mercantile Marine
Vasiliadi 1 - Customs
Vasiliadi 2
Terminal
Bus line 859 is roundabout outside the port and passes through the ISAP and Suburban Railway stations. It enters the port only on the E2 gate.
There are also taxi ranks within the port.
Finally, call 14541 for information about routes.
Rafina port
Rafina port isn't connected to the Metro and the Suburban Railway. You can reach there by intercity bus (KTEL), taxi or your vehicle.
It's 34 km from Athens Airport and 30 km from Athens city center.
Taxi fare is regulated by the law:
Fare

| From/to | Tariff 1 | Tarrif 2 |
| --- | --- | --- |
| Athens Airport - Rafina port | 25 € | 35 € |
From Athens Airport:
KTEL:

get the bus for Rafina at the exit at the arrivals level. See the timetable here. The terminal is Rafina port

by car:

get Attiki Odos to Elefsina - Athens. At the interchange, turn right to Exit K2 Elefsina - Athens. After 10 km, turn right to Exit 14 to Marathonos Avenue. On the junction turn right. After another 10 km turn right at Alexandrou Fleming street, you'll see the signs for Rafina and Rafina port
From Athens city center:
KTEL:

get the bus for Rafina from Mavromateon street at Pedion Areos (Alexandras avenue and Patission junction). The nearest metro station is Victoria, 300 meters away. See the timetable here

by car:

from Mesogeion Avenue or Attiki Odos to Marathonos Avenue
The nearest metro and suburban railway (Proastiakos) station is Pallini.
Lavrio port
Lavrio port is located 40 km from Athens Airport and 60 km from Athens city center.
Taxi fare is regulated by the law:
Fare

| From/to | Tariff 1 | Tarrif 2 |
| --- | --- | --- |
| Athens Airport - Lavrio port | 47 € | 70 € |
From Athens Airport:
KTEL:

get the bus for Markopoulo. You'll change bus to Markopoulo for Sounio

by car:

from Attiki Odos follow the signs to Markopoulo. Then follow Lavriou avenue
From Athens city center:
KTEL:

from Mavromateon street on Pedion Areos (Alexandras avenue and Patission junction) get the bus for Markopoulo. You'll change bus to Markopoulo for Sounio

by car:

from Attiki Odos to Markopoulou Avenue and from there to Lavrion Avenue