A complete guide to Piraeus port - Map
The largest port in Greece from where ferries depart for the whole Aegean is so big that you need to know some details before you go to avoid any inconvenience, from gate E10 to E1 is almost 5 kilometers.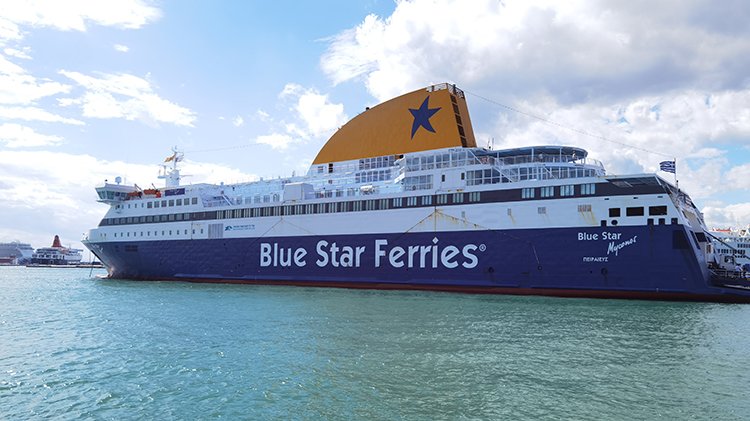 The ferry Blue Star Myconos
Gates
The first thing you need to know is the departure gate of your ferry. The gates with the most passenger traffic, namely Cyclades and Argosaronicos, are located in front of the ISAP and Metro stations. The gates are as follows:
| Gate | Destinations | Entry/Exit |
| --- | --- | --- |
| E10 | Western Cyclades, Samos, Ikaria | Exit only |
| E9 | Western Cyclades, Samos, Ikaria | Entrance only |
| E8 | Argosaronicos | Entrance/Exit |
| E7 | Cyclades | Entrance/Exit |
| E6 | Cyclades | Pedestrian entrance |
| E5 | Port bus departure point (OLP bus) | Pedestrian entrance |
| E4 | Kythera | Exit only |
| E3 | Crete, Kythera | Entrance/Exit |
| E2 | Crete, Chios, Mytilene, Samos, Ikaria | Entrance/Exit |
| E1 | Dodecanese | Entrance/Exit |
If you are traveling with your vehicle you must get in line to board the ferry. When it's your turn follow the staff's instructions to pass the catapult and park safely in the garage. This process takes some time so it is better to be there early.
Below I have made a map that will inform you about Piraeus port. I have put pins at the gates, at the port bus stops and at all the ticket booths. Most gates have air-conditioned spaces.
If you are going there with your vehicle you must know where your gate is because the surrounding streets are usually quite busy and you may be inconvenienced unnecessarily. In addition the port does not have large streets to serve vehicle traffic. From gate E10 to the footbridge, i.e. gate E5, the distances are relatively short and this is because small and medium-sized ferries dock there.
From E4 to E1 dock the largest ferries that go to Crete, Dodecanese and the Northern Aegean which require large piers. Such a ferry can exceed 200 meters in length so you understand what a pier it needs to dock and maneuver. So there the distances are long and for that there goes a bus for which I will talk about below.
View of the inner port
Departures to Cyclades
At gates E10 and E9 for the western Cyclades and at E7 and E6 for the rest of the Cyclades. At the piers are the ferries of Seajets Aqua Jewel, Tera Jet, Champion Jet 2, WorldChampion Jet, the ferries of Zante Ferries, Hellenic Seaways' HighSpeed 4, the ferries of Golden Star Ferries and Blue Star Myconos. The bigger ferries Blue Star Naxos, Blue Star Paros, Blue Star Delos dock at the inner port because they are bigger.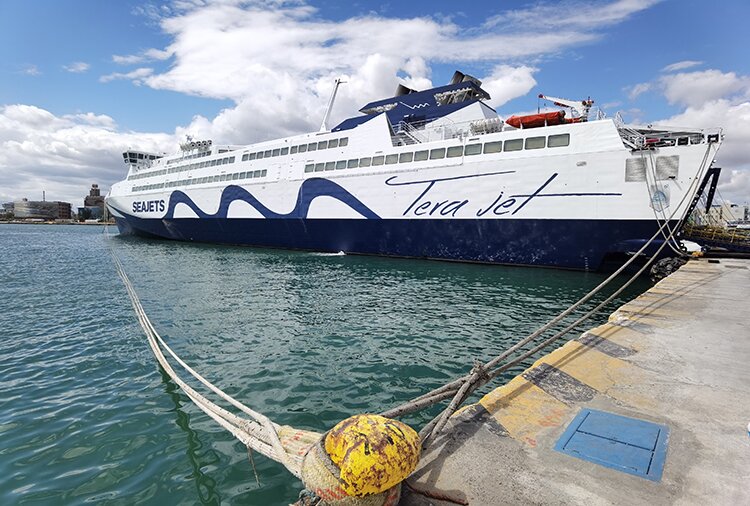 Seajets' Tera Jet at the gate of the Cyclades
From here you will go to almost all the Cyclades: Syros, Tinos, Mykonos, Paros, Naxos , Kythnos, Serifos, Sifnos, Milos, Kimolos, Folegandros, Sikinos, Ios, Lesser Cyclades and Amorgos. On the piers there is a waiting area as well as outdoor ones and several canteens.
However you can go to Cyclades by ferries whose final destination is Dodecanese islands and the North Aegean, since Cyclades are on their way they stop at Syros, Paros, Naxos, Mykonos and Santorini. These ferries depart from the gates E2 and E1.
Departures to Argosaronicos
From here ferries depart for Aegina, Agistri, Methana, Poros, Hydra, Ermioni, Spetses and Porto Heli. The ferries are the smallest in the port and this is because the Saronic islands are near and are not exposed to the difficult conditions of the Aegean. The gate E8 is between the gates of the Cyclades. Here are the flying dolphins of Aegean Flying Dolphins, of Saronic Ferries Posidon Hellas and Antigone, the Aero Highspeed, Flying Cat and Speed Cat.
The pier is between those of the Cyclades so it has common waiting areas and canteens.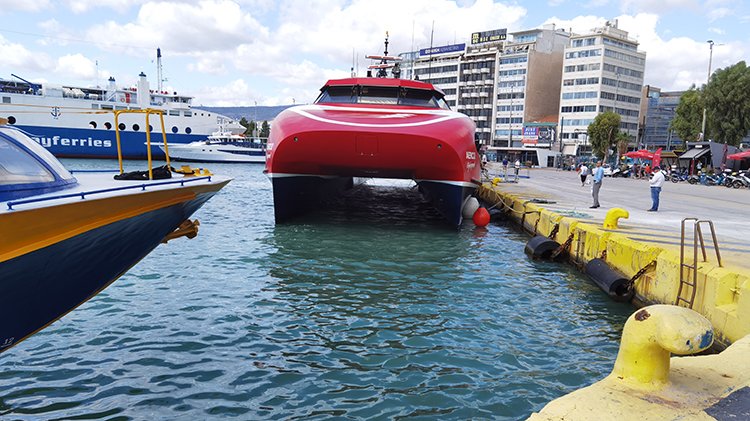 Hellenic Seaways' Aero 2 Highspeed at the pier of Argosaronicos
Departures to Northern Aegean
At the gate E2 for Chios and Mytilini with the ferry Nissos Samos while on the Cyclades gates with Blue Star Chios to Samos, Fournoi and Ikaria. There is a passenger station as well as canteens.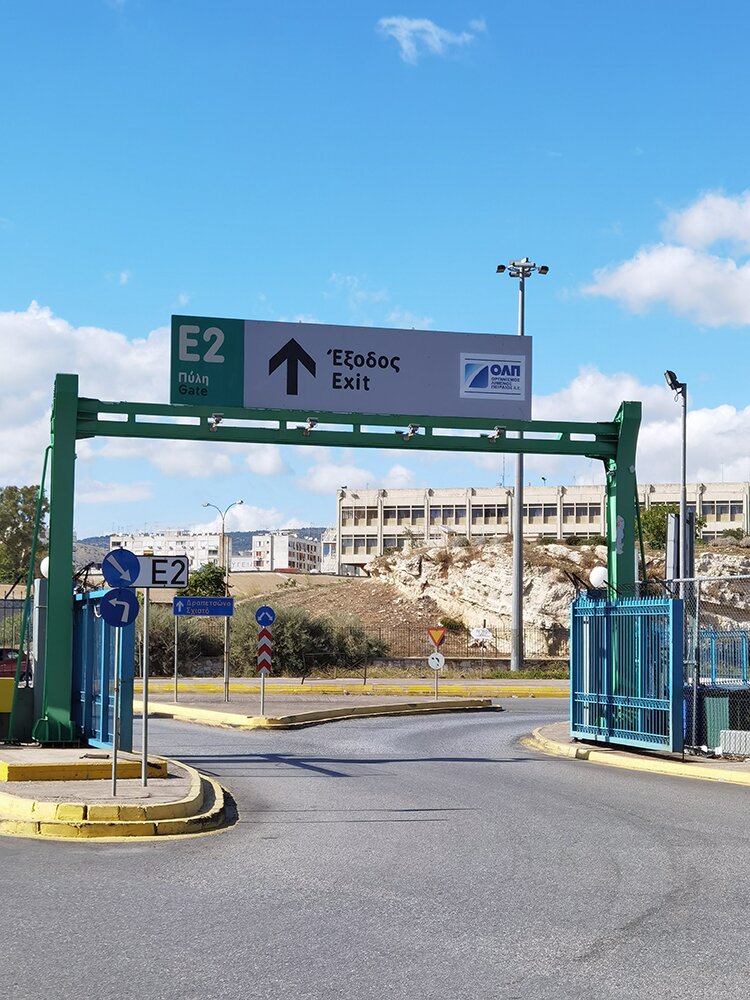 The gate E2
Departures to Crete
At gate E3 are the ferries of Crete which are the largest in the port. These are Elyros, Kriti II, Festos Palace, Kydon Palace and Blue Horizon. From their names alone you understand that they are related to Crete. There is a passenger station on the spot.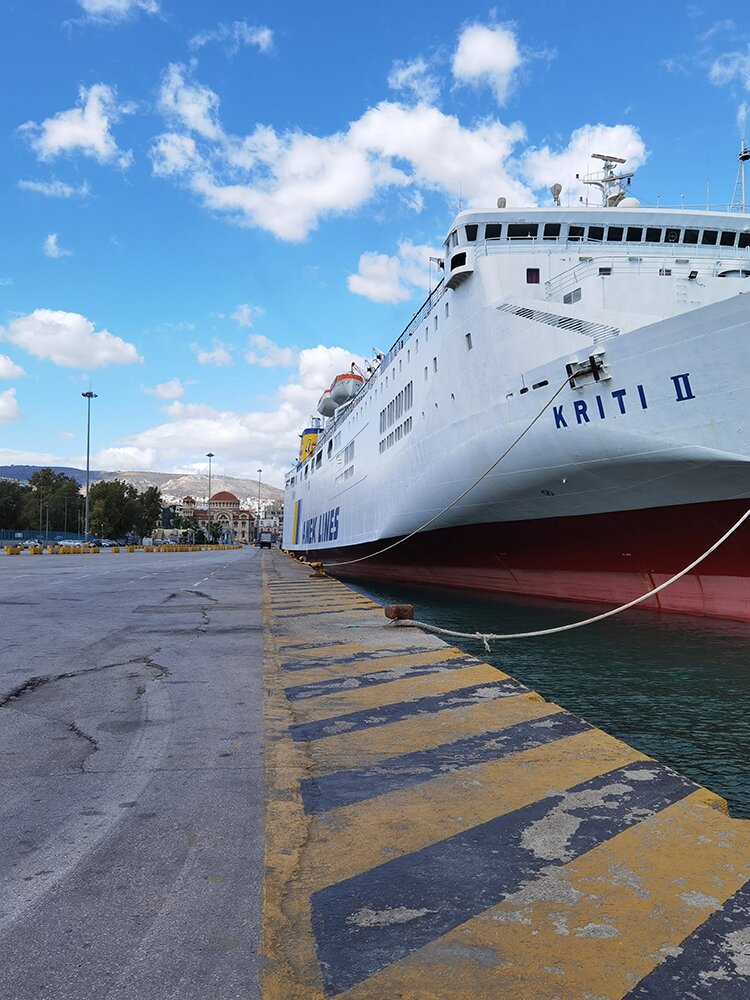 The massive Kriti II. In the background is the church of Agios Dionysios
Departures to Dodecanese
Departures to Dodecanese at the farthest gate E1. Blue Star Diagoras, Blue Star 2, Blue Star Patmos and Blue Star Ariadne depart there for all the Dodecanese islands: Astypalaia, Patmos, Lipsi, Leros, Kalymnos, Kos, Nisyros, Tilos, Halki, Symi, Kassos, Karpathos and Kastellorizo. There is a passenger station at the spot.
Blue Star 2 at Dodecanese pier
Ticket booths
Each shipping company has ticket booths at the corresponding gates for the passengers to purchase or print an e-ticket if required, you will not face a problem. At Minoan Lines ticket booth at gate E2 I saw that there are also ticket vending machines. On the Google map above I list them all one by one with their exact location.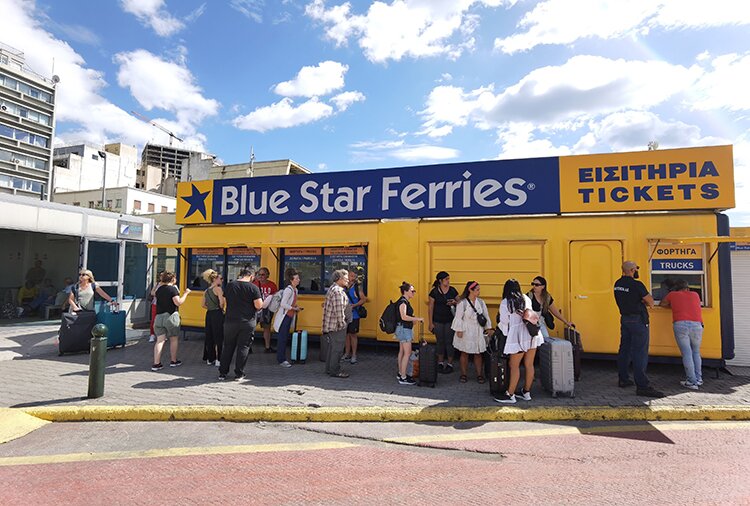 Blue Star Ferries ticket booth
Ticket booths per gate are as follows:
| Gate | Shipping company |
| --- | --- |
| E10 - E9 | Zante Ferries, Seajets |
| E8 | Saronic Ferries, ANES, Seajets, Alpha Lines, Blue Star Ferries, Hellenic Seaways, Aegean Flying Dolphins |
| E7 | Blue Star Ferries, Hellenic Seaways, Aegean Speed Lines |
| E6 | Blue Star Ferries |
| E4 | Blue Star Ferries, ANEK Lines |
| E3 | Blue Star Ferries, ANEK Lines |
| E2 | Minoan Lines, Blue Star Ferries, Hellenic Seaways |
| E1 | Blue Star Ferries, Hellenic Seaways |
Waiting areas - Port bus - Canteens
Waiting areas are open air with an awning or spaces with air conditioning at all gates as well as toilets. There are also canteens but mainly in Cyclades - Argosaronicos. Then there is only one near E4 and two more at E2.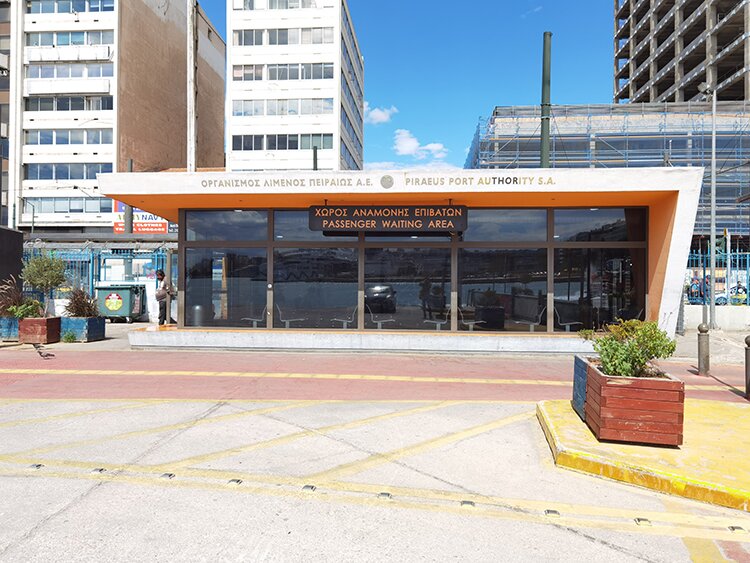 Waiting area at Cyclades gate
The port bus is free and starts roughly from the pedestrian bridge and reaches the gate E1. It does not go to the Cyclades and Argosaronicos gates. At the bus stops there are seats with awnings. The stops are:
| Stop | Exact stopping point |
| --- | --- |
| 1. ISAP starting point – Suburban railway | Pedestrian bridge - gate E5 |
| 2. Agios dionysios 1 – OSE | Gate E3 at Agios Dionysios |
| 3. Agios Dionysios 2 | Crete departures, opposite Elyros |
| 4. Ietion 1 | Crete departures, opposite Festos Palace |
| 5. Ietion 2 | At the first industrial building with the bricks |
| 6. Dexamenes | Opposite Nissos Samos at the last industrial building with the bricks |
| 7. Ministry of Shipping | At the characteristic modern building with the windows - it serves the needs of the staff |
| 8. Vasileiadi 1 – Customs | Gate E1 |
| 9. Vasileiadi 2 | A few meters further up the previous one |
| 10. Terma (End) | Gate E1 |
Port bus stop and waiting area
Route information
The telephone 14541 provides route information: gates, arrivals, departures, delays, detention of departure. From a landline is charged €0.92 and from a mobile €1.55.
Taxis
Everywhere throughout the port and at the most distant gates there are taxi ranks you will not have any trouble finding one. They are gazebos with a characteristic yellow awning. The fare is predetermined only for the transfer to and from Athens Airport "Eleftherios Venizelos": single fare (05:00-00:00) €42 and double (00:00-05:00) €73.50.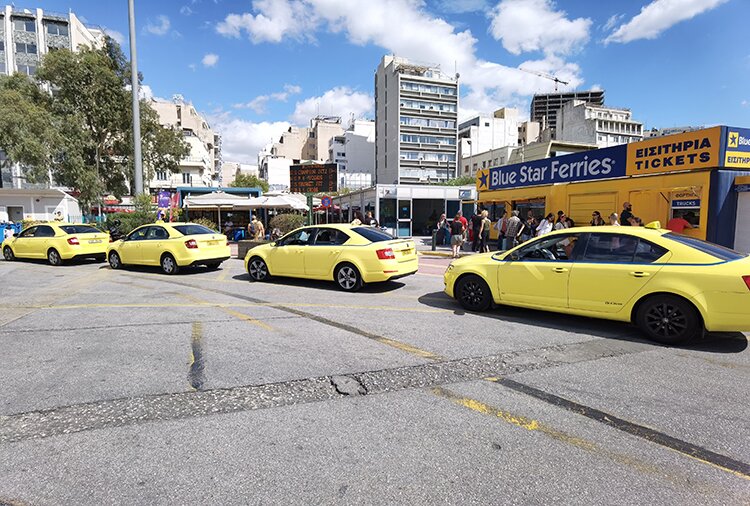 Taxi rank at Cyclades gate
Parking lots
The parking areas are limited at the Cyclades and Argosaronicos gates. From E3 to E1 there is much more space for parking and clearly much less traffic. There are also some private parking lots around the port.