5 tips for the ultimate renewal of your mood during the holidays
After a long and difficult winter, the time has come for the summer holidays, read below how you'll achieve the ultimate renewal of your mood to feel better but also to be ready for the next winter.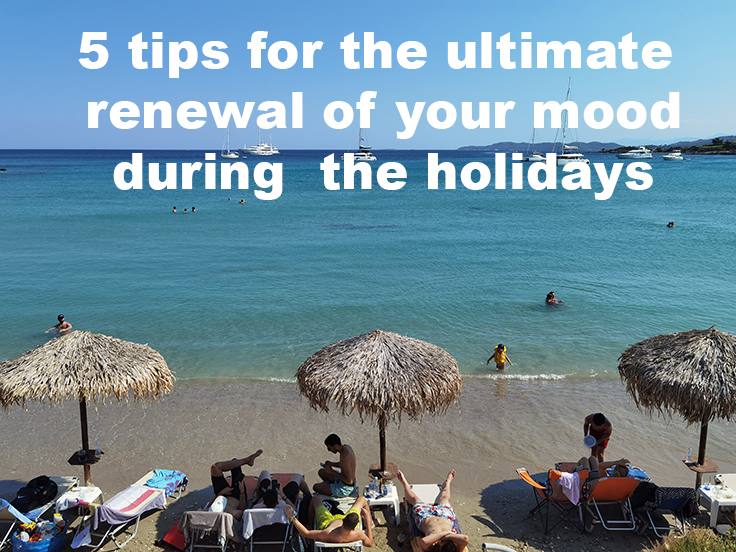 Winter makes us neglect ourselves, we have surrendered to routine and stress and our body and mind are constantly in tension without relaxing at all.
In the summer we realize that all this have reached the point of no return and now is the time for renewal, the most ideal time for the coveted restart is the summer holidays.
1. Prioritize getting rest and whatever pleases you
First of all, go slower, you don't need to walk quickly, to think fast, to be stressed, you generally don't need to think about anything other than this holidays.
Spend endless hours on the beach, explore picturesque villages, enjoy the sunset, visit an attraction, drink your favourite cocktail, try the local flavors. All these at your own pace and not in a hurry.
Don't neglect to sleep, if you don't get enough sleep you will not rest. Don't stay up late and sleep at noon as long as you need.
2. Change your diet
Renewal without a change of diet isn't possible. Look for local dishes mainly in less touristy and less commercialized destinations so you know what you are eating.
Also look for local products and local sweets. If you come across a fair, take advantage and try the dishes offered and listen to the live music.
3. Engage in activities
For more variety in the daily program, engage in activities.
The most popular are the sea excursions to secluded beaches for swimming as well as to islands and islets for tourism and swimming.
Here are some examples:
from Lefkada: Scorpio, Porto - Katsiki, Egremni, Ithaca, Kefalonia
from Zakynthos: Shipwreck and blue caves
from Milos: round of the island - Kleftiko, Polyaigos
from Santorini: round of the island, Nea Kameni
from Kos: day trips to the other islands of the Dodecanese
from Patmos: Lipsi - Aspronisi, Tiganakia
Other activities you can do:
visit wineries and distilleries
tours of outdoor attractions
tourist buses
Search the internet for activities for the destination you have chosen.
4. Pay attention to the accommodation
A good hotel can make a difference. Facilities like a swimming pool, spa, bar, restaurant, balcony with views and a spacious room will make your holiday experience more comfortable.
If you stay at the hotel just to sleep you do not need to do anything else.
5. Set aside your cell phone
Definitely difficult for many but as much as you can it's good not to have it with you, so as not to be bothered by unwanted calls and not to constantly check it for app alerts.
Epilogue
Remember that the key the ultimate relaxation is to travel your mind and not just your body. So enjoy the moment, the contact with nature and if you travel with your partner, his/her company.