My greatest travel experience was in Spetses island
I don't usually write about myself but for this topic I do an exception, after several trips in Greece and abroad I now understand what my greatest travel experience was.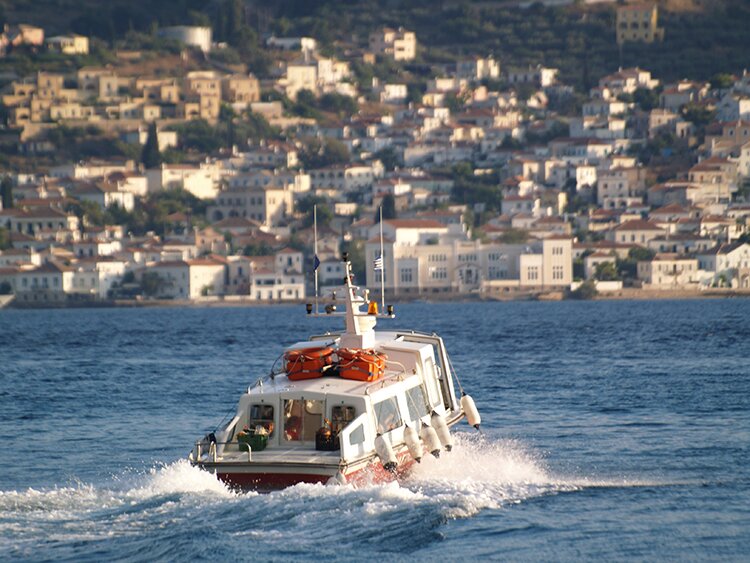 Sea taxi on the way to Spetses
No matter if I have visited 10 countries on 4 continents, no matter if I have lived for 1 year for postgraduate studies in Edinburgh the capital of Scotland, no matter if I have visited many well-known and less-known greek destinations, my greatest travel experience comes from humble Spetses.
I note that I don't have any photos from the experience itself, I didn't know what I was living at the time, but I have enough taken at another time to give you an idea.
I once lived in Kranidi Argolida opposite Spetses in the Peloponnese. Over time I learned that I can go across to Spetses from the small port of Costa for strolls and nightlife. The options are ferry-boat, kaiki (summer only) and sea taxi. It took me a while to learn about the routes and to get to know the island too. As soon as I became familiar with them and could easily organize my excursions this experience took shape.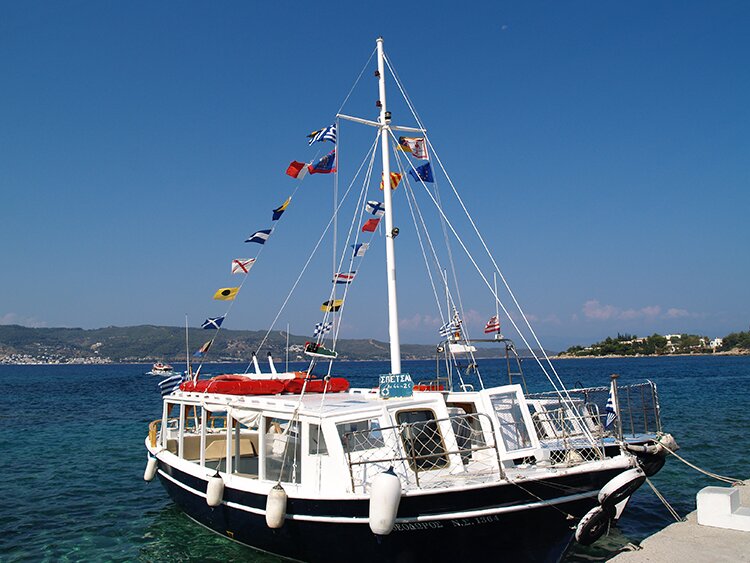 Kaiki in the port of Costa
So a Saturday night out to Spetses in July and August. Departure by kaiki from the port of Costa at dusk was the best time to have enough light on the way to enjoy the boating. I was disembarking at the port of Dapia in Spetses. I first took a stroll around the port and in Poseidonio square and continued with a crepe or a waffle next to the cannons of the port to pass the time.
Later as night was falling I was walking the pleasant pedestrian street to Palio Limani (Old Port) where the night clubs are located. I don't know if you know it but Spetses have a very lively nightlife. My favorite places were two: the bar Resalto and the club Stavento as they were called then. Especially Resalto is a special experience because it is a courtyard on the sea where you have your drink which courtyard is also a pier. Yachts moor there with which you are within breathing distance, a unique sight. Footage from the movie "The Lost Daughter" with Olivia Colman and Ed Harris was recently filmed in Resalto. I saw on Google Maps that today it is called Bikini. After Resalto the night was continuing at Stavento club with upbeat music and lots of fun.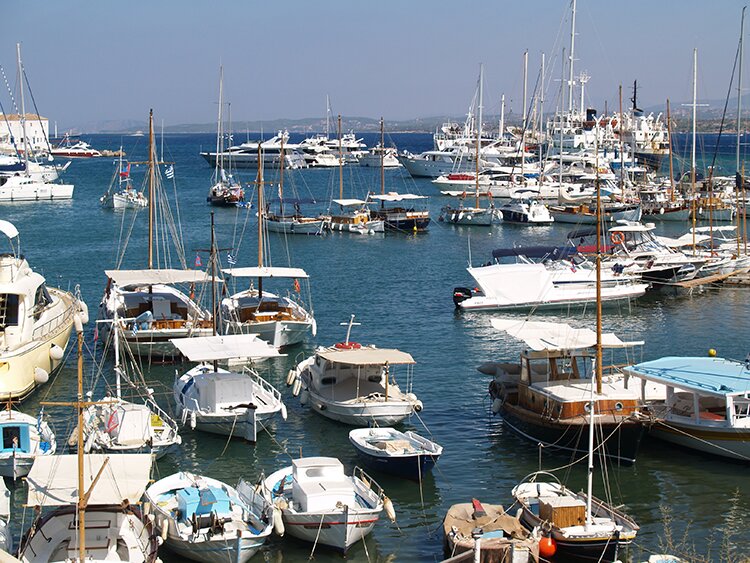 Palio Limani (Old Port) crowded with boats of many types
At the end of the night I was slowly walking back to Dapia. I was eating something quick and then return by sea taxi. At the port the taxis are lined up and you get in without asking. Most passengers go to Costa anyway. The return is the icing on the cake. Unforgettable experience to be after midnight hours on a speedboat with full engines tearing through the sea to see the lights from Spetses greeting me and to be on the way home. Much later I learned that I can take a taxi directly from Palio Limani from the floating T platform. Upon arrival at Costa I was getting into my car and the conclusion of the night was the return to Kranidi.
I must emphasize that what I have described to experience it without discomfort requires familiarity with the details. Because you have to use sea transport there are restrictions. You can only experience it in July and August and even avoid early July and late August. Kaiki is the most flexible solution to go and it is only active during this period of time time. The last ferry-boat to Spetses leaves around 17:30, prohibitively early, or you can go the time you want but paying for a sea taxi and trust me a round trip is unprofitable. For the return after midnight I will tell you my experience. I had been there in the day of the Holy Spirit, in the middle of June, and there were no taxis at the port, which is normal because it was not a peak tourist season so who is going to deal with 5-10 people who need a sea taxi at 4:00 at night? I waited for an hour, I remember some people fell asleep on the asphalt already. When the sea taxi arrived everyone inside friends and strangers!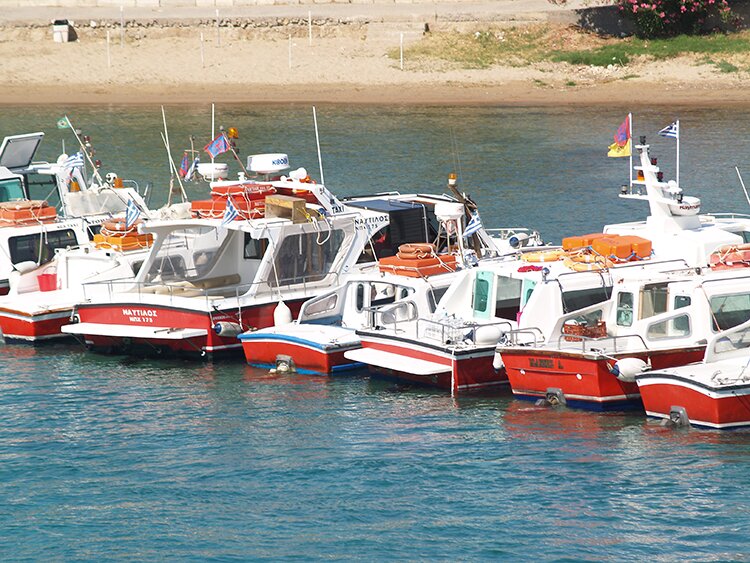 Sea taxis lined up in Costa
So if you're going on holidays to Porto Heli think about doing what you just read!
I want to talk epigrammatically about other experiences I have had to show my meterstick. I will only refer to trips I have made abroad and not in Greece.
I have visited Dubai and seen all the sights we see on TV, I have been to Egypt to the Pyramids, I have been to the Egyptian museum, the historic monastery of Saint Catherine on Mount Sinai, I have toured Tunisia where I have stayed in an old castle and I have visited the white Cycladic-style village of Sidi Bou Said, I have been to Mallorca, I have lived in Edinburgh for postgraduate studies for about a year, I have had a night out in Amsterdam, I have been to Venice, Rome, Florence, Paris, Luxembourg, Bern, I have crossed the Swiss Alps by train and finally to Toronto, Canada.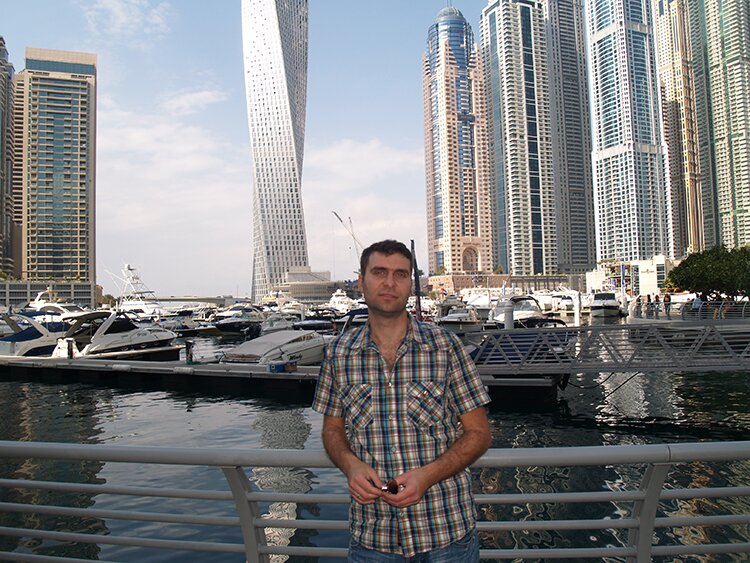 Me at Dubai Marina