For skiing in 4 ski resorts near Athens
1. Kalavryta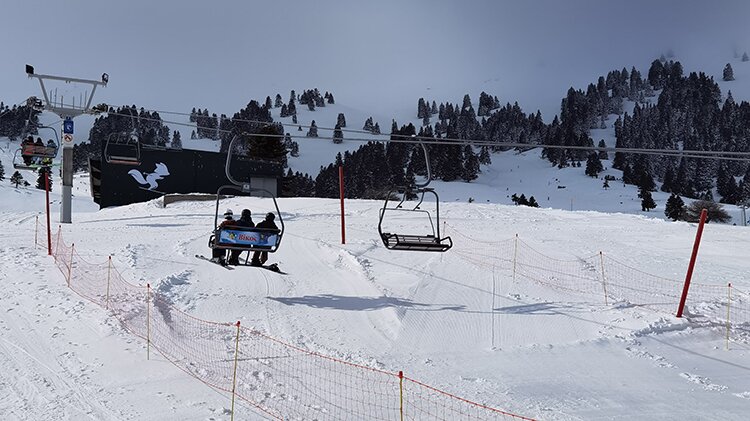 A large ski resort on the peaks of Helmos mountain in Achaia 200 kilometers away from Athens with 11 pistes with all degrees of difficulty for experienced skiers as well as beginners and children. You reach the top at 2,330 meters with two successive aerial lifts where from there you can also cross the ridge. You can try several combinations of pistes while there are also freestyle pistes.
The parking lot, the ticket booth, the academies, the equipment rental, the lifts and the chalet are next to each other. Very close to them is the piste for beginners and children. A disadvantage is that the lifts are slow and when it is crowded there are queues so it takes a long time to reach to the top. Snowmobiles and snowbikes are also available for rent.
2. Parnassos
The largest and most complete ski resort in the country in all areas: pistes, infrastructure and chalet. It has 23 pistes, 17 lifts and 7 routes. On the plus side the lifts are quite fast, something very essential for such a large ski resort. On the weekends it is crowded which makes parking difficult.
The oversized slopes are suitable for experienced skiers as well as beginners and children. You go up to the chalet with a lift where you will find the academies and equipment rental. The pistes at that point (Kelaria) are wide and easier, while at Fterolakka they are more demanding. The chalet is decent with the glass facade having a view of the entire mountain. It is located 200 kilometers away from Athens.
3. Mainalo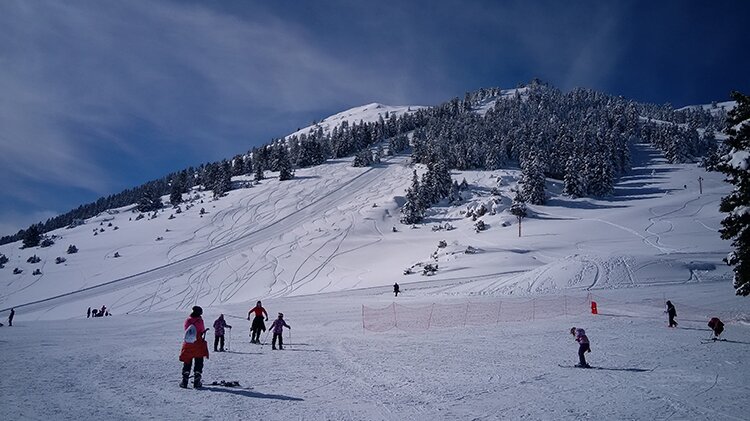 A relatively small ski resort on Mainalo mountain in Arcadia with 7 pistes ideal for intermediate skiers as beginners and children. You may go on the top of the mountain with platter lifts. The advantage is that there is no tourist resort nearby so there are no crowds like in other ski resorts. It has equipment rental and a children's academy. The chalet is small and nothing special. A beautiful landscape also with fir trees at 170 kilometers from Athens.
In front of the chalet is the slope of the snowboard park where beginners and children can go up the slope as much as they want to have fun.
4. Ziria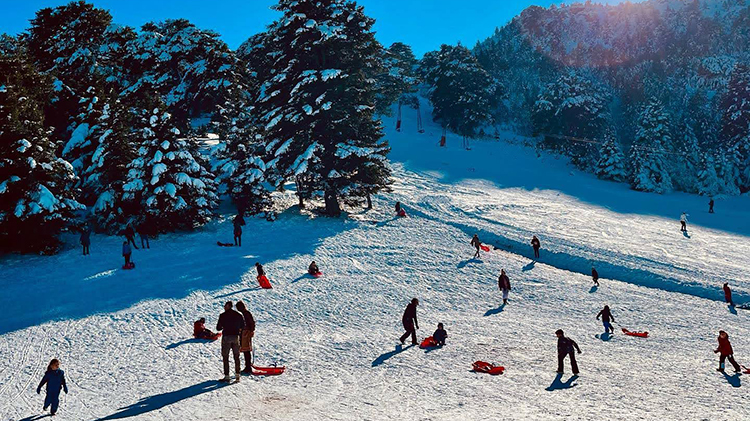 A small ski resort intended for beginners/children and slightly more experienced skiers. It is located at a distance of 10 kilometers from Trikala in Corinth and 155 from Athens. It has only one piste and one slope for beginners/kids where they can also sled. A nice chalet oversees the piste but it is small and you can't easily find a seat.
There is an academy for beginners and equipment rental. Activities include snowmobiles, ATVs and buggies. Since it is near Athens on the weekends it is crowded.