The filming locations of the Netflix blockbuster Glass Onion: A Knives Out Mystery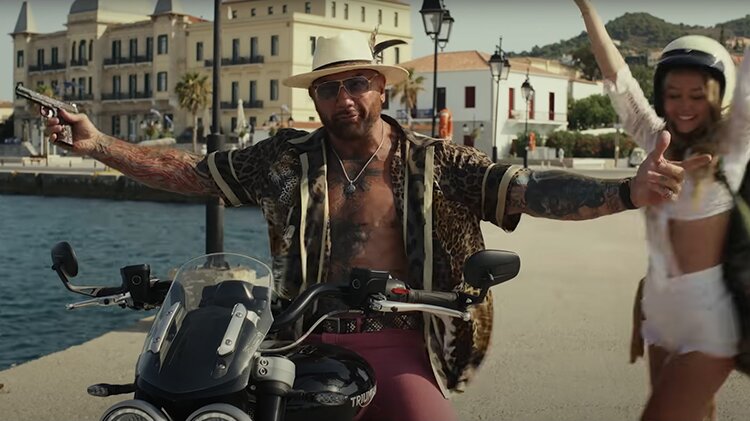 Dave Bautista, Madelyn Cline and in the background Poseidonion hotel in Spetses. From the movie trailer
At the end of the article you will find a map with the exact locations where the film was shot.
The adventures of detective Benoit Blanc continue in Greece with the murder mystery movie to be inspired by Agatha Christie's novels while the character of Benoit Blanc is inspired by Hercule Poirot.
In the footage shot in Spetses, Poseidonion hotel appears as a backdrop behind the actors' performances. But why Spetses and Poseidonion? In my opinion it is a matter of appropriate setting. Hercule Poirot appeared in Agatha's novels in 1920 while Poseidoneion opened its gates in 1914 so there couldn't be a better setting than this leading hotel of the time.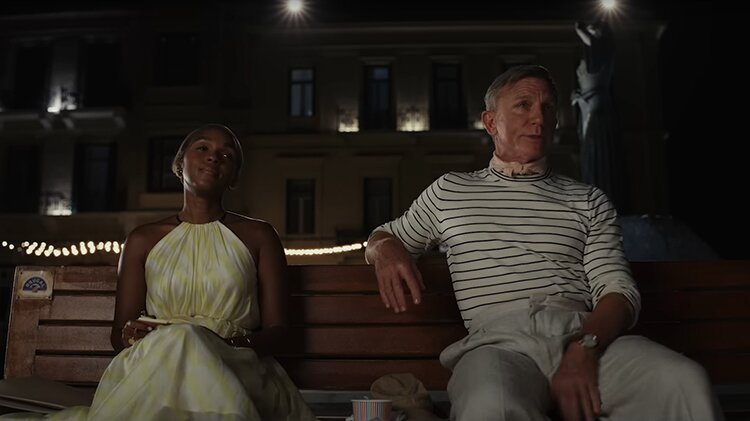 Daniel Craig and Janelle Monáe in Poseidonion Square. Behind Daniel Craig the statue of Laskarina Bouboulina. From the movie trailer
Footage have been shot in the small harbor where leisure boats moor next to Poseidonion Square, it is there where the protagonists are waiting for the luxury yacht to depart for the island. Night footage where Blanc talks to Andy are shot in the courtyard of Poseidon and continue in the Square, those who know can recognize the statue of Laskarina Bouboulina.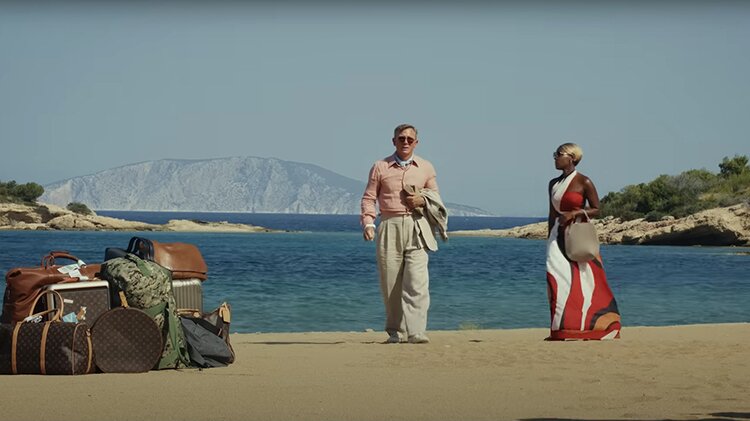 Daniel Craig and Janelle Monáe on the private beach of Amanzoe or Korakia beach as locals call it. From the movie trailer
Most of the footage have been shot in Hermionida province and the luxurious Amanzoe Hotel. The footage starts from the hotel's private beach, or as it is known to the locals, Korakia beach, a feature of which is the homonymous islet located very close by. I have only visited it once before Amanzoe was built and that is because it is very far from Porto Heli, deserted and with difficult access it is more easily accessible by private boat.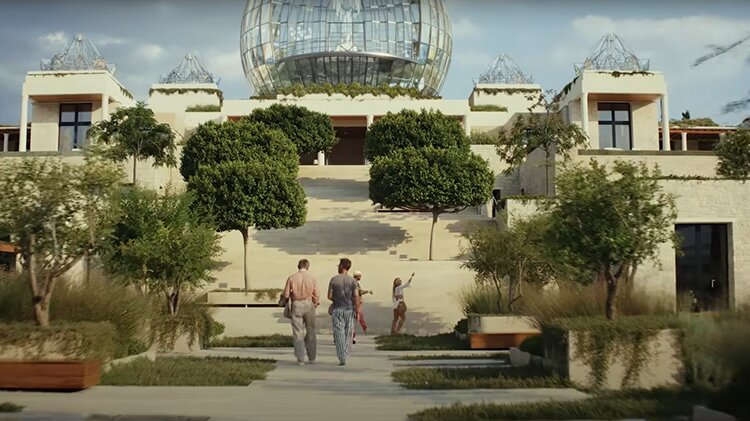 Villa 20 of Amanzoe as seen in the movie. From the movie trailer
The interiors and exteriors of Amanzoe's villa 20 star in the film, the villa's many staircases are distinctive and give it a palatial image. Several of the exterior shots are of the surrounding areas of the villa. The onion-shaped glass dome does not actually exist but has been digitally added. The interior footage are not all shot in villa 20, the large vaulted room where all the mysteries take place is not in the villa. Villa 20 is also the most expensive hotel villa in Greece.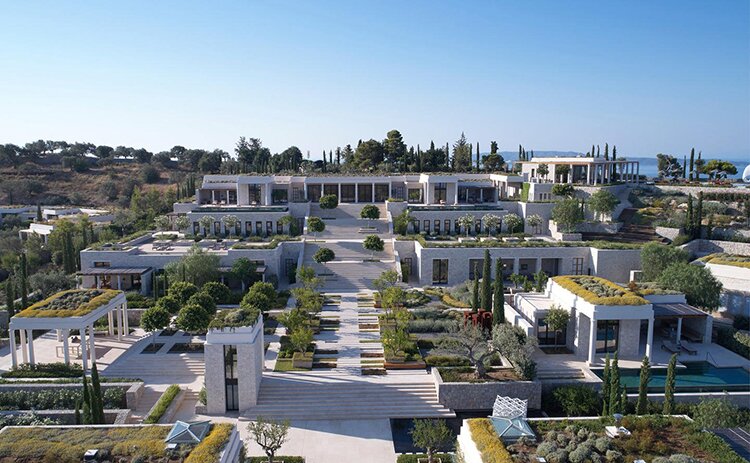 Villa 20 as it is in reality, image from the Amanzoe website
Below I have made a map of the exact locations where the film was shot.