Beckett: an American action thriller shot in Epirus, Kalambaka, Trikala and Athens
A Netflix movie inspired by the riots that took place in Greece during the economic crisis.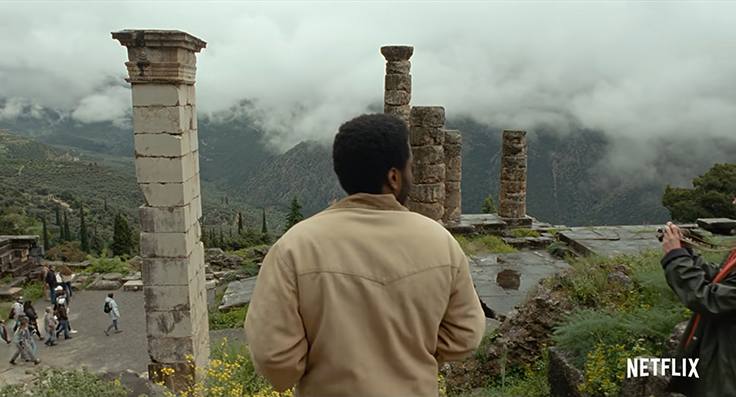 At Delphi (from the movie trailer)
Actors
Starring John David Washington, known for the blockbuster Tenet 2020. Also is playing the famous actress Alicia Vikander as well as the greeks Panos Koronis, Lena Kitsopoulou, George Pyrpasopoulos, Homer Poulakis and Makis Papasis.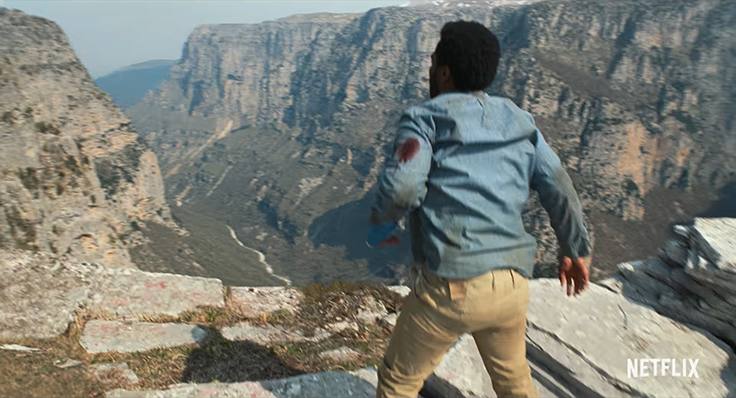 At Vikos gorge (from the movie trailer)
Plot
Beckett and April are American tourists who have visited Greece for winter holidays. After a short stay in Athens they visit Delphi to admire the antiquities and the serenity of the wild landscape.
Afterwards, through Via Egnatia, they reach Ioannina perfecture, where from now on things take an unexpected turn. Beckett fell asleep at the wheel being tired from the long drive, causing them to fall into a ravine and collide on an old house. April was killed instantly and Beckett manages to see a child and a woman in the old house before he loses consciousness.
When he wakes up, he is hospitalized. At the police station April's death is announced to him and he is being questioned about what happened.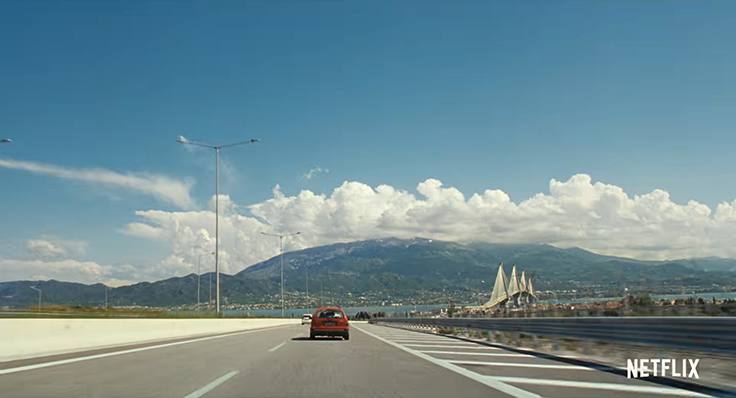 The Rio-Antirio bridge (from the movie trailer)
As soon as he leaves the station, the police launch a ruthless manhunt to kill him for no apparent reason. Puzzled by the stormy developments, Beckett wanders in the mountains of Epirus, passing through the gorge of Vikos and a nearby river.
Asking for help from passers-by, he arrives at the Kalambaka railway station, expecting to reach the American embassy in Athens. But the police are on his trail. He is caught inside the train but cleverly manages, turning the direct stop lever, to escape. He is now located in Trikala.
There he meets two activists who stick posters with the face of the child he had seen in the old house. So he learns that the child has been abducted, probably by the far-right party Anatoli, his name is Dimos Karras and he is the nephew of Karras, a left-wing coalition leader who, if elected, wants to shake off the austerity measures brought by the greek debt. The activists agreed to transport him to Athens.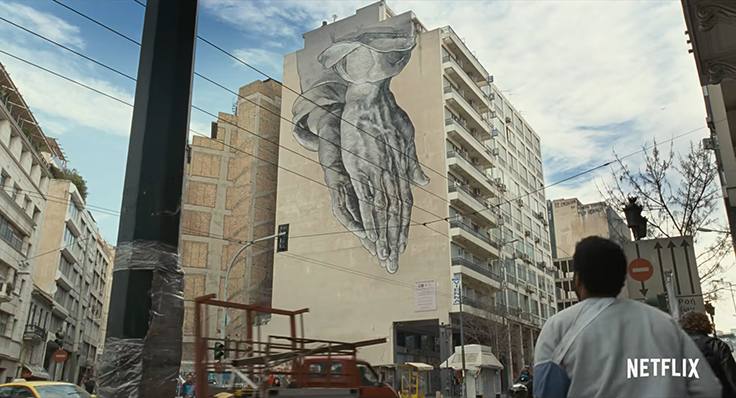 On Piraeus street (from the movie trailer)
Beckett arrives at the American embassy for great relief but the manhunt for him is not over.
This time he is being persecuted by the employee of the American embassy again for no apparent reason. At that moment it was revealed that Karras had been abducted by the far-left Communist Brigade.
The chase continues in Syntagma Square, crowded with people for the speech of Karras who is eventually murdered. The police is trying to contain the wrathful crowd that erupts in riots but in the chaos it is revealed that Dimos Karras was finally kidnapped by the police.