Kato Meria is the less touristy side of Amorgos. You will not find tourist shops with handicrafts and postcards, but only rural villages in fertile plains. Eat traditional food, go swimming or go sightseeing. Hotels in Amorgos
What to do
Eat
The must-visit of Kato Meria are the family-run restaurants that offer dishes with local ingredients.
Georgalinis: in Vroutsis village. He specializes in traditional dishes with meat. Try patatato, lemon goat, lamb in the oven and grilled meat. It also has a lovely courtyard too

Ston Pirgo:

in Arkesini village. Traditional dishes with a variety of cooked food, meat and seafood in a lovely place

Liostasi:

in Arkesini. Traditional food with local ingredients
Marouso: in Arkesini. Cooked food, meat and lots of seafood

Mouros:

at Mouros beach. Traditional dishes with cooked food, meat and seafood. There's also a cafe attached with a view to the sea
Taste homemade food and traditional dishes, with local ingredients in the restaurants of Kato Meria.
Hotels in Amorgos
Swim
Beaches in Kato Meria are even more tranquil than the rest of Amorgos. The most well known is the black pebble beach of Mouros. Swim also to Paradisia, Kalotaritissa and Gramvousa.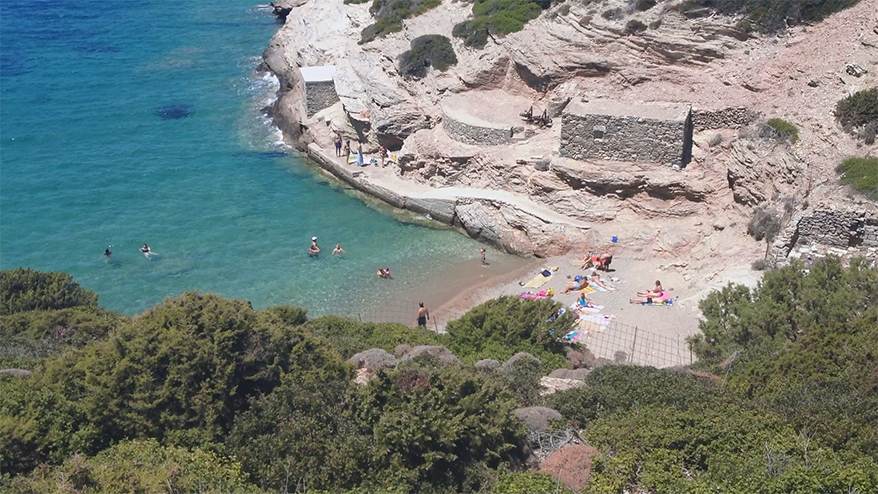 Paradisia beach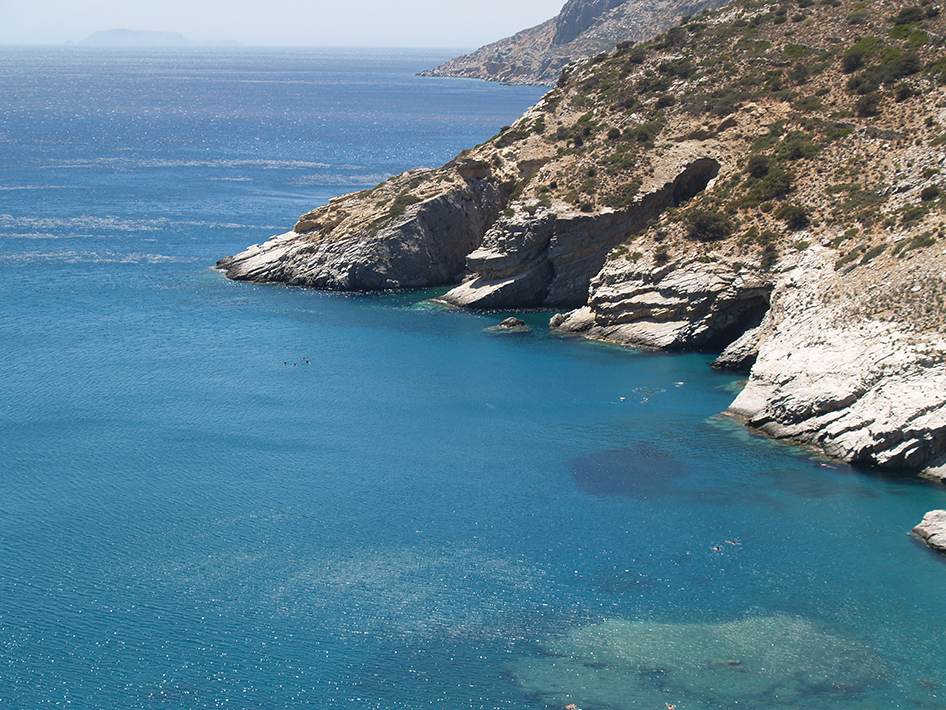 Sea caves at Mouros beach
Tour
Agios Georgios Varsamitis marks the beginning of Kato Meria. At this point, the road leaves the coastline and enters the inland. After 3 km is the church of Stavros and after another 1.5 km, the early cycladic site of Markiani. 2 km further up is the small village Kamari. You can either turn south to Mouros beach (2 km) or north to Vroutsis village (less than 1 km) where you can eat at Georgalini's and visit ancient Arkesini.
From Kamari, after 3 km is the village of Arkesini, the largest in Kato Meria. You can eat at the restaurants and visit the tower of Agia Triada.
Leaving Arkesini, after 3 km is the village Kolofana.
After Kolofana, in less than 1 km you'll come across a junction. To the right, is Agia Paraskevi church and Paradisia beach, while to the left you are heading to the very end of Amorgos. After 0.5 km you'll encounter the small village of Kalotaritissa and after another 1.5 km the shipwreck. Finally, after 1.5 km you reach Kalotaritissa beach, and this is the end of your trip. From there you can get the boat to Gramvoussa beach.
Feast of Agia Paraskevi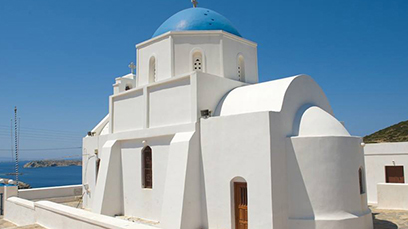 Agia Paraskevi church
On the 25-26th of July, takes place one of the largest religious feasts in the Cyclades, the feast of Agia Paraskevi.
Thousands of people attend and traditional dishes are offered such as patatato, kofto (flour with myzithra) and handmade bread. A traditional feast follows until the bell rings in the morning for the Divine Liturgy.
Combine food - swimming - sightseeing for a full day visit in Kato Meria.